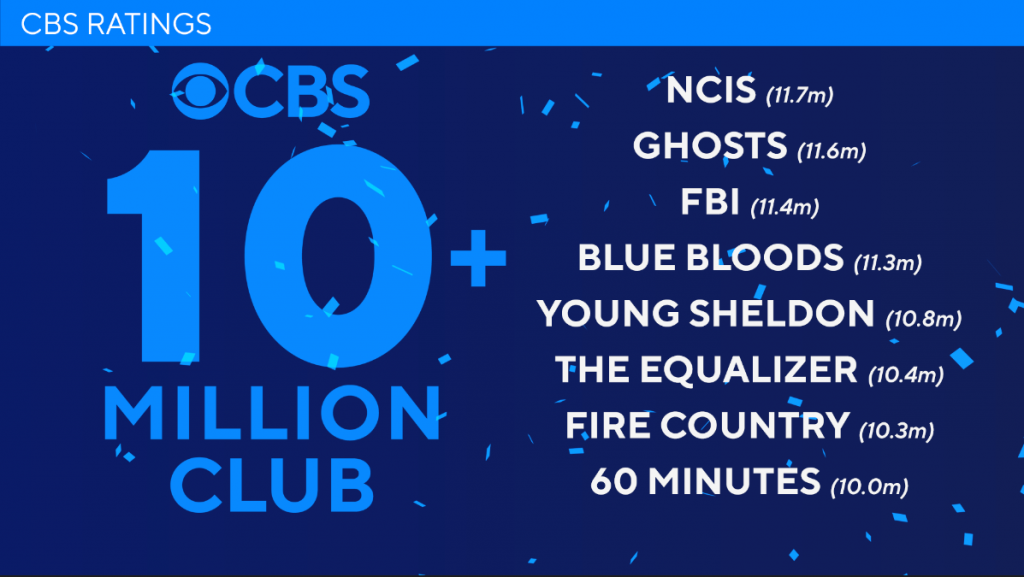 A television network did something rare these days — they published ratings data.
The US broadcaster CBS shared data from ratings gatherer Nielsen that shows that eight current CBS hits are currently in the "10 Million Plus Club." That's a boast no other broadcaster can make these days.
According to a CBS release shared Thursday, the eight shows are NCIS (11.7 million viewers), Ghost (11.6m), FBI (11.4m), Blue Bloods (11.3m), Young Sheldon (10.8m), The Equalizer (10.4m), Fire Country (10.3m) and 60 Minutes (10.0m).
The survey included shows from the 2022-2023 broadcast season to date through January 8.
How the Tiffany network got there, however, speaks to the new math used to compile viewership data these days. Forget Live+7. The CBS show totals were calculated over live plus 35-day periods and include internal streaming figures. To get to 10 million, in other words, viewership that was live and on-demand over on Paramount+ as well as digital data from CBS TVE (CBS.com and the CBS app) are added to the Network take.
Fair enough. That is television today.
CBS says the eight shows in the 10 million viewers a week club are two up on their total at this point last season. Newcomer Fire Country and a resurgent 60 Minutes boosted the current CBS figures.
The network's research department further broke out just how much of a boost they get in terms of streaming growth over the same 35-day period. Ghost, for example, is both the most-watched broadcast comedy and the top comedy on Paramount+. Fire Country is even more of a blazing big hit on Paramount+ and is among the streamers top 10 offerings.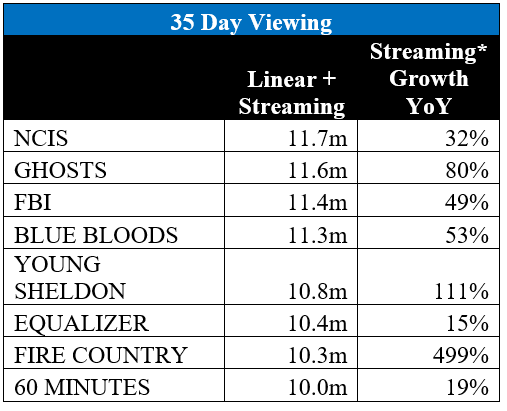 For those of us who still like to know how shows perform on the old broadcast TV platform, CBS says, so far this season, they have the top three non-sports shows in America with #1 NCIS, #2 FBI and #3 Blue Bloods. They also boast the top two new series and top three new dramas in #1 Fire Country, #2 East New York and #3 So Help Me Todd. They also claim to have seven of the Top 10 broadcast hits and four of the Top 5 comedies. In the latter group, add The Neighborhood and Bob Hearts Abishola to front-runners Ghosts and Young Sheldon.
Not factored into the data mix are demos. CBS is only sharing data counting all viewers ages 2+. Rival American networks might argue that the rankings would change if younger demo groups (18-49; 25-54) were factored into the mix.
Canadian networks are even less keen about sharing data. Last year, the ratings service Numeris stopped sharing their weekly Top-30 list of most-watched shows across the nation. That was a handy list, expressed both nationally and region by region. The Canadian networks and media companies, however, are the consortium that controls Numeris. As viewership migrated more and more towards outside streamers such as Netflix and Disney+, the Canadian network tallies became less impressive and, eventually, invisible.
Still, I'd like to challenge one or more of the Canadian networks to take the CBS numbers challenge. Produce and share a CTV or Global or Citytv or CBC "One Million Club" using the same criteria CBS used to display the shows it claims are watched stateside each week at ten times that amount. Go on, I double dare ya.