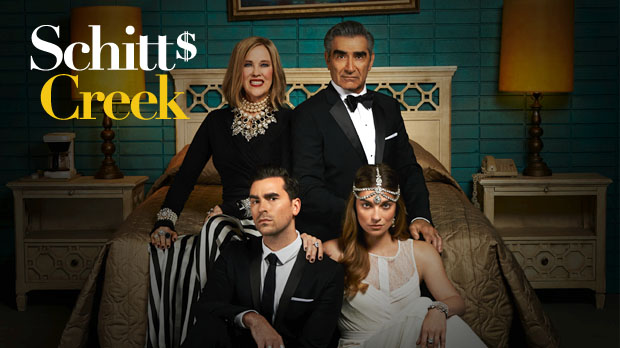 PASADENA, Calif.–The preliminary overnight numbers are in, and the new Eugene Levy/Catherine O'Hara comedy Schitt's Creek opened strong, premiering to 1,359,000 estimated viewers. More encouraging for CBC, a second episode at 9:30 drew 1,366,000.
Even Guy Caballero would be impressed. That was opposite some stiff import competition in Canada Tuesday night: Global led the 9 p.m. hour with  1,742,000 viewers for NCIS New Orleans, the No. 1 new show this season in the U.S. CTV was right behind Schitt's Creek with the premiere of Marvel's Agent Carter at 1,352,000 viewers.
There was competition over on specialty, too, with Discovery pulling 494,000 with an episode of Gold Rush.
It helped that CBC papered the nation with Schitt's Creek billboards and transit posters. Eugene and son Dan Levy, along with O'Hara, have made several morning and late show appearances in the U.S. and Canada. They were all on hand, along with co-star Chris Elliott, at the TCA press tour three days ago (the series premieres next month in the U.S. on the cable channel Pop), hosting drinks with the Canadian press on the weekend. The Levys flew back for a premiere screening in Toronto Tuesday.
The strong start follows a big opening for Book of Negroes (1.7M), helping CBC to some much needed momentum after months of hellish headlines. An order for a second season of Schitt's was announced Monday, two days before the series even premiered.