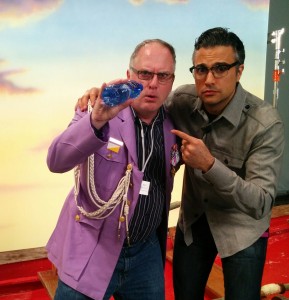 MANHATTAN BEACH, Calif.–There's nothing like visiting with the cast of a series who a) know critics like their show b) are fresh off a major award win and c) provide grilled cheese sandwiches for lunch.
Such a set visit occurred Tuesday. A packed busload of critics were shuttled down to Raleigh, a relatively modern studio facility once the home of several David E. Kelley shows such as Ally McBeal. Then we were herded into two soundstages, one the production centre for CBS rookie drama Scorpion and the other the home of the CW comedy Jane the Virgin.
Sometimes these set visits are a desperate attempt to bring critics to a show that is beyond our help. I remember how tense and tightly wound folks were 10 years ago on the set of the doomed series Commander-in-Chief. The Gina Davis drama had barely premiered and already Steven Bochco had been brought in to try and save it. Donald Sutherland glared at reporters and kept his eye on the exit. Same with the more recent TCA visit to the set of Robin Williams' The Crazy Ones. While it was a delight just to be in the same room as Williams, you could see through the forced smiles and ramped-up camaraderie.
It was a totally different vibe at Scorpion and Jane. These are two shows off to great starts.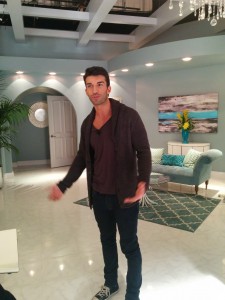 It helped that the Jane set is so bright and sunny. Reporters walked into the hotel set past palm trees and intense electric sunshine. The cast sat up on director chairs inside the large, pastel-coloured hotel lobby set, Some thought went into the session, which began with each cast member striking a SCTV "The Days of the Week" pose to the deep tones of the series' Telenovella announcer.
All eyes were on Gina Rodriguez, fresh off her win at Sunday's Golden Globes. The actress says all "700 of her relatives" were at the GG after party. She got all verklempt and offered to let critics try on her baby bump. Even weepier was co-star Andrea Navedo ("Xo"). She got downright weepy talking about her joy at Rodriquez's Globes win.
Justin Baldoni (Rafael) led reporters on a tour of the hotel set and was happy to pose for pictures and answer questions. (WATCH video here.) No one was a bigger sport than Jaime Camil who stood by a wooden boat and posed for shot after shot with critics who were helped into a lavender skipper's jacket.
I learned first hand the measure of Camil's popularity, especially in his homeland of Mexico and throughout the Latin America community. I posted a photo of the two of us on Twitter and Instagram and as of Wednesday morning 215 people had favoured it. Hola!
Brett Dier, Yael Grobglas, Ivonne Coll and executive producer Jennie Snyder Urman also attended the session. Everybody expressed gratitude for all the press support. Rodriguez charmed reporters last August at the summer press tour.
Besides airing Staterside on The CW, Jane the Virgin is available for streaming now at the Canadian digital platform shomi.