PASADENA, Calif.–The folks at the Hallmark Channel are always gracious and generous hosts during TCA press tours. Thursday night was no exception as reporters and Hallmark channel talent and executives enjoyed an evening at the stately Tournament of Roses House. Guests entered to the strains of romantic music played by beautiful young violinists. Rose pedals led the way to the vittles.
Hallmark invites a tent full of actors–many familiar faces from decades past–to dine and mingle with press. It was surprising to see Jon Voight among the throng. The Oscar-winner is still in the game on one of the edgiest shows on television, Showtime's Ray Donovan. So now he's also a Hallmark star? In what–Mid-afternoon Cowboy?
Many of the actors and actresses at the event had just flown down from Toronto and Vancouver. Daniel Lissing–an Auzzie who plays a mountie on When Calls the Heart–flew down from the set in Langley, B.C. along with co-star Erin Krakow. Hallmark shoots an incredible 60 TV-movies a year, and many of them are shot on Canadian soil.
The irony is that the Hallmark Channel does not cross the border, so Canadian cast and crew members can't watch their own shows (unless they're sold to a Canadian network, as WCTH is sold to Super Channel).
One guy working both sides of the border is Paul Campbell, He lives with his wife in L.A., flies to Toronto to shoot the CTV comedy Spun Out, and flew to Vancouver to do Hallmark's Surprised by Love. So born in Vancouver, lives in L.A. and works in Toronto and Vancouver. It's every Canadian actor's dream.
His Hallmark movie drew 2.4 million US viewers earlier this month. Campbell had great stories about working with comedy legend Tim Conway. The 81-year-old comedian, says Campbell, is still the master of the physical shtick. He watched and learned as the former Carol Burnett Show star would take a bit of business like cleaning a knife and fork and turn it into comedy gold.
Campbell's CTV sitcom returns in March and viewers may notice it sounds a little different. Gone, entirely, is the live studio audience, lost to budget cuts in season two as well as a re-think on the merits of that particular TV format. Campbell personally feels the cast played too much to the live crowd in year one and hopes season two will connect more directly with viewers at home.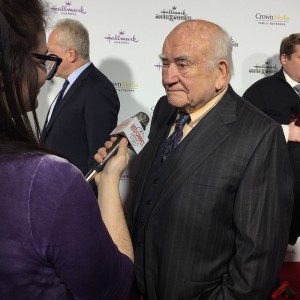 I also grabbed a few minutes at the Hallmark party with comedy legend Ed Asner. He may be using a cane these days, but the 85-year-old seems to brandish it more than lean on it. He's still crossing the border for work, shooting Love. Meet. Hope for Hallmark in Vancouver. "Some of my best work over the years has been in Toronto and Vancouver," he growled.
Back in the early '80s, Asner was involved in a stunt with my old paper, The Toronto Sun. He was starring in the newsroom drama Lou Grant at the time, The Sun got in touch and talked him into being their editor for a day. He smiles at the memory and was sad to hear his old pal, founding editor Peter Worthington, had passed away. I told him Worthington had been in Dallas in '63 and witnessed Oswald being gunned down by Jack Ruby. "That had to have changed him," said Asner, one of Hollywood's last Liberal lions. "What a set up!"
I told Asner I collected 16mm film and had recently acquired a print of CBS's 1970 Fall Preview reel. The film includes a clip promoting The Mary Tyler Moore Show and it is a strange one. It's a test scene between Moore and Asner, shot before the pilot. The setting and costumes are all wrong and so are the characters.
Asner says the test reel was shot "at one of the old, run-down Hollywood studios," not at MTM's eventual soundstage on the Radford lot.
The test reel was like the pilot–both stumbled out of the gate. He remembers the first Tuesday reading was a dud, He feared the series might be beyond repair by the Friday studio audience taping. Initial MTM reviews were not great. The show did make it after all, however, and Lou Grant became an iconic TV character.