PASADENA, Calif.–AMC owned TCA for a couple of hours Saturday. Coming in: Better Call Saul. Going out: Mad Men. (A Halt and Catch Fire session was squeezed in between.) Critics who leaned back through much of HBO's relatively quiet afternoon were back leaning forward.
There was plenty to hear, especially from showrunners and critics' pals Vince Gilligan and Matthew Weiner. Series leads Bob Odenkirk and especially a whip-smart Jon Hamm had reporters bashing keypads with all 10 fingers leading to the two show titles trending on twitter.
It was interesting watching Vince Gilligan and fellow showrunner Peter Gould explain Better Call Saul. Gilligan, as he did six months ago, stressed thety were still all finding their feet. Critics in the room seem jazzed after screening the pilot. Breaking Bad fans should be pleased. "It's very hard to re-invent the wheel,"said Gilligan.
Saul, of course, is a prequel. Walt & Jesse, from Breaking Bad, will not appear in Season One; after that, all bets are off, says Gould. There's apparently a cork board in the writer's room with the names of all the BB characters who could appear on Saul.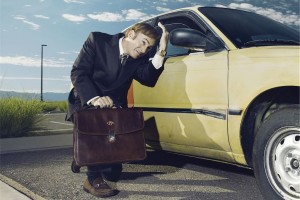 "They are loved, their ghosts are there," said Jonathan Banks, who brought his cranky charm to the session. "This is a different show. We're into something new." Banks says he's "still discovering Mike." Odenkirk says he's re-discovering Saul, who he sees as more of an invented character in the first series, with Saul being a peek behind the curtain. Odenkirk says he sat down with Bryan Cranston to ask, "How do you do this?", meaning be a series lead. Cranston braced him for a lot of hard work. Odenkirk went into more detail about that later in the scrum, outlining a daily regime of exercise and rehearsals. He had actors gather at his place to actually block out scenes on their feet prior to production.
Among the cast is Montrealer Michael Mando. Gilligan says Mando's ruthless criminal character Nacho will "fit well into the pantheon of really smart, cold-blooded folks."
The Mad Men session was one of the sweetest on press tour in recent memory. There is a lot of love for the show in the room.
All the main players–creator Matthew Weiner, Jon Hamm, Christina Hendricks, January Jones, John Slattery, Elizabeth ("Lizzy") Moss, and Vincent Kartheiser–were up on stage.
Hamm was asked if he was relieved he would soon not have to answer any more "what happens next?" questions. "There's no version of this ending that is not super painful to me," he replied.
Otherwise he was damn funny, playing up the role of being just another actor out of work. When somebody asked if there would be a Breaking Bad-likes spin-off, Hamm suggested "Better Call Pete." Asked what he might move on to, Hamm blurted "car detailing."
Weiner told critics the focus of the last seven episodes is squarely on the main characters. "The last seven episodes, I would say, each one of them feels like the finale of the show."
Colleague David Bianculli asked if the final script was read together around a table or privately at homes. The question touched Jones, who talked about how she got it at home and read it over and over. "Sometimes I still read it," she says.
She called that script "perfect" but it wasn't–the last 10 pages were missing and only shared later on the set.
Weiner talked about the many years of research into the '60s. He feels 1968 is really what people talk about when they talk about that decade. Asked about the legacy of the show and what might be next, he joked that a Mad Men cruise is not on his agenda. Later in the scrum, I asked about Bert Cooper's sweet soft-shoe exit in the last episode to date. Weiner heaped praise on Robert Morse and said the former Broadway star pretty much choreographed his own memorable exit.
Hamm, sporting a beard, gave a long and thoughtful summation of what the past eight or nine years has meant to him, ending with the phrase "unequivocally wonderful." A final little teaser was shown to critics, a clip reel to the strains of Paul Anka singing Remember The Times of Your Life. Rights to The Beatles' The End were probably too expensive (especially after Weiner already splurged on Tomorrow Never Knows), but some of us in the room would have chipped in.