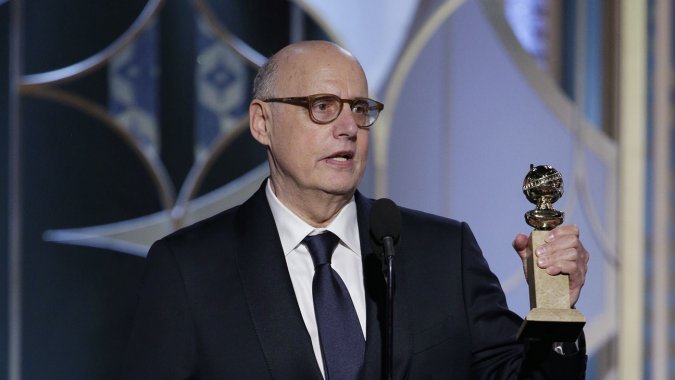 PASADENA, Calif.–The big winner from Sunday night's Golden Globes may be TV viewers in Canada: they finally found out where they can see the best show on television.
Transparent is coming to shomi.
I sat on this since October after learning of the pickup while at MIPCOM in Cannes but played along with the Shaw/Rogers marketing plan. Except there never seemed to be one.
Transparent originates on Amazon Prime, a VOD platform not available in Canada but enjoyed in The U.K. and America. It's been airing there since September. Jeffery Tambor plays the head of an eccentric California household who, dressed in women's clothing, comes out to his grown children and hilarity–and sorrow–ensues. He gives such a committed, touching performance you can only say, "Hey now!"
Winning a GG is a big breakthrough for Amazon. Shomi had to finally capitalize on the publicity. Word is viewers can start streaming the series next month in Canada.
Another shomi pick up, Jane the Virgin, won another key GG acting honour, this time for series lead Gina Rodriguez. Canadian viewers can binge stream the CW comedy now on shomi. TCA critics sitting in front of giant monitors and covering the awards show at the hotel here in Pasadena cheered Rodriguez' surprise win. Influential THR critic Tim Goodman singles out Jane as his favourite new show this season.
Shomi now has two strong original content carrots to dangle before consumers and its about bloody time they told folks about it.