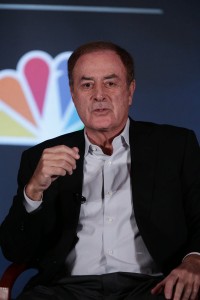 PASADENA, Calif.–The very first Super Bowl was played in Los Angeles on Jan. 15, 1967. Al MIchaels was there, in the stands, with his brother.
It was easy to get tickets, he says. "There was about 35,000 empty seats."
Forty-eight years later, to the day, Michaels was at press tour Thursday to promote NBC's coverage of Super Bowl XLIX (Feb. 1 on NBC and CTV). It will be the ninth Super Bowl the veteran all-sports announcer has called.
Michaels declared the Super Bowl as "America's undeclared holiday." His Sunday Night Football broadcasts on NBC are the highest rated show on American prime time television for the fourth season in a row, averaging 21.5 million viewers a week.
Still, Michaels agreed that the past season has been "a year that the NFL in many regards would love to forget." He briefly mentioned the Ray Rice and Adrian Petersen incidents. "I think we have a responsibility to address these issues," he says, "but I don't think we be-labor it."
Fans, he feels, have the ability to "compartmentalize" the negative headlines from the games themselves. He hopes Payton Manning still has another season in him, wincing at the Denver QB's last ugly effort. If Marshawn Lynch winds up on this year's post Super Bowl show, "we'll use subtitles," he cracked.
He agreed also with Bryant Gumbel's suggestion last week at press tour that college players need to be compensated. "I do believe there should be some form of renumeration," he told reporters, noting schools are making "a ton of revenue."
The subject of concussions came up. Michaels acknowledges that the fear of concussions is leading more and more parents to keep their kids out of football. He was asked if he would let his two grandchildren play the game. Michaels says its not his call but if that's what they wanted to do, he wouldn't stop them. They already play hockey, he noted, and that's a contact sport.
Michaels weighed in on NFL expansion. He sees the raiders playing out of San Francisco, a team in London someday and Toronto out of the running for now. Buffalo fans and the media, he says, will love new coach Rex Ryan.
The 70-year-old has written a memoir with John Wertheim titled You Can't Make This Up. Among the stories he shares are tales of his early days wrangling talent for Chuck Barris on The Dating Game. Michaels wore out a few rotary phones trying to find contestants. Barris told Michaels to look for two types of players: good looking or whack jobs.