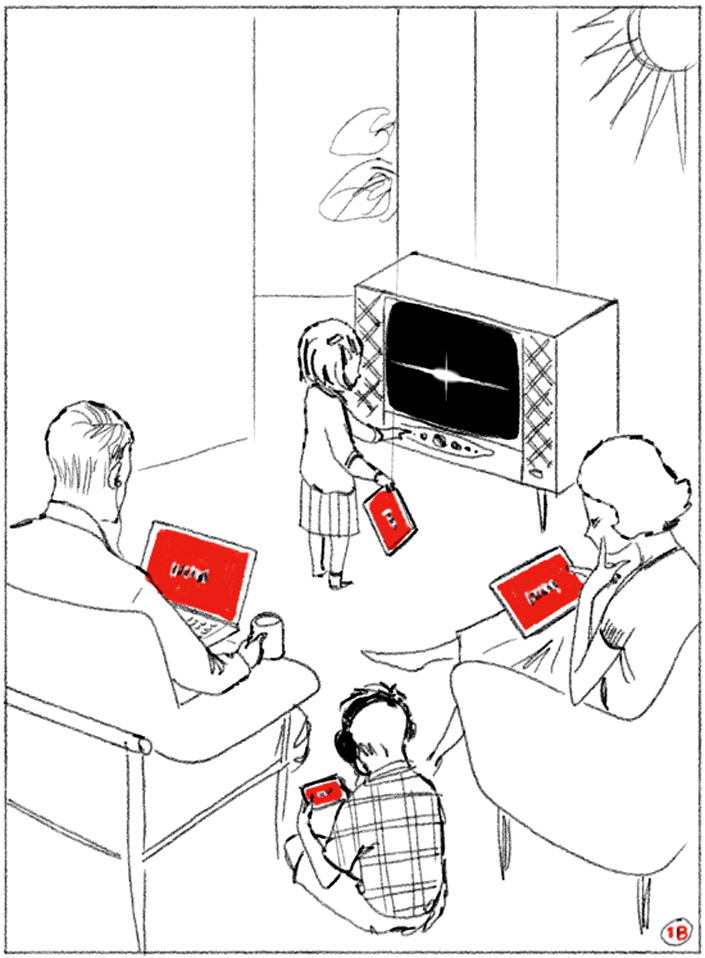 The old expression, "A picture's worth a thousand words," might also work as "…a thousand channels." The TV landscape is changing so rapidly some of us who report on the medium have a hard time keeping up.
Somebody who has captured the big picture is Leo Espinosa, an award winning illustrator and designer originally from Bogotá, Colombia, but now based in Utah. My daughter Katie, herself a graphic designer, drew him—pun intended—to my attention.
Espinosa's award-winning work has been featured in a variety of publications including The New Yorker, Wired, Esquire, The New York Times and in campaigns for Hasbro, Swatch and Coca-Cola.
These TV-related illustrations (find them all here at Espinosa's site) appeared in the New Yorker in February of 2014, accompanying an article by veteran "Annals of Communications" observer Ken Auletta titled, "Outside the Box." Espinosa's drawings live up to the title, blending mid-20th century styles and themes with the reality of today's mobile, digital world.
Netflix is the focus of Espinosa's art and its growth just in the year since these drawings were published is staggering. In a survey taken toward the end of last year, nearly 40% of anglophone Canadians were shown to be now using Netflix, up from 26% in late 2013. No wonder there was a decline of 95,000 cable and satellite TV subscriptions in Canada in 2014, a number forecast to grow this year.
It's a complicated, constantly changing story, but next time somebody asks you to explain television's on-going revolution, show them these pictures.