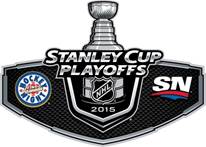 Wednesday night, the puck drops on a new era in Stanley Cup hockey coverage. One guy who can hardly wait is Scott Moore, President of Sportsnet and NHL at Rogers Media.
Moore was the man at the centre of Rogers' $5.2 billion dollar, 12-year, NHL rights deal. The former head of CBC sports has rolled the biggest dice in Canadian broadcasting and the payoff begins with these playoffs.
They begin without the Toronto Maple Leafs, which is a drag, concedes an otherwise buoyant Moore.
But he'll take the five Canadian NHL teams who are in the tournament: Montreal, Vancouver, Calgary, Winnipeg and Ottawa. It's the first time in 11 years, says Moore, there has been so much Canadian content.
Fans will notice a difference in how the playoffs are covered, says Moore. Instead of CBC and TSN ignoring each other's coverage, everything is now under one Rogers roof. There will be more of a total tournament feel to the coverage, with more out-of-town updates to other games.
The games begin Wednesday with round one openers between the Montreal Canadiens and the Ottawa Senators (7 p.m. E.T., CBC) followed by the Vancouver Canucks vs. the Calgary Flames (7 p.m. P.T., CBC). Thursdays game between the Jets and the Anaheim Ducks airs on Sportsnet.
Moore says CBC owns the rights to the title "Hockey Night in Canada" and the brand would have disappeared if a deal had not been made to keep NHL broadcasts on the public network. That deal becomes magnified during the two-and-a-half-month playoff run. Rogers will use CBC like a free space in Bingo, airing top draw Canadian teams on the mother corps. This takes full advantage of CBC's broader, coast-to-coast reach. More viewers mean more ad revenue, and Rogers, by the terms of the deal, keeps it all.
CBC? They get to keep the lights on in what otherwise would have been a spring full of reruns.
I spoke with Moore Monday and we covered a wide range of topics. He remains bullish on new host George Stroumboulopoulos. "He's definitely our guy says Moore, despite grumblings from traditionalists who still see Strombo as that punk from MuchMusic.
"The reality is, when you make a change, there are going to be people who yearn for the old days," says Moore. Strombo has been pounded on social media ever since taking the job. His predecessor, Ron MacLean, told Moore that if there was Facebook or Twitter back when he took over from Dave Hodge in the late '80s, "the social media would have been all about, 'Who's this weatherman from Red Deer?'"
Moore also promised fans would see a less crowded sports desk between periods. One lesson learned from the regular season was that four commentators were better than five. Look for Stroumboulopoulos to anchor hockey analysts Elliotte Friedman, Kelly Hrudey and Nick Kypreos throughout the playoffs. "It may move around a little bit more on Sportsnet 360," says Moore.
Read more on Moore plus Rogers' NHL playoff plans here and see CBC/Sportsnet's full NHL Round One playoff schedule here.