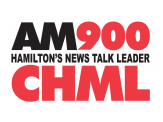 If this podcast sounds a little muffled, blame the upfronts. Fleeing Wednesday's Shaw press event, I ducked into what I thought was a hotel parking entrance off Yorkville when CHML producer Jacob Smith reached me on mobile. A burly security dude chased my back into construction hell just as Scott Thompson opened with hockey talk.
Scott asks if NBC is happier than Sportsnet about a Tampa Bay-Blackhawks Stanley Cup final and I try to sound informed.
We get around to the upfronts and start with the Sportsnet-TSN "We're No. 1" blather. Scott asks why there are so many darts and poker shows on TSN and not more NASCAR events. I make a note to ask this at Thursday's Bell 2015-16 preview.
Then I run down all the shows featuring beautiful young people in tights and capes comin' atcha this fall. Scott asks what to watch next week and I'm completely stumped.
You can listen in here.