In a sh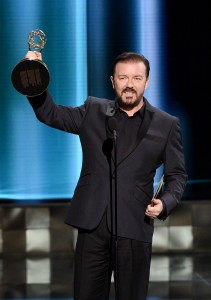 ocker, Ricky Gervais cleaned up at the 67th Annual Emmy Awards Sunday Night. Yes he did. The proof is right on the right–there he is with one of his 14 Emmy statuettes. Well deserved, mate.
Actually, no he didn't. He just grabbed one award and waved it around so people would blog that he won. Like anybody would stoop so low.
Gervais the presenter was funny and entertaining, however, as was much of this year's TV industry salute, which incredibly was brought in on time for the first time in it seems like 67 years.
Some of the credit should go to Andy Samberg, who exceeded expectations as a cocksure Emmy host. The star of Brooklyn Nine-Nine and former SNL player opened with a digital short goofing on the current mantra that there is simply way too many good shows on TV right now.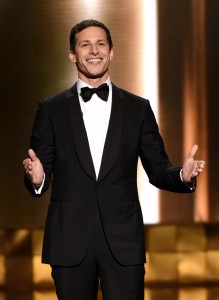 He took some big swings with the monologue, doing a few jokes he was probably warned would bomb. It was fun, then, that he drove through those stop signs even if not every joke was a home run. Here are the lines I liked best:
"Is it just me or does Bernie Sanders always seem like his flight is delayed?"
"I admit I haven't seen Olive Kitteridge. I've just seen half of Kitteridge."
"It's been a year of goodbyes. This year we said goodbye to Mad Men and Parks and Reaction. And we also said goodbye to True Detective even though it's still on the air."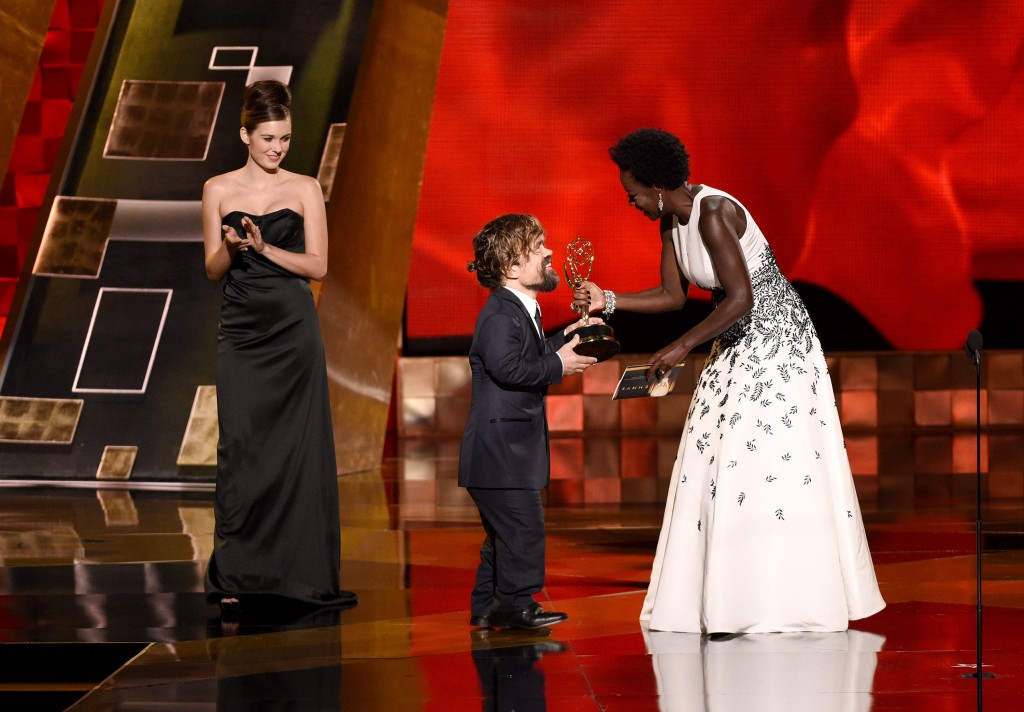 As for the winners, HBO–which led all networks in number of nominations–had a huge night, winning about half of the awards presented. Game of Thrones took top drama prize, with Peter Dinklage winning Best Supporting Actor. Veep was a big winner, taking Outstanding comedy, winning for writing and acting. Julia Louis-Dreyfus won her sixth Emmy and supporting player Tony Hale also won. Olive Kitteridge won for Best limited series, with lead players Francis McDormand and Richard Jenkins also winning.
McDormand should get a special award for best speech of the night. "We're all here because of the power of a story well told," she said. "Sometimes, that's enough." Then she walked off! Bravo.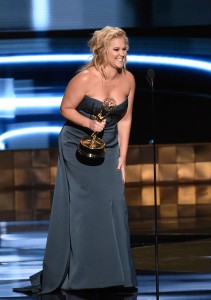 Amy Schumer won for producing the Outstanding Variety Sketch Series Inside Amy Schumer. Asked after if winning would change her post-awards show plans, she shot back, "No, either way, I was going to get laid."
To no one's surprise, Jon Stewart and his Daily Show won a few final Emmys. Viola Davis (How to Get Away with Murder) became the first African American ever to win Outstanding Drama Actress. Led by ABC, the big diversity breakthrough in network TV last season paid dividends for two other actresses: Regtina King, a supporting winner for the miniseries American Crime, and Uzo Aduba, a supporting player on Orange is the New Black.
Outrage of the night: a clip package saluting endings spilled the beans on the way a dozen shows ended. If you didn't know how Boardwalk Empire of Mad Men or Nurse Jackie ended, well, you know now.
A close second: Samberg gave out his HBO password on screen, allowing anyone to "share" his connection to the series–this after the head of HBO was recently quoted saying he didn't care of this sort of thing happens. Let's see how long that lasts.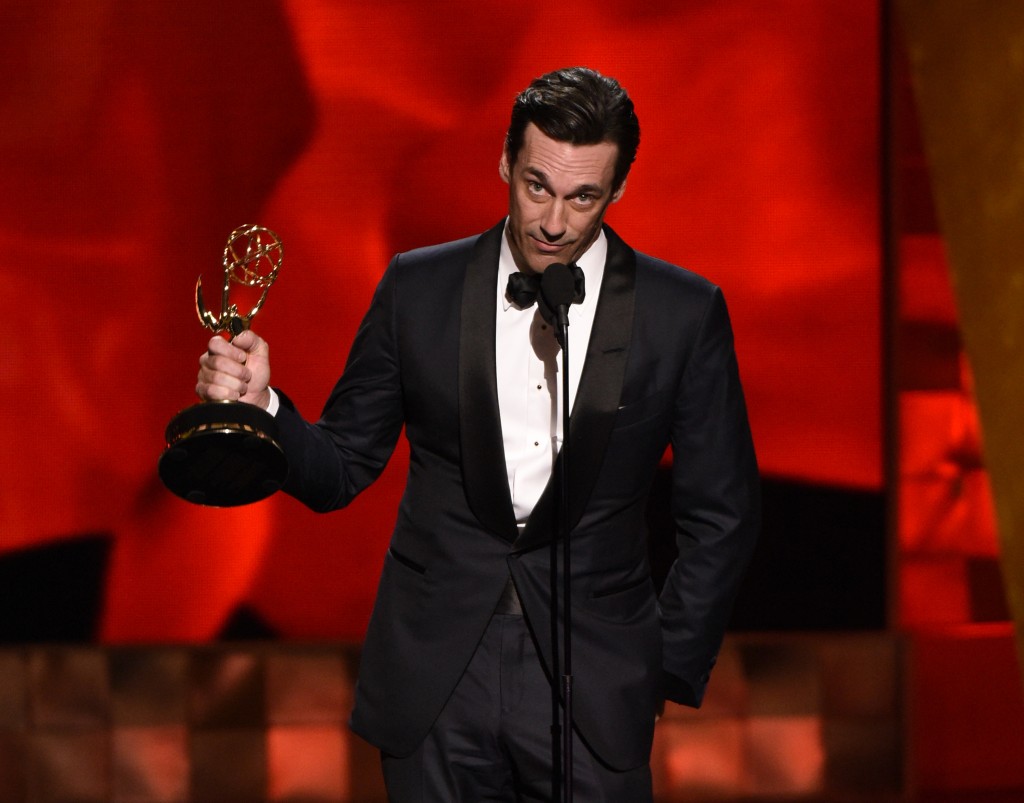 The In Memoriam segment was a classy highlight. The past year saw Leonard Nimoy, Patrick Macnee and Dean Jones all pass away and their clips in particular were brief little bulls eyes of poignancy and emotion.
There was a funny tweet afterwards from Carl Reiner: "In watching the Emmy Awards I felt the same thrill I felt viewing the Oscars when, in the Memoriam, Carl Reiner was not mentioned."
Neither was Reiner's pal Mel Brooks, who got a standing ovation for presenting one of the final awards.
Canadians hoping to see Tatiana Maslany break through with an Outstanding Actress win had to settle for her on the red carpet in one of Samberg's goofier comedy bits. She was caught eating a can of beans. Give her a special good sport award.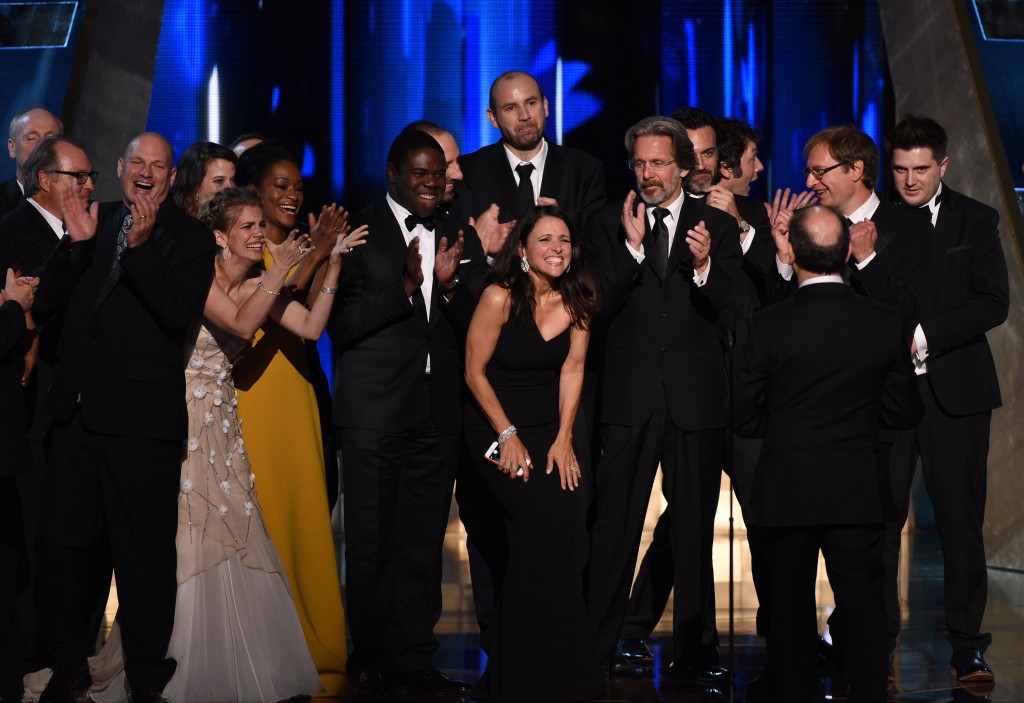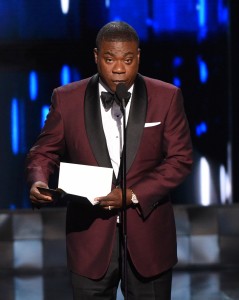 Big surprise at the end of the night, besides the show ending on time, was the appearance of Tracy Morgan as a presenter. Morgan suffered serious head injuries in a horrendous car accident 14 months ago and is recovered enough to host SNL in a few weeks.
He joked that he was finally feeling his old self, which meant the ladies were in some peril at the post-Emmy parties. Somewhere, Bill Cosby sat at home going, "See?"