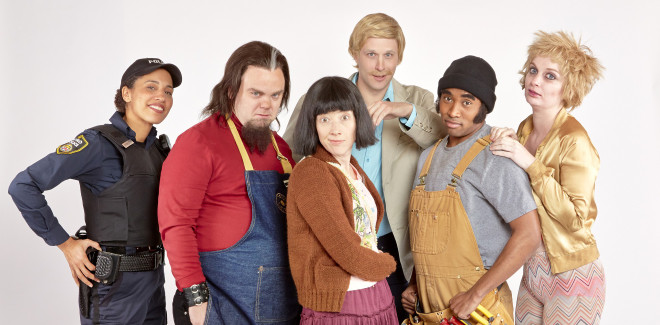 A few days after I razzed Rogers to make a call on Sunnyside, they did. The show, as expected, was officially cancelled.
The sketch-uational comedy, shot for all the right tax reasons in Winnipeg, pleased fans dying to see some of Canada's best comedy performers romp through a half-hour of unbridled madness. Here was a show where no idea seemed too far-fetched–an infestation of ponies? Sure. An open manhole version of the Internet? Log it on.
I was happy Dan Redican and Gary Pearson got to make the show they wanted between pencil sketches in the writer's room. That they invited me out to play straight man to a horse was the best day I ever spent in a suit.
If their show had been on Netflix or, like Letterkenny, CraveTV, they might be well into prepping the next 13. That they were making this for a Canadian broadcaster had only one advantage–all 13 they did make would be shown, and over and over again.
City's release stating the show was being cancelled because not enough Canadians watched is, unfortunately, very true. A fat lot of good it does now, but my note to Dan and Gary would have been to introduce somebody new into Sunnyside who the audience could embrace and identify with. (No, not "Guy hailing Cab.")
It's fun and amazing to watch the regulars disappear into all these outrageous characters, but, in broadcast, to reach enough 18-49-year-old eyeballs, you still need Newhart anchoring things back at the Inn. Sunnyside was so original–more Monty Python than Newhart, certainly–it's unfair if not impossible to impose such a simplistic solution (although it's what I do best). Community had heart and family but still struggled, albeit for five seasons. Sunnyside wasn't Community, either, but, strange as those characters were, you still wanted to be in that study group.
On Netflix or another streaming on-demand platform, Sunnyside could have pushed things in an even more absurd direction. Where was the homicidal puppet family in this mix, I wondered. Season Two, obviously.
Getting a series on TV is always a miracle so hats off to City for saying yes in the first place to this weird little world. Dan and Gary can take some solace in knowing this series will only grow in stature in the coming years as new generations of comedy writers get to see it rerun eleventy-million-billion times on FX Canada and go, "They got to do whaat?"
What should be celebrated is the fact Sunnyside did not look like an American version of anything. It was a new generation of Canadian sketch for television, evolving out of a grand tradition. If you're going to call Canadian TV's top award a "Candy," you've got to keep raising that sketch bar.
Now that they're warmed up and have the right players, take Sunnyside to the streamyside. Or just spin off a character and produce Dad Jokes–which, at the very least, should be the title of Pearson's next book.