The best drama on television ends its season tonight and everybody already knows how it ends.
American Crime Story: The People v. O.J. Simpson signs off with a 99-minute finale Tuesday starting at 10 p.m. ET. on FX and FX Canada.
SPOILER ALERT: O.J. gets off.
What makes this series so compelling isn't the way it ends, it's the way it is told. Every episode has offered a different perspective of a trial we all thought we knew so well. Viewers have seen Marsha Clark (Sarah Paulson in the performance of the year) get crushed by the relentless scrutiny of the tabloid press. Think you knew Chris Darden? Sterling K. Brown takes stillness and fury to a whole new level. Think you knew what the jury went through, or Judge Lance Ito (Kenneth Choi)? Their episode was one of the series biggest eye-openers.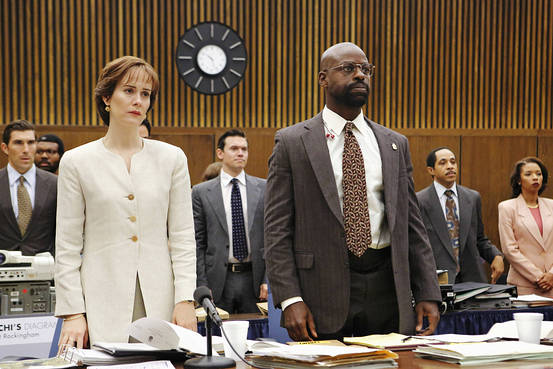 Executive producer Ryan Murphy has said he wants to keep this company of actors together to tell future Crime Story's. Good luck with that. Screw any Friends reunion–David Schwimmer has gone from relative obscurity to the lead in any show he wants next after the performance of his life as O.J.'s anguished friend, Robert Kardashian. Cuba Gooding, Jr., has taken what ended up being a lesser role–O.J. is in custody from Episode 2 on–and yet steals the series back every time his number is called.
Courtney B. Vance had perhaps the hardest job. Johnnie Cochran had been turned into a cartoon character on Seinfeld. Vance drives the part like a Porsche, shifting gears effortlessly as the character veers from win-at-all-costs attorney to flawed family man.
John Travolta, too, had to make your forget. Not his real life character, Robert Shapiro, but his very famous real life self. The wig and the eyebrows took a little getting used to at first, but credit Travolta for staying so far under the skin of the character. Weeks ago he became just Shapiro, a character who in lesser hands could have been rendered as a caricature.
The same level of commitment is found in all the lead roles. It shouldn't be such a revelation that a Broadway star such as Nathan Lane (as F. Lee Bailey) can go from understated to 60 in a drama as effectively as he can in a comedy–but it is. As Gil Garcetti, Bruce Greenwood is given little to do but look horrified and then tear strips off Clark and Darden–and he does both as if he was No. 1 on the call sheet.
There are many, many other people who make outstanding contributions to this miniseries. The directors, including Murphy, Anthony Hemingway and John Singleton, all add energy and spice to the mix.
Murphy, however, may be the most rewarding surprise. He's long been Fox's most valuable player, the man responsible for much of the network's scripted schedule. He always brought style and wit and cheek to his other projects. Going from Nip/Tuck to Glee to American Horror Story gives new meaning to the term range.
Murphy tended to run out of steam or story, however, juggling all those past projects. Those weekly Glee musicals could lurch from brilliance to reach-y in the same scene and some weeks seemed made up on the spot.
Here, however, Murphy shows a sure hand all the way through. Working with a great script, courtesy Scott Alexander and Larry Karaszewski, has clearly allowed Murphy to focus on dazzling viewers with superior storytelling and showmanship.
Ryan Murphy is at the top of his game on The People v. O.J. Simpson, crafting the (Not) guilty pleasure of the television season.