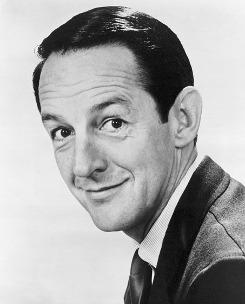 Look up "'60s TV Dads" in the dictionary and there should be a photograph of the gentleman to the right: William Schallert. The actor passed away earlier this week at 93.
Best known as patriarch Martin Lane on The Patty Duke Show (1963 -'66), Schallert's face and voice were as familiar as test patterns throughout the '60s. The California native was also a series regular on The Many Loves of Dobie Gillis, but his bread and butter was appearing on other people's shows. On IMDb, he has an astounding 375 acting credits, appearing on everything from Gunsmoke to Get Smart, from Bewitched to Bonanza, from Perry Mason to The Partridge Family and even–with his wife, actress Leah Waggner–an episode of The Dick Van Dyke Show. Schallert booked a memorable Twilight Zone episode as well as a Mod Squad. Later came Coach, Quantum Leap and How I Met Your Mother. He was still at it in 2014, appearing in an episode of 2 Broke Girls.
He also served as head of the Screen Actors Guild, as did Patty Duke.
In 1994, I spoke with Schallert at a Hollywood autograph show at what was then the Beverly Garland Holiday Inn in Studio City, Calif.  Then in his early seventies, he really hadn't changed very much. Here is part of that conversation:
How did you come to be cast on The Patty Duke Show?
Well, before that I did a pilot that didn't get picked up. They were going to do Archie as a series, I played the father on that.
Who played Archie?
It was a guy who never acted before. [John Simpson; only other credit: "Night of the Living Dead."] I used to see him at Brooks Brothers where he sold ties, later when I was doing The Patty Duke Show.
Before that I'd been working on Dobie Gillis. After the Archie thing fell through I was available and I got a call to come and do this show. They'd already done a pilot with a fellow named Mark Miller, who went on to do Please Don't Eat the Daisies. I don't know why, they decided to dump him or he decided to get out–one of the two.
They called and wanted me. Oddly enough, Jean Byron, who played the mother–she and I both used to work in Dobie Gillis together, She was a teacher too.
Patty Duke played identical cousins on the series. Was it a hard show to do given all the special effects?
It was for the first year especially. They did a lot of what they call split screens. We were shooting it in New York, single camera. It seemed to me the crews were a little slower in New York in those days. It used to take us five days to shoot the show there and four the second year. When we came out here to the west coast [for the third and final season] we shot it in three days.
In order to do the split camera thing where she would play Patty and Cathy on opposite sides of the screen they had to be very careful that they established the mid line. Then they would shoot the scene once with her on one side as Patty. She'd go and change as Cathy they'd shoot the same scene again. They'd use the playback of her speaking as Patty and now she's doing Cathy. Then they'd have two pieces of film. Half of each piece was good. They'd cut it down the middle use the two pieces that work and throw the rest of it away.
It must have taken her a lot of practice to get it right.
No, no, she was very quick about that. She was quick about everything. She was an amazingly professional girl.
How old was she when the series started?
Sixteen. One of the most professional actresses. She was always ready on time, she knew her lines and knew everybody else's lines.
Do the two of you keep in touch?
We see each other every once and a while. She didn't have a father—her father deserted the family when she was very young. And I had four sons but no daughters so we kind of bonded as father and daughter. That relationship sort of held over the years, we feel very close. She's a grandmother now—I guess that makes me a great grandfather!
Who did you like better–Patty or Cathy?
I thought of them as two different people. Cathy was very sweet; Patty was very feisty.Patty was my daughter and Cathy was my niece, though I once or twice played Cathy's father, too. I also played my old uncle Jed on the show, so there's a shot of me doing one of those split screen things too.
You were also in one of the classic original Star Trek episodes, "The Trouble with Tribbles."
It was voted the most popular Star Trek. [Savvy Schallert was signing stills from that episode at the Hollywood show.]
What was it like working with all that fur?
It was just another job. Who knew it was going to be that popular? I played one of those stuffy bureaucrats so I wasn't that happy with it.
I went to a Star Trek convention some years after it had gone off the air. I was out at the airport and there were these people dressed up  as aliens—trekkies. The whole place is full of them, it was kind of a crazy scene. As I walked in the door they all said, "Nilz Baris!"  They remembered the name of the character I played. I didn't even remember it!