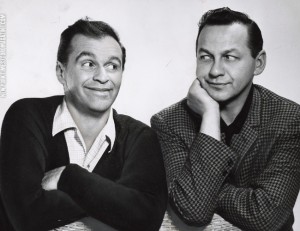 Still several time zones removed from reality, I managed to scramble downtown earlier this week to attend Wayne & Shuster in Black and White, a presentation of the Toronto Jewish Film Festival. Held at the University of Toronto's Innis College (a wonderful mid-size screening room I hadn't been in since attending U of T), the salute to the Canadian comedy duo included several of their best sketches, including two gems from the '50s: the "Shakespearean Baseball" sketch and "Rinse the Blood off My Toga."
The session was well moderated by my TV on Film Project pal Mark Selby with special guests Rosie Shuster, daughter of Frank, and Wayne sons Michael and Brian. Veteran Wayne & Shuster sketch player Don Cullen also was on hand to share memories.
The second generation are working to restore the legacy of these two men, who truly were Canadian superstars. Wayne and Shuster were favourites of Ed Sullivan, appearing every six weeks or so for two decades.
They met at U of T–where they performed frat shows they claimed to be their funniest stuff ever–and were reunited in army shows during World War II.
I've always had a soft spot for comedy teams, probably because I was part of one. (Bullock & Brioux. I'll pause here for people–even family members–to say, "Who?")
Wayne & Shuster were naturally funny guys who knew how to sell a joke but they were also pretty good song and dance men. They were very different, however, from Abbott & Costello or Martin & Lewis. The university backgrounds lifted their satire a notch, yet they had the comic's instinct to sell broader jokes beyond the big cities and right across Canada.
They were not born of burlesque but really emerged whole as television comedians, sketch artists who surrounded themselves with terrific performers like Cullen and Sylvia Lennick and Billy Van and Jack Duffy and Tom Harvey and Larry Mann and many others. Really, Wayne & Shuster were sketch artists who begat Air Farce, Second City, SCTV, Mike Myers, Jim Carrey and many others.
One of the black and white sketches shown at the TJFF tribute lampooned air travel in the late '50s, specifically Air Canada and the notion that people were divided into first class and economy. The entire sketch was in pantomime, a forum perfectly suited to Johnny Wayne's elaborate mugging skills. W&S were clowns in the tradition of Red Skelton and Jackie Gleason–two of America's top TV entertainers–yet they could also engage in the clever word play championed by emerging acts such as Nichols & May or Dudley Moore and Peter Cook.
They were also part of a great tradition of Jewish comedians, exploiting their culture at the right moment such as in the Toga sketch where Lennick moans, "I told him, 'Julie, don't go!'" Yet they were embraced by all Canadians. As son Brian said at the TJFF salute, "They separated church and shtick."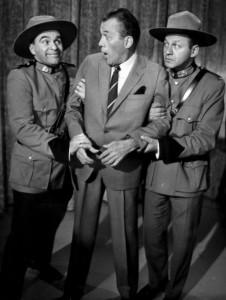 By the time comedy clubs brought a more confessional and confrontational edge to comedy, in the late-'70s/early '80s, Wayne & Shuster were seen as your parents or grandparents'comedians. Suddenly the care and precision that went into their TV routines was seen as a liability.
I remember seeing them together at the sod turning ceremony for the CBC headquarters on Wellington at John. Wayne and Shuster really built that place, but never got to take advantage of the new studios.
That Wellington and John have not been re-christianed Wayne and Shuster is fakakta. Their children want to see street names happen and have launched a Wayne & Shuster Preservation Society. They don't want some crummy lane-way in Brampton, either. Bathurst north of Bloor–why not?
In the meantime, congrats to Director of Programming Stuart Hands and all at the 24th Toronto Jewish Film Festival for celebrating their legacy. TJFF runs through till the 15th.