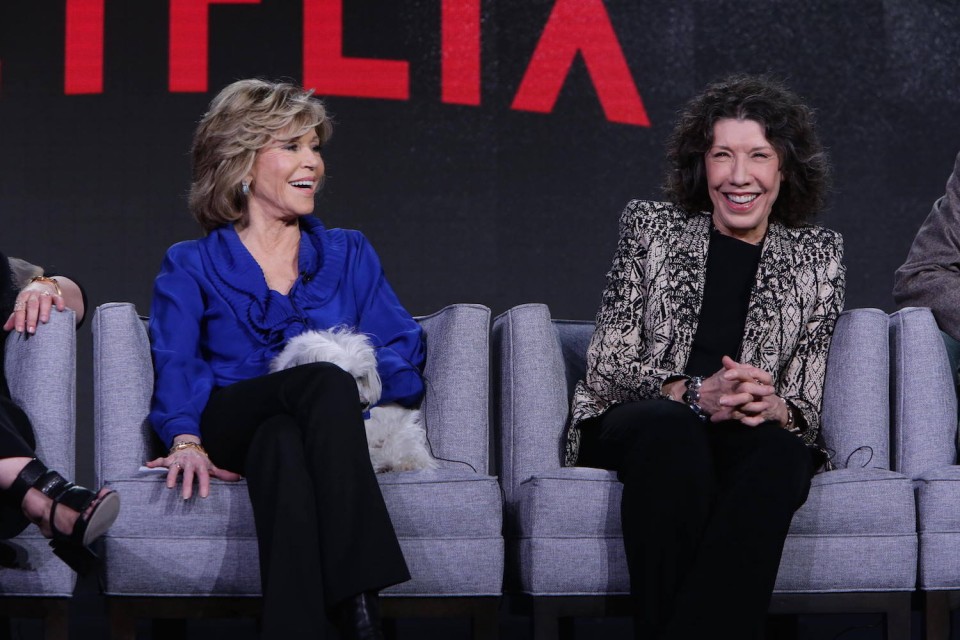 Lily Tomlin doesn't see herself as a trailblazer.
Suggest that the Grace and Frankie star, back with Jane Fonda for a second season on Netflix, is out in front of a mini-trend featuring elderly LGBT characters on TV and she just shrugs.
"I think what's important," she said last January in Pasadena at the winter TCA sessions, "is just to welcome more humanity into the family of people and not make a big deal our of it."
Prodded, however, and she will express some pride in the part she has played in how society has changed.
"We just built a big facility for elderly gay people," she says. "There's a two year waiting list."
Tomlin is 76 and Fonda is 78. There's talk their former "9 to 5" movie mate Dolly Parton–who turned 70 earlier this year–could join them in future episodes of Grace and Frankie. Not this season, however, insists executive producer Marta Kauffman.
"Here's the deal," she told critics last January. "We're still, I feel, creating a world, and the world is Grace and Frankie. That's the world. These are characters you want to know and invest in. And the minute you bring Dolly Parton in, who I love by the way, it's '9 to 5.' No matter what you do, the thought is, oh, look, it's a '9 to 5' reunion, and you're taken out of the show."
Fonda, however, says "Never say never" and hinted that a plot device has already been worked out.
Kauffman agreed, but wanted us all to know there will definitely never, ever be a Friends reunion movie.
Not that anyone was asking for one.
Read more about the new season of Netflix's Grace and Frankie here at this feature I wrote for The Canadian Press.