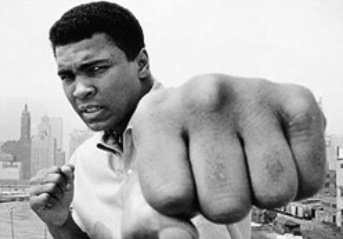 When people ask, as they occasionally do, who is the biggest star I ever met, I only ever have one answer: Muhammad Ali.
"The Greatest" died Friday in Scottsdale Arizona. He was 74.
Growing up as I did in the '60s, there was no bigger hero than Ali. He was mesmerizing in the ring, floating and stinging, incredibly fast for a heavyweight.
Outside the ring–as a TV star–he was even more of a showman. He ripped opponents through poetry, which was crazy back then, just incredibly brash and charismatic. What The Beatles stole from Little Richard, Ali took from wrestling sensation Gorgeous George: a flamboyance and cockiness that made you look.
After he made you look, he made you listen.
He stood tall among the other icons of the '60s–The Beatles, Bond and Batman. His anti-war stance put him on a level beyond sports. Winning back his title in Africa was fitting as Ali became as internationally famous as Charlie Chaplin, Coca-Cola or Kentucky Fried Chicken.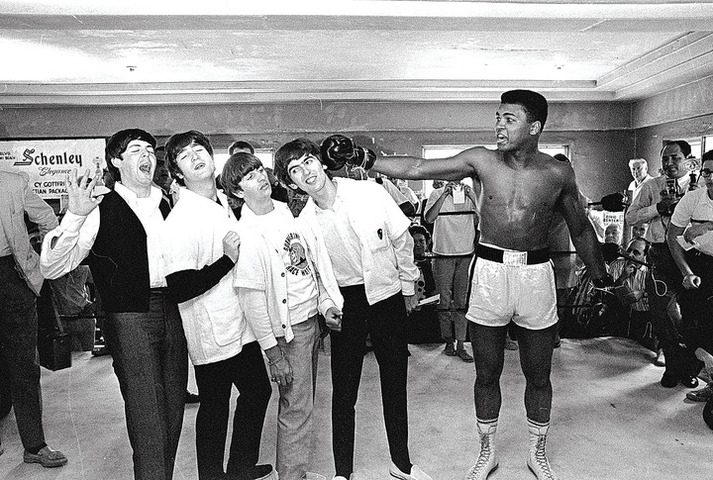 In his later years he was struck silent from Parkinson's disease. Robbed of his speed and speech, he nonetheless grew in stature as a silent-but-powerful symbol of human rights. This was especially true in Atlanta in 1996, where the trembling champ stood and lit the torch at the Olympic Games.
Ali was not perfect. He had a cruel streak, taunting opponents mercilessly in the ring.
"He wasn't the nicest guy in the world," former heavyweight champion Larry Holmes told a group of us attending a TCA press tour in 2010.
Ali would call Joe Frazier a gorilla, and, as Holmes reminded reporters, "you guys liked it. You guys thought it was funny. We didn't think it was funny at the time."
Still, Holmes appreciated the fact that Ali played an important part in his life. "Without him, boxing probably wouldn't have been alive because he had the mouth. He can talk, and he made people like him. He made people that didn't like him, he made them like him."
Except maybe Joe Frazier, who was also at that press session. At one point, Holmes tried to get Frazier to soften his stand against Ali. The exchange was poignant, theatrical, intimate, meaningful. It was real.
LARRY HOLMES: After I beat Muhammad Ali, you know, I'm the only one to ever really stop him, and I probably could have done it a little earlier if I really put the pressure on him. But when I beat Ali, I went to his room, and my memories is, "Hey, Ali, man, you're always going to be the greatest in my book, and I love you." And he says to me, "Why you beat me up, then?"

(Laughter.)

And that's what I got, man. When I left out of that room, because he was still making jokes with an ice pack on and everything, "Why you beat me up, then, if you love me?" If you beat me up — you don't love me if you beat me up, you know. Ali was great, and I loved Ali then. I love him now, and Joe Frazier might say he don't like Ali, but Joe loves Ali too.

JOE FRAZIER: Love seeing him falling down.
I met Ali 25 years ago at a TV Hall of Fame induction ceremony in Florida.
One of the photographers at the Hall of Fame event snapped a couple of shots of the two of us and later, very kindly, sent me the slides. It's great to have those photos, but I'll never forget that magic moment.
Ali was there to help salute Howard Cosell, then gravely ill and too sick to attend. Parkinson's had already limited Ali's vocal abilities, but he was all there otherwise. I found him in the crowded reception prior to the ceremony, respectfully approached and held out my hand. He shook it and listened as I told him something I always wanted to say to him if I ever got the chance.
I was a Toronto high school student when Ali fought Foreman in October of 1974. The fight was not on free TV. The only access I had to it was on radio, and even then it was a blow-by-blow account after each round. I remember former champ Floyd Patterson was in on the broadcast and that, a decade after Ali changed his name, Patterson still dissed Ali by referring to him as Clay.
I had a project due for art class the next morning: turn a block of clay into a sculpture. I didn't want to miss the fight, so I listened to the radio as I chipped away at the clay.
The "Rumble in the Jungle," which was held outdoors in Zaire,Africa, sounded hopeless for Ali. He was a big underdog to then-champion Foreman, who was taller, eight years younger and a fearsome puncher. Foreman destroyed Joe Frazier, knocking him down six times over two rounds.
The radio reports sounded grim. Foreman was wailing away with hay makers, Ali was on the ropes. Patterson was positively gleeful.
As I told Ali, I was chipping away at this block of clay with a hammer and a chisel throughout the fight. Ali landed a right, chip. Foreman landed an uppercut, whack.
By the seventh, even Patterson could see Ali's rope-a-dope as well as the African heat had taken the punch out of Foreman. Ali knocked him out in the eighth.
The kicker, as I told Ali, was that I took that piece of clay to school the next day and got the highest art mark I ever got.
Telling that to Ali was all the reward I ever wanted. Then something truly magical happened.
Ali, who seemed touched by this story, bent down to place a black brief case he was carrying on the floor. He struggled a bit to do this, and it was hard to see first hand how much his once magnificent motor skills had deteriorated.
Then he stood up, and, just to me, held out his hands, palms up. He made the "nothing up my sleeve" gesture. He placed his outstretched firsts together, and slowly pulled a large, rainbow-coloured scarf out of the grip of one hand. He held the scarf up, then slowly poked it back into the hand. He then opened both hands to show that the scarf had disappeared.
I really thought I was dreaming. Then he got that playful look you used to see on TV when he was about to punk Cosell. He grabbed the thumb of his left hand AND PULLED IT OFF. He held it up to show me the scarf inside the fake thumb.
Some heroes when you meet them are made of clay. None were ever more magical, for me, than Muhammad Ali.