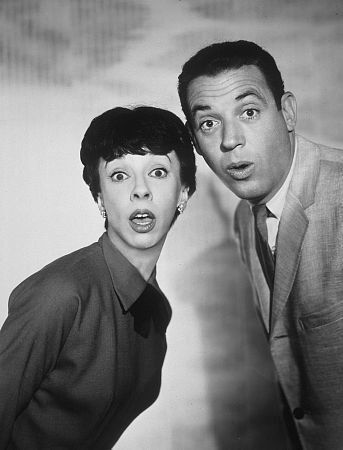 If they were saluting TV players instead of film stars, Ann Morgan Guilbert would fit right in on that TCM segment "What a Character!"
The Minnesota-native, who died earlier this week at 87, made a career stealing scenes–especially back on the series she is most remembered for, The Dick Van Dyke Show.
It is worth noting that Guilbert was only on a every fourth or fifth episode of the classic '60s sitcom. She made so much of her scenes, however, it seems like she was in all 158 episodes.
Her casting on the series, as outlined in Vince Waldron's The Official Dick Van Dyke Show Book, came at the urging of the actor who played her husband on the show, Jerry Paris. Paris, already a busy actor, had been cast as the Petrie's next door neighbour pretty much through his association with producer Sheldon Leonard at the track. Paris had known Guilbert for years and urged her to audition to play his wife. Creator Carl Reiner was already familiar with Morgan from seeing her on Broadway in the Billy Barnes Revue a few years earlier. Reiner liked that she was a sketch performer and noted that there was "a sound in her voice that made me laugh."
Reiner tweeted earlier this week that he was "sad to learn Anne Morgan Guilbert has passed on. A gifted comedian & dramatic actress.whose performance in "The Immigrants" was memorable"
Dick Van Dyke also paid tribute: "For 5 years, I watched Ann Morgan Guilbert be the backbone of scenes that literally wouldn't have worked without her," he wrote. "She never stopped honing her skills and could break your heart in a dramatic role."
Reiner based the neighbours on a real life Jerry and Millie he and his wife lived next door to in New Rochelle.
One of Guilbert's best moments was when she auditioned for one of the neighbourhood talent shows Rob (Dick Van Dyke) reluctantly directed each year. She's standing next to the piano in the Petrie's living room, holding a lit cigarette. "And then I killed myself," she sang, "I'm funny that way…"
Guilbert was pregnant in real life during the first season of the series, temporarily limiting her appearances. She's so identified with TDVDS one tends to forget all the top TV comedies she either guested on or had a starring role in over the years. Guilbert counted My Three Sons, The Andy Griffith Show, Maude, Cheers, Newhart, Barney Miller, Home Improvement, Seinfeld, Curb Your Enthusiasm and Modern Family among her IMDb credits.
She stole scenes again as feisty Grandma Yetta on The Nanny and also starred in short lived series The Fanelli Boys (1990-91). That series co-starred, as her sons, two guys who went on to better things–Joe Pantoliano and Christopher Meloni.
Guilbert was doing some of her best work in her eighties. She stole scenes again on HBO's Getting On as Birdy Lamb, one of the patients in the palliative care unit.
"She still smokes and drinks," marveled Getting On's Alex Bornstein.
Laurie Metcalf says it was a privilege to hang out with Guilbert and some of the other older scene-stealers on Getting On. "The women loved being a part of it," she said. "They know how much they're contributing."
Guilbert was still contributing almost till the end. Just this past season, she taped two episodes of the CBS comedy Life in Pieces.
Ann Morgan Guilbert — what a character.