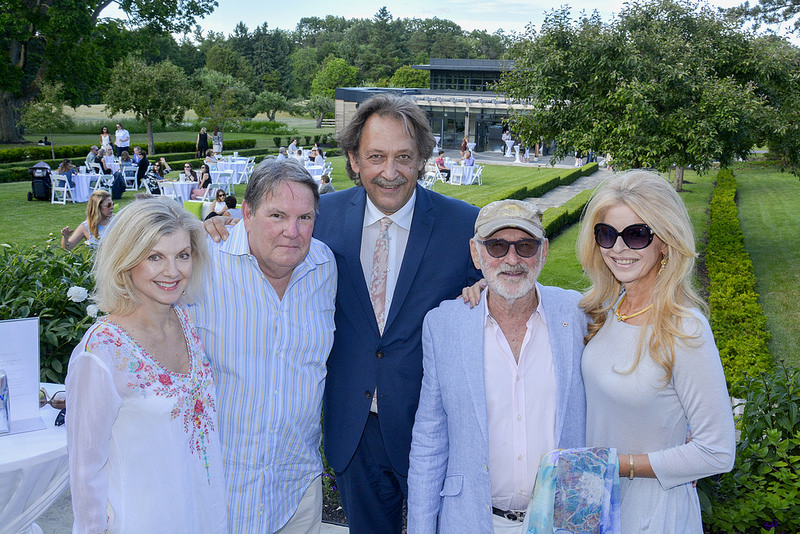 Is there a more beautiful acreage in Toronto than the grounds of the Canadian Film Centre? E.P. Taylor's little horse ranch got the traffic cops treatment Thursday in Toronto at its annual Garden Party. This is a way less crowded and better catered affair than the annual TIFF BBQ, more of a thank you to the high rollers who contribute generously to the CFC every year. Invited "Circle of Supporters" were welcomed by CFC board chair Christina Jennings, who decided not to use the joke I offered as her opening line. It is wise decisions like this that make her one of Canada's top TV producers.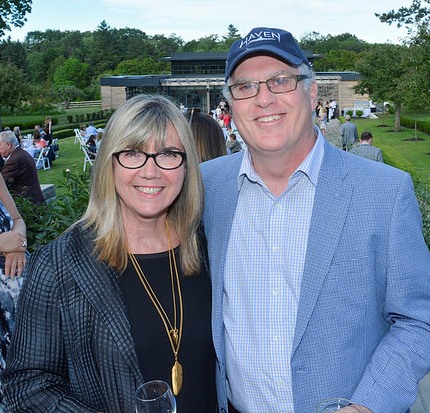 My ol' pal Slawko Klymkiw, CFC's CEO, put the politicians at the event front and centre, including the Honourable Eleanor McMahon, Ontario Minister of Tourism, Culture and Sport as well as Rob Oliphant, MP, Don Valley West. He also accepted a generous cheque from Alan Walker, Executive Director of the Ontario Arts Foundation.
Slawko  made two announcements: No. 1, CBC has become the new title sponsor of the CFC's Actors Conservatory. CBC executive director Tara Ellis said the public broadcaster looks forward to first dibs on the next wave of Canadian acting talent as a result.
Slawko then introduced my Banff buddy Don Carmody as the CFC's first Producer Chair. Aren't producer chairs usually set at a higher level–you know, to look down on director chairs? Carmody, Canada's most prolific and successful film producer with credits dating back to "Meatballs" and "Porkys," has been a CFC mentor and supporter for several years. His City/Netflix sci-fi series Between returns June 30/July 1 for a second season.
CFC founder and chair emeritus Norman Jewison was on the grounds, which made it OK, I figured, to wear a baseball cap. We shook hands and I told him again I have a 16mm print of his first film, "40 Pounds of Trouble." I reminded him of his response the first time I told him about this: "Burn it!"
I never will; I love the film. A remake of the old Shirley Temple favourite "Little Miss Marker," the 1963 feature starred Tony Curtis as a Lake Tahoe casino manager who was a bit O.C. Jewison says Curtis gave him his big break in features and the director always regretted not finding another role for the actor as their careers extended into the '70s and '80s. He was glad, however, he was able to find a part in the film for a budding young newcomer at the time: Suzanne Pleschette.
Don't tell anyone, but according to Wikipedia, Jewison turns the big 9-0 next month. May he get a room full of new ball caps.