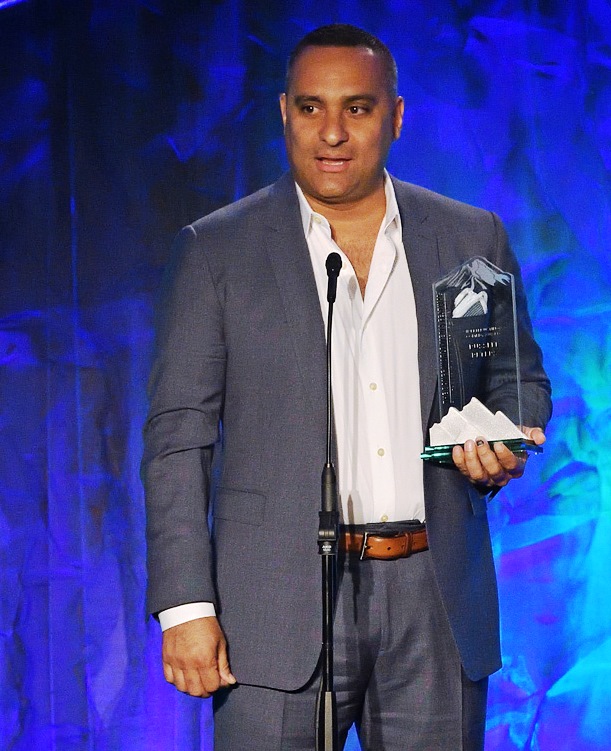 For me, one of the highlights of last week's Banff World Media Festival was getting to chat with Brampton's own Russell Peters. The comedian was awarded the Sir Peter Ustinov Award for comedy at the Rockie Awards and quickly admitted he'd never seen a Ustinov film. "He did make films, didn't he?" Peters asked the uncertain crowd.
Peters laughed heartily at Gerry D, who hosted the Awards. Jay Baruchel, another recipient, was also doubling up in the front row.
The 45-year-old was interviewed at the final Banff session by Lainey Lui, one of the co-hosts of The Social. She did an excellent job, serving as foil for Peters' jabs but also keeping him off-balance enough to sneak through a few direct and personal questions. When did he last cry, she asked; Peters admitted he regularly weeps singing along to schmaltzy music while driving back to Malibu from Vegas.
Peters has lived in Malibu for a decade but can still recall the names of shop owners and intersections in Brampton, with a particular fondness for Mackay Pizza. He joked about working at "Captain Submarine" at the Bramalea City Centre. He did not go to one of the performing arts schools in the area but instead attended North Peel Secondary, "not exactly a high academic school," he says.
He laughed at my suggestion that the one advantage to living in Brampton is that your kids never move back home. It wasn't true in his case: he lived with his parents in Brampton until he was 30. His brother was even older.
"Hey, get off my back–we're Indian." he jokes.
You wouldn't think Brampton would be a hot bed of comedy but, as Peters points out, he and Scott Thompson sand Michael Cera all grew up there. (Shaun Majumder also spend his high school years in the west-of-Toronto suburb.)
"You look at the three of us and not one of us have anything in common as far as our comedy goes," he says. "And that's what really explains Brampton. You have these three really funny people and they are all complete individuals–they're not like, 'He's funny like that guy.' We can all really admire each other individually, but there's no link."
I spoke with Peters about his new series The Indian Detective, coming in 2017 to CraveTV. It will be more dramatic than you think, with the four episodes ordered so far shot in Toronto, South Africa and India. Production begins this fall in Toronto. So far, no one else has been cast. The showrunner is veteran X-Files scribe Frank Spotnitz.
For more on Peters and The Indian Detective, follow this link to the feature I wrote at The Canadian Press.