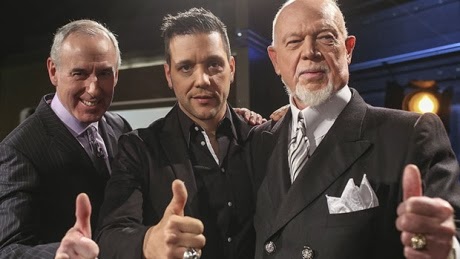 The Toronto Star has jumped out front on a story many of us have been keeping an eye on for weeks–George Stroumboulopoulos' future with Hockey Night in Canada.
A few weeks ago when I spoke with Sportsnet president Scott Moore at the Rogers upfront, he seemed to duck around the Strombo question. HNiC's ratings were way down this season and reached historic lows during the Stanley Cup playoffs. Thank The Leafs for finishing 30th and all the Canadian teams for failing to make the playoffs. Bad luck aside, there were indications of changes ahead for HNiC, starting with the dismissal of the guy in charge of the broadcasts heading into the playoffs. Moore only went so far to say things would get tweaked.
What he didn't say was that he had George's back, or that he was 100% behind Strombo, or any of the other things he said the year before. Reading between the lines, it sure seemed as if Rogers was re-evaluating Strombo's role on the billion-dollar hockey franchise.
They still may be doing that. As of Tuesday afternoon, two days after Ron MacLean told The Star and CP that his return was all but official, it's still not official.
Resistance to Stroumboulopoulos as the centerpiece of Rogers' $5.2B NHL deal began almost immediately. "The hipsters have taken over HNiC," went the Twittersphere.
I asked former New York Times columnist and now CNN and Sirius commentator Bill Carter for some perspective and, as usual, he got right to the crux.
"Sports shows need credible hosts," said Carter," because you never want the audience thinking at every moment, 'I know more than this dude.'"
That, to me, was part of the problem with Strombo. The show never allowed him to logically catch up as a sports specialists and rarely played to his strengths as an interviewer. Plus there were other problems; read more here at this feature I wrote for The Canadian Press.
Even though the story is still in play, radio stations pounced once they got a whiff of Strombo blood. I took three calls on the situation Monday up at the cottage. You can listen in here as I talk about the Strombo speculation with CHML's Scott Thompson.
There is one guy, however, solidly in Strombo's corner: Keith Olbermann. No stranger to job jumping controversies, Olbermann went Twitter nuts on the subject Tuesday.
"I've long been told the innovators who run @Sportsnet @HockeyNight were overruled by morons," he tweeted. "@Strombo story confirms it. Good luck w/Leno2." Ouch!
It got worse: "So @SportsNet and @HockeyNight, you dumped a host who made it about everybody but himself, and brought back Don Cherry's simpering enabler?"
In case there was any doubt, he went on: "…I don't like MacLean's work but he was a perfect fit for Hometown Hockey. You ruined that too"
Ah well, everybody's a critic. The good news for Strombo: he signed a five year contract with the network.