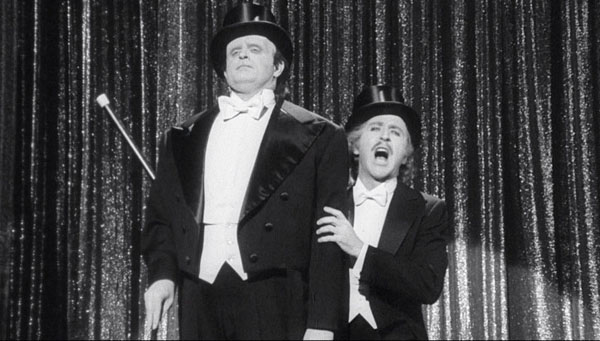 Nineteen Seventy-four was a pretty cool year to be 17. Bobby Hull was setting a record pace in goal  scoring in the WHA. Girls wore bras that did up in the front. Mel Brooks and Gene Wilder were making the laugh-out-loud funniest movies of the past 5o years.
Both "Blazing Saddles" and "Young Frankenstein" came out in 1974. Also released that year: "Return of the Pink Panther." Within a year there were Woody Allen and Monty Python films. It was a good time for laughing.
Wilder, who died Monday at 83 after complications from Alzheimer's disease, seemed the coolest of the cool. After killing it opposite a sheep in Allen's "Everything You Always Wanted to Know About Sex," he was a last minute replacement as the Waco Kid in "Blazing Saddles." Gig Young had the part but was apparently too drunk to deliver. Wilder was flown in at the last minute and struck just the right note as the gunslinger with a drunken past. The film had everything a teenage moviegoer would want: profanity, farting noises and, sure, Count Basie.
"Young Frankenstein" is one of those arresting films that grabs you and pulls you back every time. Here it is Wilder in command, writing and starring and driving the production. Brooks directed and kept things just silly enough to help create a masterpiece of comedy.
A dozen years ago I was on a Fox sound stage in Los Angeles touring, with other critics, the sets of Arrested Development. many of us were just excited to be that close to that show. What tickled Jason Bateman and Will Arnett and Jeffrey Tambor and showrunner Mitchell Hurwitz, however, was that they got to play on the very same stage where "Young Frankenstein" was shot. This was sacred ground.
In his last interview, conducted two years ago with TCM host Robert Osbourne, Wilder tells how "Young Frankenstein" came about. An agent he had at the time also represented Marty Feldman (Igor) and Peter Boyle (the monster) and suggested the three of them should do a movie together. Wilder already had an idea for a film after jotting down notes while catching a late night screening of one of the original "Frankenstein" Universal horror movies.
Such an incredibly simple, humble start.
I used to have a 16mm print of "The Producers," Wilder's second film (after "Bonnie & Clyde") and his first collaboration with Brooks. I guess I am greedy, but I wish these guys had made 10 more movies together.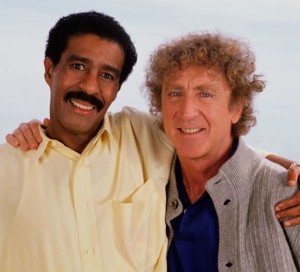 Wilder made several comedies with Richard Pryor, including "Stir Crazy" and shot-in-Toronto "The Silver Streak," and he almost made one more. Brooks wanted Pryor as the sheriff in "Blazing Saddles." The studio balked, already wise to Pryor's drug binges and begged off for insurance reasons. (Pryor is credited as one of the writers of the movie).
Wilder is known best to kids for the creepy 1971 fantasy "Willy Wonka and the Chocolate Factory." He also did a few movies with third wife Gilda Radner, a teaming cut short when she died of cancer. Wilder went on to help establish "Gilda's Club" a charity dedicated to fighting ovarian cancer. A fund raiser is performed in Toronto every fall.
Wilder has few TV credits, including an episode of The Defenders in 1962 and a TV-movie version of "Death of a Salesman" in 1963. The Wisconsin-native always considered himself a serious actor before Brooks. Among his final credits were a couple of episodes of Will & Grace.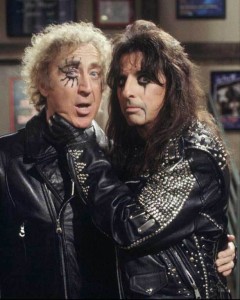 Before that, during the 1994-95 season, he headlined the NBC family sitcom Something Wilder. It was a flop and is almost completely forgotten. I have no memory of ever seeing it or attending a TCA session for it. Alice Cooper was plopped into it toward the end to help save it but by then it was school's out. I'm not making this up.
TCM celebrates Wilder with an over-night tribute Thursday. It begins at 8 p.m. ET with "Role Model: Gene Wilder," a 2008 interview for the network conducted by Alec Baldwin. Baldwin is at his best here and should do more of these, he puts Wilder completely at ease. That's followed by "Young Frankenstein" (9:15), a repeat of "Role Model" (11:15 p.m.) and then Bud Yorkin's 1970 satire "Start the Revolution Without Me" (12:30 a.m.), 1979's uneven effort "The Frisco Kid" (2:15 a.m.) and Wilder's screen debut as a nervous hostage in "Bonnie and Clyde" (4:30 a.m.).