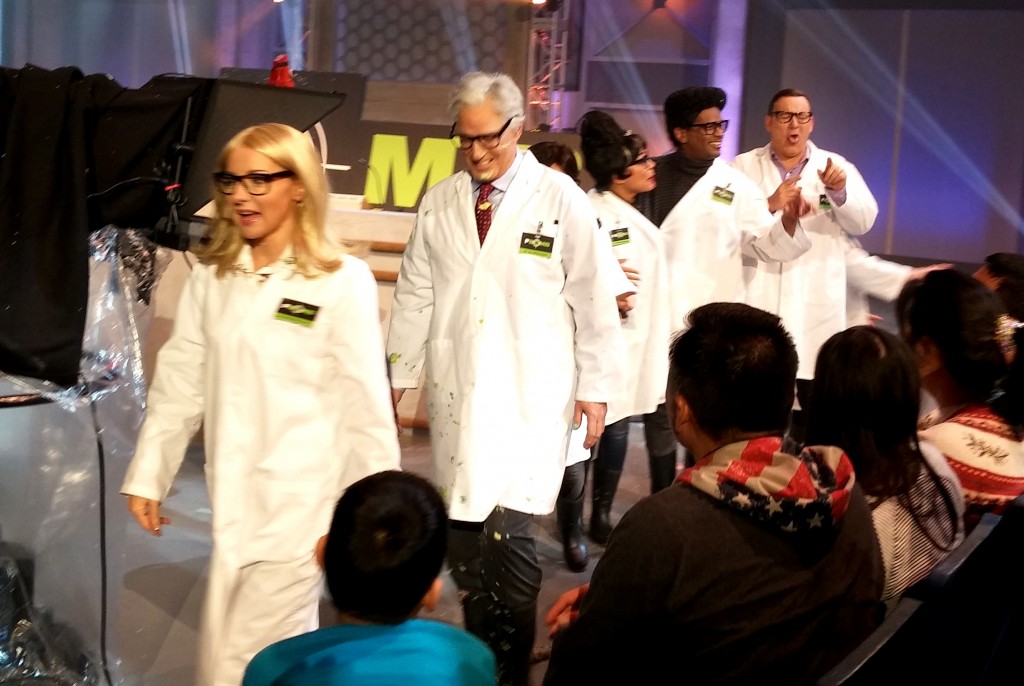 An annual holiday tradition at Brioux.TV is a trip down to CBC for a taping of the annual Air Farce New Year's Eve special. Brampton neighbours Doug and Roberta are part of the entourage and got an extra kick this year out of getting a visual shout out from the studio monitors welcoming "VIP" guests.
Every year, the Farce folk make fans who attends one of their two December tapings feel like VIPs. Producers had to put out extra chairs for last Thursday's run through of seven or eight sketches plus viewings of the Farce Films playing on the studio monitors.
Guests got a kick out of seeing CBC News anchor Peter Mansbridge in a sketch with Farce co-founder and executive producer Don Ferguson. Both men go back to the '70s in distinguished CBC careers. Murdoch Mysteries' Yanick Bisson was Friday night's celebrity guest.
Viewers should have no problem guessing the main target for this year's F-Bomb drop — or is it Donald Trump?
Whether or not The Donald gets splattered with slop, Craig Lauzon sure does a great job impersonating the president-elect. Darryl Hinds is equally good as outgoing president Barack Obama.
Joining them this year is Jessica Holmes, a former series regular who has been busy raising kids as well as awareness for depression issues as she sat out the last six NYE specials. Holmes showed no rust as she threw in a little Celine Dion shtick to the delight of the studio audience before returning as Sister Bessie.
Holmes joins Ferguson and fellow original Luba Goy, as well as Lauzon, Hinds, Aisha Alfa and Emma Hunter on the largest Farce feature cast yet. For the first time, women outnumber men four to three. Ferguson says it is the best cast ever, high praise considering the 40+ year history of the troupe. They were certainly embraced by the Thursday night audience. The cast performed with more bounce and vigor than any previous NYE taping that I can remember.
No wonder really — 2016 presented plenty of satirical targets. Even that ubiquitous A&W dude comes in for some ribbing, as does the Netflix series Strange Creatures, Trudeau and the Liberals, Putin, Drake, Ron MacLean and legalized marijuana.
Fans can catch the CBC special a day earlier than usual this year: Friday, Dec. 30 at 8 p.m. The shift away from New Year's Eve is due to a Hockey Night in Canada broadcast the next night. The special will be repeated, however, around 10 p.m. New Year's Eve, right after the hockey game, in Eastern Canada, It will also be aired Sunday, Jan, 1 at 7 p.m.