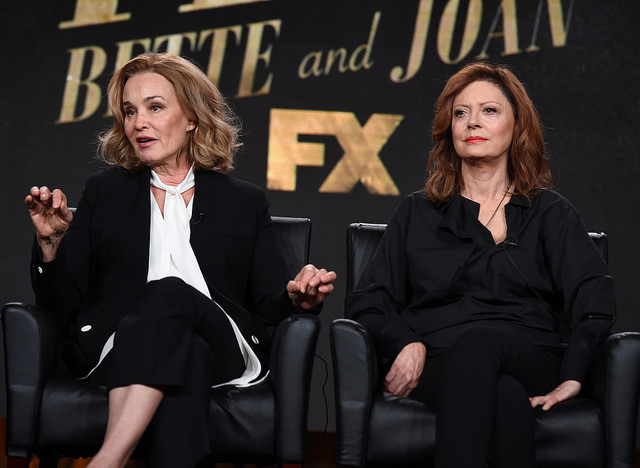 PASADENA, Calif. — Hard to top Jessica Lange and Susan Sarandon for star power here at TCA17. The two no-nonsense Oscar-winners star in Feud: Bette & Joan, an eight-hour series from executive producer Ryan Murphy (The People v. O.J. Simpson).
The homage to Hollywood past casts Lange and Sarandon as two other formidable Oscar-winning actresses:  Joan Crawford and Bette Davis. They only made one film together, the 1962 horror feature "Whatever Happened to Baby Jane?"
FX Networks PR boss and critics' pal John Solberg invited TCA members to a screening of the first two episodes of Feud. A massive, wall-sized digital screen was somehow erected in one of the TCA hotel's banquet rooms, and viewers were given wine and popcorn and invited to sit on vintage plush couches. The first two episodes were screened and the general consensus was that FX and Murphy had teamed on another impressive winner.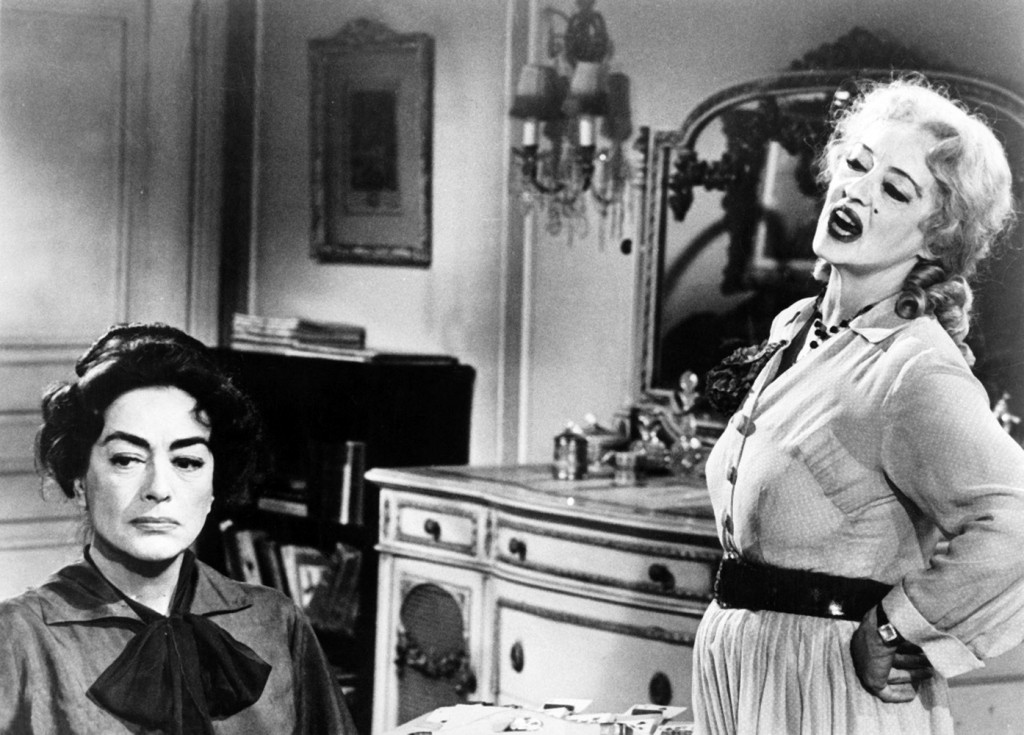 Lange, Sarandon and Murphy dominated the press conference the next day. Catherine Zeta Jones, who plays Olivia de Havilland, joined them on the panel along with Mad Men prodigy Kiernan Shipka (who plays Davis' daughter). Stanley Tucci (seedy and hilarious as Studio boss Jack Warner), Alfred Molina (director Robert Aldrich) and Judy Davis (purr-fect as gossip maven Hedda Hopper) were all busy working and couldn't make it.
Both Lange and Sarandon did their homework on the actresses they portrayed. "She had a fifth grade education," Lange said of Crawford. "As she says, 'Everything I learned, I was taught by MGM:  How to walk, how to speak, how to present your face. I mean, everything.' So there is this great artifice."
Sarandon told the producers she needed a voice coach to nail Davis' eccentric speech-pattern. "I'm so sloppy and slow, and she has got that thing that's been imitated so many times." Sarandon hooked up with voice coach Tim Monich and listened to Davis' voice on her phone night and day.
"The series very much deals with ageism in Hollywood. "Joan was ten years younger when this takes place than I am now," Lange pointed out, "and yet her career was finished because of her age."
At which point about 80 journalists in the room dove straight into Wikipedia. Lange is 67; Sarandon is 70.
Lange brought up the F-word, referencing the Amy Schumer sketch dealing where three famous actresses toast their "last f-able day in Hollywood." In Feud, Tucci, as Jack Warner, asks director Aldrich (Molina) if he would "do" either of the proposed "Baby Jane" actresses. (Aldrich got Warner's point, but later, in real life, "did" Davis).
Lange clearly empathized with what Crawford was going through. A  star who emerged back in the silent cinema, and one of the biggest names at MGM through the '30s, Crawford was struggling to resurrect her career well past what the industry considered her best before date.
"What happens when that beauty is no longer considered viable, because it's equated with youth, you know?"
As Sarandon pointed out, "Joan was the beautiful one." Davis was more of a character actress, "so, in a way, her acting career could continue. The big movie parts, one that might draw a third Oscar, however, just weren't there anymore. She saw "Baby Jane" as her last swing at the big time.
Ageism still exists in Hollywood, says Sarandon, but she feels the bar has been pushed a little. She mentioned that when she was a young actress, "you weren't supposed to have children." (Sarandon has three.) "I was told on many occasions not to bring up the idea that you had children, because in some way, that would cut into this idea that you weren't sexy or sensual, or whatever."
Lange didn't think things had changed at all for women. "Well," countered Sarandon, "we're working."
At this point reporters hoped a fight might break out, but, no such luck.
Sarandon never met Davis, although she almost played her years earlier at the request of Davis' daughter (the project fell through). Lange never met Crawford, although she did meet Davis. Lange figures she was only 26 at the time; it was at an award ceremony.
"I remember her saying to me, 'You better court the press, honey.'"
Feud, like American Crime Story, is an anthology series. Murphy plans to focus on a different real-life feud every season. He joked Katy Perry – Taylor Swift would be next. He'd really like to switch things up and go Medieval next time, or at least throw things into another time period.
The series premieres Sunday, March 5 on FX and FX Canada.