Did you know Sammy Davis Jr. could not land a special on a U.S. network TV schedule in the late '50s — so he made one in Canada instead?
That's just one of the things I learned Monday from my pal Stan Taffel, 16mm film collector extraordinaire.
Taffel is the president of Cinecon, an annual Los Angeles film festival held every Labor Day weekend for fans of classic silent and early sound comedies and features. I've known Stan for years and share his passion for 16mm film collecting. On Monday, I snuck away from the TCA press tour, where upcoming PBS offerings were being showcased, to watch 16mm prints, mainly in black and white, from TV's earliest decade or two.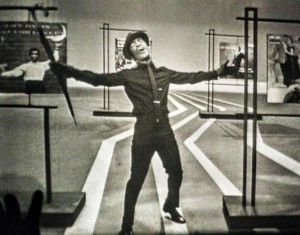 The Sammy Davis Jr., special was a one-man tour de force, with the entertainer singing, dancing and playing several instruments, including the drums. It was an episode of CBC's Parade, sponsored by Sunbeam appliances, with a young Bill Walker (Party Game) as announcer. Davis never looked better on screen in a 1959 kinescope that was surprisingly sharp for that era. Davis thanked his producers and CBC at the end, grateful to get the kind of television exposure he was denied up until then on American network TV.
Taffel also projected a short reel of daytime TV promos from the mid-'50s featuring Johnny Carson, a 1952 clip from the pioneering kiddie puppet program Kukla, Fran & Ollie plus a rare and defiant on-air stand by Garry Moore. Moore thanked his bean company sponsors for coming to his rescue after his network canceled his daytime variety show. Back in the early '50s, sponsors called the shots and Moore read several letters from viewers who were so happy to have his series reprieved they vowed to eat nothing but Stokely – Van Camp beans for years! Then the show resumed with a tap dancer and a singer and, well, you got the feeling the network might have had a point.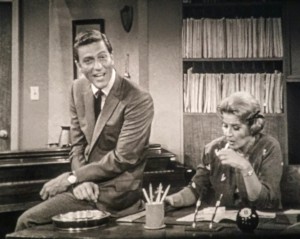 Extra fun for me was seeing a CBS network print of a Dick Van Dyke Show episode sponsored by Kent cigarettes, with Van Dyke and Rose Marie puffing away in a sponsor's spot.
One rare kinescope, from 1958, featured pioneering Today show host Dave Garroway introducing viewers to this revolutionary system of recording live television on 2-inch videotape. Cameras lumbered around a control room, giving viewers some understanding of how shows airing live in New York at 7 a.m. can be seen again three hours later on the west coast.
All that plus a rare Laurel & Hardy short, one of Billy Gilbert's home movies, outtakes from McHale's Navy and raw footage of  a Nabisco cereal commercial shot on the set of the daytime game show Concentration. Stan also showed a stunning, Technicolor, extended trailer showing the grand opening at Grauman's Chinese Theater of Walt Disney's 1964 hit Mary Poppins.
All in all, one supercalifragiliciousexpialadocious afternoon.