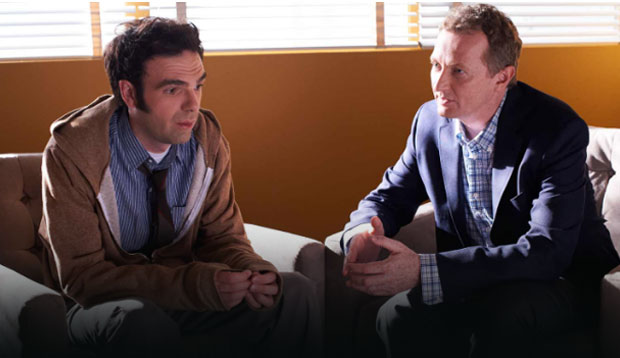 To say I was surprised when CBC brought Michael: Tuesday & Thursdays back from the dead is an understatement. The last time something like this happened, three wise men came to visit from the East.
Let me state upfront: I really like this well-crafted series, right from the start, and I'm happy to spend more time with these characters. Viewers, however, ignored it the first time around. In droves.
For reasons only those in command at CBC know for sure, it was brought back. The re-titled Michael: Every Day premiered Sunday with the first two of six episodes. Two more will air next Sunday and the final two the Sunday after that.
Did Michael find a whole new audience Sunday night? He did not, at least not according to overnight estimates, an indicator that, to be fair, is far less relevant in 2017 than it was in 2011. According to overnight estimates, Michael: Every Night averaged 189,000 viewers across Canada at 9 p.m. ET/PT and 136,000 in the following half hour.
Drill down into the demos and the data is less encouraging, especially in the 18-34-year-old category — admittedly well outside CBC's core audience.
Sundays are often a highly competitive night but not so much this Sunday. NFL football overruns were the biggest draw on the broadcasters but there was no death stars on TSN or Sportsnet. HBO did launch The Young Pope, and of course there are always many options to binge on Netflix, Amazon Prime and CraveTV.
Michael may have been gang tackled, and it may just be impossible to promote. In speaking with co-creator Bob Martin before Christmas as CBC's winter press launch, he reminisced about trying to cut through the clutter last time.
"I just remember we were shooting the first season," said Martin. "Allan Hawco was doing his first season of his show [Republic of Doyle]. I saw the poster for his show and he's, like, shirtless, and there's a beautiful woman.
"And then, in the first season of our show, I'm covered in vomit, and my skin is peeling off and whatever, and there's nothing attractive about my character."
So, yes, tough sell for a comedy, but you could say the same thing about Louie or Baskets or Girls or other dark, and, yes, low-rated comedies today. Comedy isn't always pretty, and maybe a lot of people have banked Michael this time around and will watch him later, and maybe a big audience isn't everything anymore as long as a series can give your network brand a little cache or relevance.
Martin and co-star Matt Watts seem most excited about a couple of road trip episodes coming up featuring Michael and his shrink at their awkward best. Seeing this neurotic pair confined in a car for a long period of time does sound like it could go madly off road and I want to see that. The trip could  still wind up being binge worthy.
Two things though: the old mantra "the audience is always right" is almost always right; and if you get a second chance to make a first impression, maybe the lesson is to lead with what you didn't do the last time.
Read more about Michael: Every Day here at this feature I wrote for The Canadian Press.