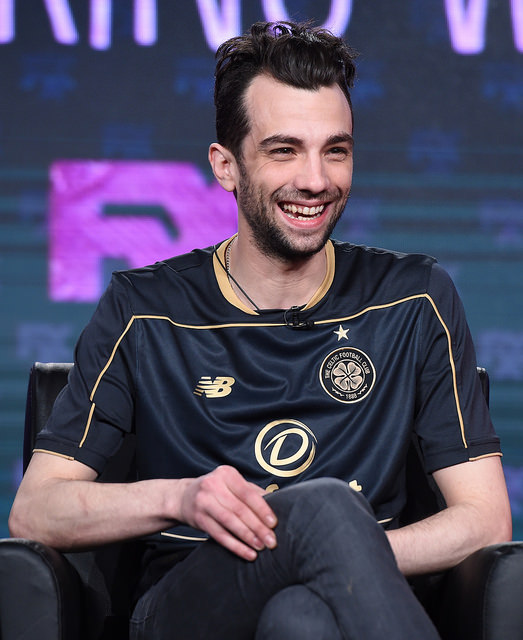 "I'm just so bloody excited to show the world this movie."
That's Jay Baruchel on his pet project, "Goon: Last of the Enforcers," opening in cinemas across Canada Friday.
This is the long-awaited sequel to the 2011 hockey comedy "Goon."  Baruchel not only acts in and co-wrote the sequel (with Jesse Chabot), he also makes his directorial debut.
Seann William Scott is back as as Doug "The Thug" Glatt. One too many haymakers to the head has KO'd his hockey career. Married with a baby on the way (Allison Pill is back as his wife), he's hung up his skates, resigned to life as an insurance salesman.
Along comes hockey rival and total dickhead Anders Cain (Goldie Hawn and Kurt Russell's lad Wyatt Russell, a one-time real life goalie prospect), and Glatt is compelled back to the game. First he must tune up with his mentor, Ross "The Boss" Rhea (Live Schreiber). Elisha Cuthbert also stars, as does Kim Coates as the hockey coach. T.J. Miller joins TSN's James Duthie in the booth.
The director had praise for Russell.
"Get ready world, he's a great actor," says Baruchel. "He chews the f—in' scenery and you buy everything he does. It's him and Callum Keith Rennie as father and son."
I asked Baruchel if Cuthbert's husband, former Leafs captain and Senators defenceman Dion Phaneuf, was in the picture.
"Nope," said Baruchel. "I'm a Habs fan."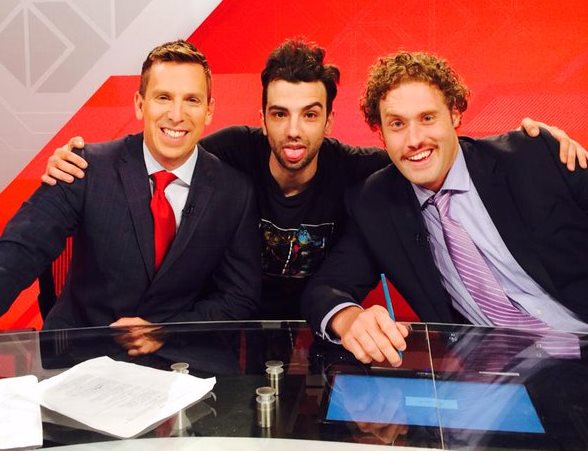 Former real life NHL enforcers Georges Laraque, Colton Orr and George Parrosare all ducked in for some face time.
Be warned: there's a monster hockey fight at the end and it is insanely violent. Baruchel wanted this to be the ultimate, no holds barred ice war.
When Baruchel was in Montreal doing post production work on the film, he caught a few scenes with his cinematographer, Paul Sarossy (a frequent Atom Egoyan collaborator).
"My God," said Sarossy, "It's like Peckinpah!" Director Sam Peckinpah pushed features in new directions in the '60s and '70s with violent films such as "The Wild Bunch" and "Straw Dogs."
"I got down on my knees," says Baruchel. "I said, 'Paul, I've been waiting years for you to say that!'"
"Goon: Last of the Enforcers" was shot in a wide, almost CinemaScope format. "It's wide as f–k," says Baruchel.
"The music is epic," he adds. Trevor Morris, who scored The Borgias and The Tudors, hired the Toronto Symphony Orchestra and recorded them for some of the music at CBC headquarters in the Glenn Gould Theatre.
Just about everybody associated with the film is Canadian. "This film wears its maple leaf on its sleeve," says Baruchel, who has his tattooed on his chest.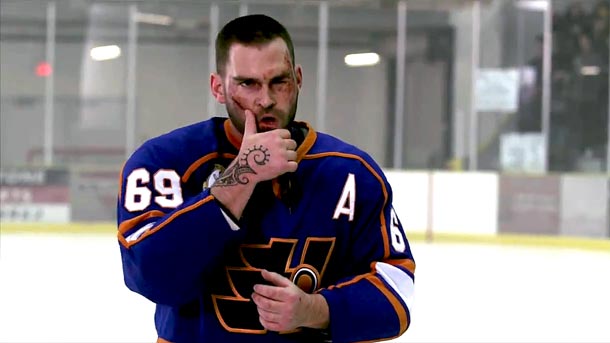 I asked Simon Rich, who created and produces Baruchel's FXX comedy Man Seeking Woman, what he thought of the fight scene. His TV lead gave him a sneak  peak during production.
"Man, that is some of the most violent fighting I've ever seen in film history," he told me in January at the TCA press tour. "It is completely disgusting. It's awesome."
Sure it's violent, says Baruchel, but he also feels there's a "romantic melancholy that informs the whole thing. It all hovers over Doug's retirement. We see Doug as emblematic of that way of life. He's meant to be the last cowboy, effectively."
The movie was also sold to Netflix where it will be available after its theatrical run.