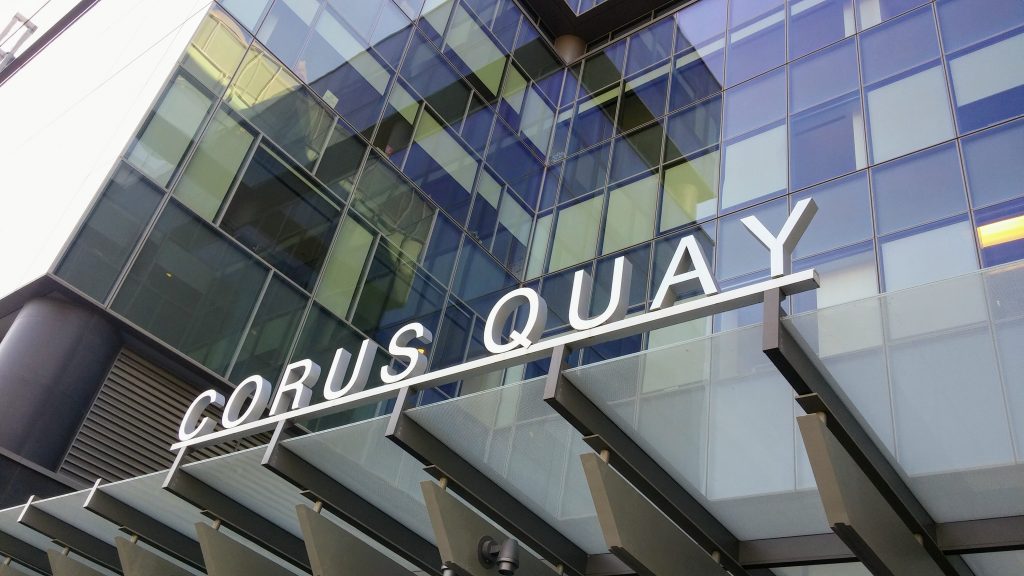 The third and final leg of Canadian Upfront Week occurred Thursday in Toronto. This was Corus' turn to host reporters and, later, advertisers.
The press deal started early with breakfast up in the showy sixth floor event space. Corus enjoys one of the most beautiful work spaces in Toronto as has been pointed out here before. A beautiful sunny day Thursday helped light up the spacious meeting room. A whole bunch of people who maybe work for Corus mingled, noshed and helped fill up the space.
Master taster Tony Wong from The Star approved the breakfast spread before a single bun was buttered. He identified the caterers as Daniel et Daniel. The egg burritos were yummy and you could fit 15 or so in a laptop bag.
The main press schmooze was held in Corus' spiffy rooftop theatre space. EVP/COO Barb Williams climbed down the corporate ladder to walk us through the schedule. Barb scored last season with No. 1 import Bull and also did well with shows like MacGyver.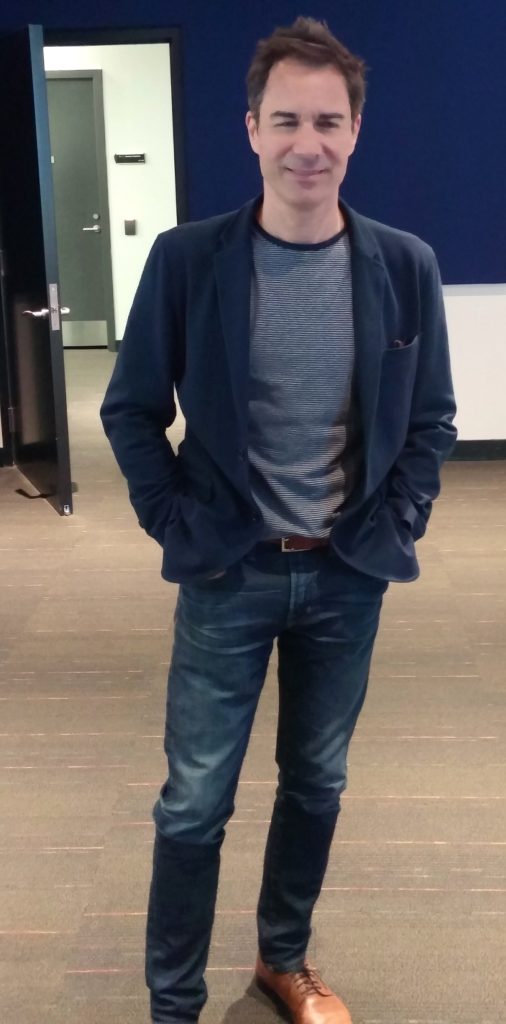 "Corus is the No. 1 television broadcaster in Canada," Barb declared. The media giant has 45 specialty channels and 39 radio stations. As Barb points out, that's a lot of "promotional heft."
It helps, too, as Williams declared, that Global is coming off its best fall in a decade. Even ancient shows such as Survivor and Saturday Night Live had big rebound years.
Williams also noted that Stephen Colbert's momentum in the US late night race has crossed the border, with The Late Show enjoying an 8% lift season-to-season.
In specialty, Williams likes how all the best home reno shows are now on HGTV, including top-rated Brian Inc. She shone a light on new shows such as Sarah Off Her Meds or whatever it's called.
Of interest, too, was how Corus seems to be mining streaming fare from places such as Amazon, providing a Canadian specialty window on well received winners such as Transparent and Mozart in the Jungle (both coming to Showcase) and CBS Digital's The Good Fight (airing here on W).
Barb crowed that, take out sports, and Corus is No. 1 in specialty, which is a bit like saying take out Sydney Crosby and the Stanley Cup final would already be over.
Corus likes to dangle the talent they airlift north in front of reporters the morning of their upfront, showcasing them in tidy little controlled bursts of accessibility. Lucas Till (MacGyver), Shemar Moore (the new S.W.A.T reboot), Eric McCormack (Will & Grace) and Caroline Dhavernas (Mary Kills People) all took softballs from in-house journalist Chris Jancelewicz. McCormack, always comes ready to play; he said returning the the NBC sitcom was like "getting back on a big, gay bicycle."
All together, Global added six new dramas and four new comedies in a lineup that sees at least one new show jolting five out of seven nights this fall. It's not quite as radical as CTV's 2017 revamp but it is robust. Barb's rule is never makeover more than 25% of your schedule — a subtle dig at CTV's aggressively updated fall.
Other new shows coming to Global include SEAL Team and Wisdom of the Crowd. Comedy pickups were interesting. A few late spring tryouts are getting delayed launches in Canada, including the Judd Hirsh – Jermaine Fowler comedy Superior Donuts and Andrea Martin's Great News.
"Round table" interviews followed although reporters were not allowed to sit at a table with the talent. Instead, scribes remained in the theatre seats, 30 feet from the TV stars. McCormack came into the room, saw how wrong it all was and pulled his chair right up next to our railing, This is just another reason why we love Eric McCormack.
As usual, not much Canadian content sullies up Global's prime time schedule. Private Eyes is back now and is apparently a big seller internationally. The fate of Big Brother Canada, however, seems less promising.
Besides, Barb's in the simulcasting business, with Global doing more of that next fall than ever before. As Knots Landing regular William Devane once said to me, "Don't get off the money train until the money train stops running!"