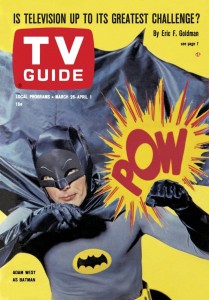 I was eight years old when Batman premiered in January of 1966. There was no PVR-ing back then, no time-shifting west coast feed, no YouTube to watch clips the next morning. You were either in front of the set (black and white in my case, even though the show was in Bat-colour) and you saw it or you didn't.
The show came on in the 7 o'clock hour, twice a week on Tuesdays and Wednesdays — same bat time, same bat channel. In Toronto it was Channel 9 CFTO as well as WKBW Channel 7 out of Buffalo, NY.
Adam West was Batman. He got in a jam right away and I thought he was a goner for sure. There was nothing campy about it for this eight-year-old. The guy was as real as Walter White to me.
The next day, every kid at recess at Our Lady of Peace school in Etobicoke ran around with a towel, or a T-shirt, or something around his or her neck. We sang the "nananananananana" theme song and locked up Catwoman and the Joker and the Riddler and everybody but Sister Martha Ann. Not even Superman could go there.
So Adam West was like Robert Downey Jr. times 10 when I was eight. His death, at 88, is just another "Bam!" "Pow!" to the kisser from Father Time.
Later, of course, I got that the show was so camp you could see the tents. West got it right away.
Over the years at various TCA press tour events, I've run into West as well as co-star Burt Ward (Robin). Fourteen years ago they were promoting a reunion TV-movie and stuck around for the after party. That's where they bat-grumbled about how the original producers ripped them off for all the merchandising rights. Ward explained that up until 1969, the Screen Actors Guild had a provision that actors were paid up to only a tenth rerun of their shows. It was only 5% of their salary, and even those cheques stopped coming as early as 1971. The '60s was no time to count on residuals.
The network had arranged to park the original TV batmobile outside the Renaissance Hotel at Hollywood and Highland to help promote the reunion movie. Scribes were invited to stand in for a photo op with their idols. You didn't need no bat-signal for me to get in line.
Check out the shot: Ward is looking for a babe, a washroom or some ice cream. West is looking for his agent. I am once again eight years old.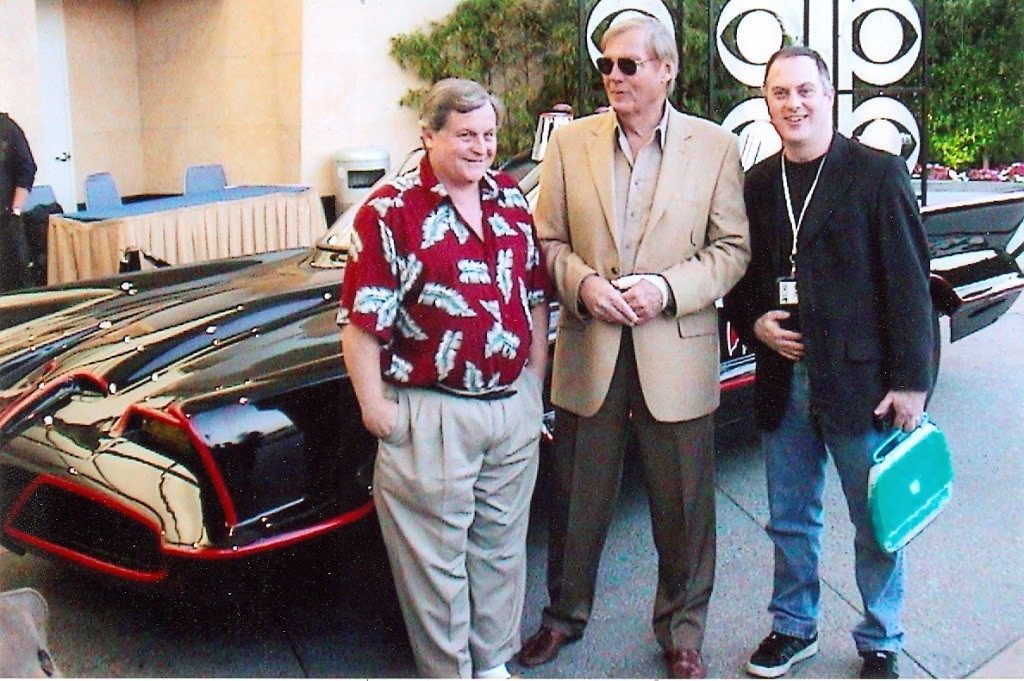 West eventually came to accept being typecast. "If you could make an agreement with a signature role and not become embittered or feel that you're painted into a corner, it could be a wonderful thing," he told me in 2003 when I was working at The Toronto Sun.
He tried cracking other TV lineups, shooting pilot after pilot in the '70s and '80s. He did one for a very young Conan O'Brien in the '80s called Lookwell. It was about a TV star who could not escape his fame after playing a cop on TV. O'Brien was as much a fan of West as the rest of us, especially after the pilot experience.
Up until recently, West was still cashing in at autograph shows and other appearances, as well as his role as the mayor on Family Guy. He may never have been funnier than on that series, especially the episode where he shacked up in a motel with Pete's daughter, Meg — his true Quahog soul-mate.
Some times he took the whole Bat-ca-ching thing a bit far. The guy who used to run the Hollywood Celebrity Show in Los Angeles swore he's never invite West again after the actor demanded $200 from a kid who approached with a poster from the 1966 movie. All the other stars from that film, including Burgess Meredith as The Penguin, Ward and Frank Gorshin as The Riddler, had already signed, some for free. When the kid objected to being held up, West calmly told him the poster would be worth over a thousand once he added his name.
Thing is, he was right.
I also once did a phoner with West, also while at the Sun, to promote an appearance he made at a Toronto comedy club. He was a celebrity judge, and flew in despite a nasty snow storm. Holy cash-hungry trooper! The man was a riot on the phone, calling me "Citizen," always in character as the TV hero I was so mesmerized by back in the day.
Along with William Shatner, he showed the way for every TV actor who was ever typecast out of other roles. Just go with it all the way to the bank, citizens. Commissioner Gordon, please turn off the bat-signal.