Chris Albrecht is one of those guys you don't screw around with on TCA press tours. So the day he got heckled by Jerry Lewis was one to remember.
Albrecht, a former boss at HBO, was running Starz in July of 2011 when he took the podium in front of a roomful of TV reporters to introduce Lewis. The comedy legend, who passed away Sunday at 91, was the subject that year of an Encore documentary.
Albrecht doesn't give up the mike easily. He was still rambling his introduction when Lewis shouted from the wings, "Hey Chris! I'm going to have to shave again!"
It was a taste of what it must have been like back in the late '40s and '50s when Lewis and his comedy partner Dean Martin were the hottest act in nightclubs and in films.
Most of the reporters covering press tour in 2011 weren't even born when Lewis stopped making his string of slapstick comedy hits of the '50s and '60s. Back when Abbott & Costello, Jackie Gleason, Red Skelton, Jack Benny, Burns & Allen, Milton Berle and Groucho Marx all found new careers on television, young Lewis–together with Martin–was too big for the box.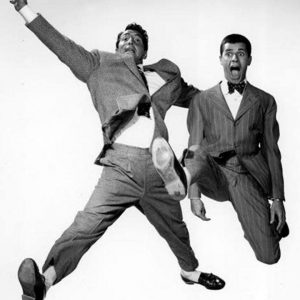 Things had changed in 2011. TV didn't need Lewis anymore, or at least that was how folks felt at the Labor Day Muscular Dystrophy Telethon. After 50 years, he was being "retired" from the annual TV fundraiser.
Lewis was still smarting from the MD demotion. He told reporters he would hold "an international press conference" on Sept. 5–the day after the telethon–to talk about "what I think is important, and that's the future, not the past. Okay?"
If there was a press conference, I didn't hear about it.
Questions about recent sexist remarks he had made further soured Lewis' mood. At one point he gave his hotel room number to a female reporter. "I feel like I'm working for the Arabs for Christ's sake," he snarked.
He could also be charming and magnanimous. Lewis praised Jim Carrey as the "most brilliant physical comic we've ever had." On hearing of Lewis' death Sunday, Carrey returned the compliment, tweeting, "I am because he was."
Back at that Starz press conference, Lewis let it be known that he was not a fan of the changing media landscape. He said the industry had "destroyed themselves" by putting "all their product on that goddam stupid phone. You're going to put Lawrence of Arabia on that stupid son of a bitch?"
He lectured us on what we covered. "I don't allow people in my family to use the term 'TV.' That's stupid. It's 'television.' It's a miracle. It's entitled to that respect."
Twenty years ago, a more youthful Lewis held a press conference in Toronto to promote his starring role in the revival of "Damn Yankees." He made his Broadway debut in the musical two years earlier and also headlined the production of the show in London.
Lewis looked and sounded more his old self that day, boasting about being the highest-paid performer in the history of Broadway. He later handed out baseballs with his caricature.
He made a similar claim about television but, really, he was always too "hot" for the cool medium. One of the most astounding things I ever saw on TV – you can get a glimpse of it here – was a Los Angeles late night talk show Lewis did in the mid-'80s.
It was weird because it came about a year after Lewis' astounding, dramatic performance as a caustic talk show host in Martin Scorcese's 1983 feature "The King of Comedy."
Lewis's sidekick on the LA show was oddball comedian Charlie Callas. The show was absolute mayhem, with Lewis and Callas doing shtick and offending races yet to be born. At one point Lewis put Chicklets in his mouth and did his "Chinese bit." It was jaw-dropping then and would have set social media ablaze today.
It's not how Lewis should be remembered. There is so much joy and laughter in his best films, especially "The Nutty Professor" and "The Bellboy." He was well paired for several years with former Warner Brothers cartoon director Frank Tashlin., who harnessed Lewis' manic energy in a ways crafty and creative.
He seemed more a crabby King Lear of comedy in his final year, undressing an interviewer from The Hollywood Reporter in a fascinating, cringe-worthy video. Aging and infirm, he could still cut anybody he felt was wasting his limited time left down to size.
Jerry Seinfeld said it was one of the best things he had ever seen. It wasn't, but I think I know what he means.