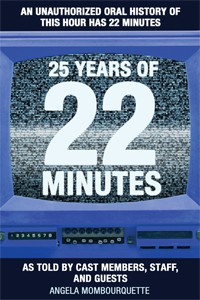 This season marks 25 years since the launch of This Hour Has 22 Minutes. Conceived by Mary Walsh as the follow up to her earlier CBC comedy series CODCO, the weekly news satire has lampooned politicians and Canada in general since Jean Chretien was strangling citizens on Parliament Hill.
Halifax-based author Angela Mombourquette – who worked at CBC Television and, for a time, as an associate director on the series — reached out not that long ago and asked if I would like to be interviewed for the book. The tome is characterized as an "unauthorized oral history" due to the fact that 22 Minutes' production company, DHX Media, decided they didn't want to cooperate with the making of this book.
I was happy to share a few thoughts. My association with 22 Minutes goes back at least 22 years, to when I got a great assignment from TV Guide: go to Halifax, spend a week with the cast, producers and writers and give a nuts-and-bolts account of how the series is put together every week.
The original fab four were still the show – Walsh, Cathy Jones, Rick Mercer and Greg Thomey. Gerald Lunz was executive producer and kindly got me acclimatized around Halifax. Henry Sarwer-Foner was still directing. Geoff D'Eon was handling the remote location sketches. The series had hit its stride and was starting to feel its power.
I remember sitting in on the Monday meeting where newspaper headlines were being mined for desk gags. Jones was quite pregnant at the time with daughter No. 2. Jokes were batted around and I sat there, struggling to bite my tongue. The next day we hit the road, with Rick and Greg in a school gym and Mary and Cathy shooting a scene on a rural back road. I never felt so envious about how other folks got to make a living.

Because the book is unauthorized, the current cast – Susan Kent, Mark Critch, Jones, newcomer Trent McClennan and Shaun Majunder, above – do not contribute to the running series of quotations. Mercer shares many stories, as do fellow former players Gavin Crawford, Geri Hall and Colin Mochrie. Some writers are included, including Paul Bellini, Tim McAuliffe, Ed Macdonald and Jennifer Whalen. Network execs such as George Anthony and Ivan Fecan are part of the mix, as is frequent target/good sport Peter Mansbridge. Even ex-Newfoundland premiere Danny Williams gets into the act. Fellow journalist John Doyle adds his always insightful two cents.
Missing, unfortunately, is Walsh as well as colourful DHX chairman Michael Donovan – a bit like leaving Lorne Michaels out of a book on Saturday Night Live.  I'd like to have heard from former showrunner Mark Farrell — a legend in frankness on Twitter — as well as Thomey, one of the great wing-nuts in Canadian television. There might have been a bit more dirt on the behind the scenes battles had any of these folks contributed. Nobody likes to air dirty laundry in a book, but every show in the history of television had some to air, and 22 Minutes is no exception.
Still, enough savvy voices remain to make 25 Years of 22 Minutes a great read for anyone who is a fan of the long-running Canadian comedy series – or just TV comedy in general.  The book retails for $29.95. Click on this link to Halifax publishing house Nimbus for more information.