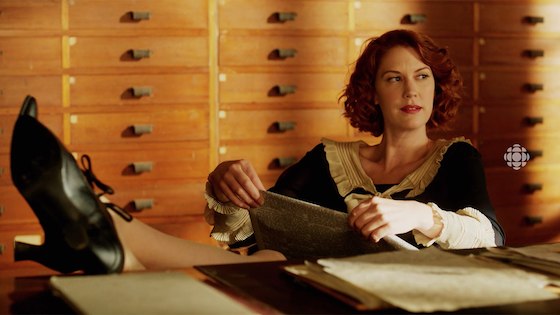 Wendy Crewson chews the scenery to bits in Monday night's opening episode of Frankie Drake Mysteries.
Trust a TV veteran to get the tone just right.
Crewson guests as a gold digger with a secret that links her to the main character, flirty, flapper-era detective Frankie Drake (played by Lauren Lee Smith). The series premieres at 9 p.m. ET/PT on CBC, right after Murdoch. Both shows hail from Shaftesbury, with the new series created by two writer-producers from the former: Carol Hay and Michelle Ricci. Cal Coons, who helped launch Murdoch 11 seasons ago as that series' original showrunner, fills that same role on the new series. Shaftesbury CEO Christina Jennings is executive producer. Leslie Hope — who played Jack Bauer's wife so shockingly killed off at the end of 24's first season — directs two episodes.
Set in 1921, Frankie runs Toronto's first female detective agency. She makes methodical, by-the-book Murdoch look so last century.
Frankie Drake Mysteries is not deadly serious like PBS's Sherlock. It works best when it is played broad in every sense of the word. There's plenty of bounce in Episode One, with a jaunty jazz score accelerating the action.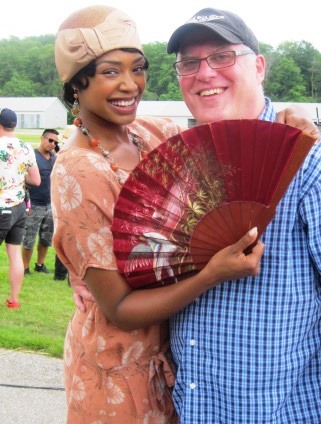 And that's how it should be. Breezy comedies, light dramas and football have historically all worked well on Monday nights. Audiences come home and still have a whole week of work to face. As the old saying goes, they want to put their feet up and turn their brain off.
Even in this age of TV anyplace, anytime, CBC erred, in my opinion, by programming Alias Grace after Murdoch the first six weeks of the season. That series was too dark, too grim, too HBO for Mondays. Sure, people can PVR and stream later in the week, but two-thirds of the viewing audience still sticks to the schedule.
Offering Frankie Drake Mysteries after Murdoch Mysteries is the smarter programming move. Let your No. 1 drama lead into a series with enough similarities in content and tone that many viewers will want to stick around.
Vancouver native Smith, who co-starred in The Listener and has a long list of credits including C.S.I. and Mutant X, is well cast as Frankie. She has that smarty-pants, kick-ass vibe going for her, a confidence you'd need as a pioneering detective. She also has the drama chops when they're needed, and adds an eccentric sauciness.
Her wardrobe is even less predictable. In many scenes, Frankie looks like she just emerged from a shopping spree at Holt Renfrew. Her mid-length red hair seems more '30s or '70s than '20s. Occasionally we see her in a bell-shaped cloche hat from the '20s or astride a vintage motorcycle but otherwise Frankie seems to set her own style. This seems to fit with the same CBC mandate that kept the young adventurers on Company X in duds more contemporary than wartime. To lure a younger audience, networks seem to feel that it is more important to be relatable than historically accurate –and maybe they're right.
Other characters seem more in step (and costume) with the times. Frankie's trusty sidekick at the agency is Trudy, played by Toronto's Chantel Riley. With her kiss curls and stylish hats, Trudy helps ground the series more in the flapper era. Versatile Riley, who came out of nowhere to dazzle for four years on Broadway on The Lion King, is a radiant presence.
Rebecca Liddiard (Alias Grace, Slasher) steals scenes and adds cheaplaffs as jumpy police morality officer Mary Shaw and Sharon Matthews (Mean Girls) brings morgue assistant Flo very much to life. The first episode gives each supporting character just enough to do to keep viewers keen for more to come.
Just as Crewson aced her guest starring turn (along with a bearded Derek McGrath in the opener), future episodes will showcase other dependable Canadian actors and actresses. Look for Lucas Bryant (Haven), Charlotte Sullivan (Rookie Blue), Laura Vandervoort (Bitten) and Grace Lynn Kung (Carmilla) in the weeks to come. There'll even be a familiar face or two — aged somewhat — from a series set 15 years earlier:  Murdoch Mysteries.
Read more about Frankie Drake Mysteries here at this feature I wrote for The Canadian Press.