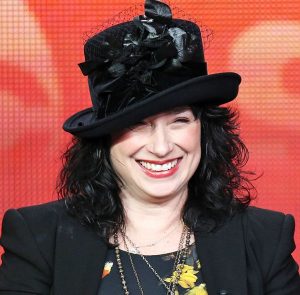 I recently spoke with the hatted one, Amy Sherman-Paladino, as well as her production partner and husband, Daniel Paladino, about their new Amazon series The Marvelous Mrs. Maisel. The first season will be released and ready for streaming on Wednesday, November 29.
The Paladino's penchant for making everyone sound like a smartypants wore me out after a while on their biggest hit to date, Gilmore Girls. In this world set in Manhattan in 1958, however, the rapid-fire yakkity-yak sounds exactly right.
The main character, Miriam "Midge" Maisel (Rachel Brosnahan from House of Cards) is a newlywed Jewish housewife living her dream of moving into an East side Manhattan brownstone. Her husband Joel (Michael Zegen, barely recognizable from his days as Dwight the Troubled Teen on David Letterman) is a successful businessman who really wants to be a stand-up comic. Trouble is, Joel steals his best lines (from Bob Newhart!) and Midge is really the funny one in the family.
This puts a strain on their marriage not to mention her parents Abe and Rose Weissman (Tony Shalhoub and Marin Hinkle, both equally marvelous), who live a floor or two up the elevator in the same building. Rounding out a great cast is Alex Borstein (Getting On) as Midge's reluctant mentor, tough-as-nails comedy club boss Susie Myerson.
When did you first decide to you wanted to tell a story about a pioneering female stand-up comedian?
Amy Sherman Paladino: Well, it was sort of a story at a moment's decision when I was in a meeting with the Amazon guys, and they asked me if I was ever going to stop shopping and start writing again, and I thought, you know, maybe it's like if you do something about a 1950's housewife who gets sucked into the Greenwich Village comedy world, then possibly I'll put the credit card down. And they said, "OK, go do it. Go write it."
My Dad was a comic, so I grew up with stories of Greenwich Village and the Catskills and Vegas and it was something that was sort of stuck in my brain as a young person, I guess, and it just sort of came out in a convenient moment when somebody would write a cheque for me to do it.
Well, I'm glad that happened. Did your Dad also tell stories about Lenny Bruce?
Amy: Yeah, I knew about Lenny Bruce, I think anyone in the comedy world, a writer, knows about Lenny Bruce. He's an icon, a god. But I actually knew Lenny Bruce's mother a little bit because, all the comics knew her. They sort of took care of her. She was sort of their patron saint in a sense, patron saint of all comics.  So, I got to meet her, but I never got to see Lenny Bruce, unfortunately.
He just seems like a great, untapped character [as played by Luke Kirby]. My kids are in their twenties, they probably don't know Lenny Bruce that well, so it's great that he's there as a character on your show.
Amy: Yeah, I mean, he died young, he died early, and it's a shame. There's a great box set of his out that's very interesting.
I just felt that he was a good touch stone for her, because in the late '50s, he was sort of getting to the peak of his game and he ushered in that new wave of comedy that is about truth-telling and politics and religion and getting a little bit away from that "take my wife please," and into sort of a new style of comedy that kind of opened the doors for just about everybody else.
Now, how did you come to cast Rachel Brosnahan? How did she come to be part of this?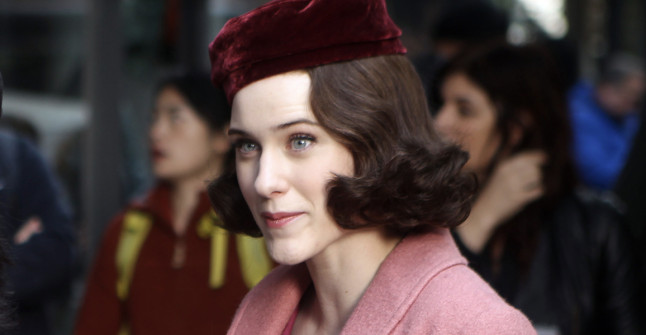 Daniel Paladino: We went through a very traditional casting process. It was a role that we really felt like we needed the actors to read, because it was such a complex role.
We were encouraging everybody to come in, – a lot of great people came in, and well into the process, one of our casting directors in Los Angeles said, "There's this actress, she doesn't really have a lot of comedy or any comedy on her resume, but for some reason, I think, she's the girl. Rachel Brosnahan."
We were well aware of her work. We had seen her on Manhattan, we'd seen her on House of Cards and we were very intrigued. And she came in, and she read, and she just basically won the role. In the room. I mean, we loved her, we got the tape to Amazon, Amazon loved her,  it was a unanimous choice. There was a lot of competition, but she just won it the old-fashioned way. She walked in with huge confidence, which this role needs, she knew how to do the comedy scene even though she's never done that, she knew to lean in and stalk the stage and all that stuff, so, she just kind of won it through her skills and her confidence.
And how unique is that? I imagine it's very rare to find somebody who does, I guess instinctively, know the comedy beats and the timing, and is also a great dramatic actress.
Amy: Well, you know, her comedy, the major comedy on this show is very stream of conscious, and it's all about plot. It's all about what's going on in the show. And we wrote it like that very specifically because we knew that probably  we're gonna get an actress to play the part and not a comedian. So the actor was going to need something to latch on to that they could understand so that they weren't just making a terrifying jump into a comedy monologue.
So, every time they launched into a monologue it's because something has happened in the story and she's talking about something that she's either been through or thinking about or going to go through, which gave Rachel, who's a very intellectual actress, gave her something to latch on to, to understand the beat of what she was saying.
It's also so illuminating, those scenes where the women get into bed with their husbands and then, once the men fall asleep, they get up and take off all their makeup and put their hair in rollers…
Amy: Like mother, like daughter.
There were a lot of mothers and daughters doing that in 1958, weren't there?
Daniel: Ya, we actually, we did the pilot, – we've gotten several people saying, "My grandmother still does that, my mother used to do that, you know, my mother did…" Amy wrote that, and I was like, "Wow, that sounds real, but did anyone do that?" Sure enough, people certainly did do that. It's quite charming and it was written into the Midge character as an act of love for her husband, you know? It wasn't onerous, she did it, everything she does, she does out of joy and love.