Got to meet six-time WWE champion-turned-rocker-turned actor Chris Jericho last week at the CBC Winter launch.
Born in New York but raised in Winnipeg, the friendly 47-year-old was there to promote his new comedy But I'm Chris Jericho, who premieres today, Thursday, Dec. 7 on CBC.ca/watch.
Actually, premiere is the wrong word. A first season was made and ran five years ago. It's taken a long time, but CBC stepped up and decided they wanted to do a second season. Episode 201, "Space Crusaders, Ahoy!" premieres Thursday, with Stephanie Haliner (Terrific Woman) guest starring.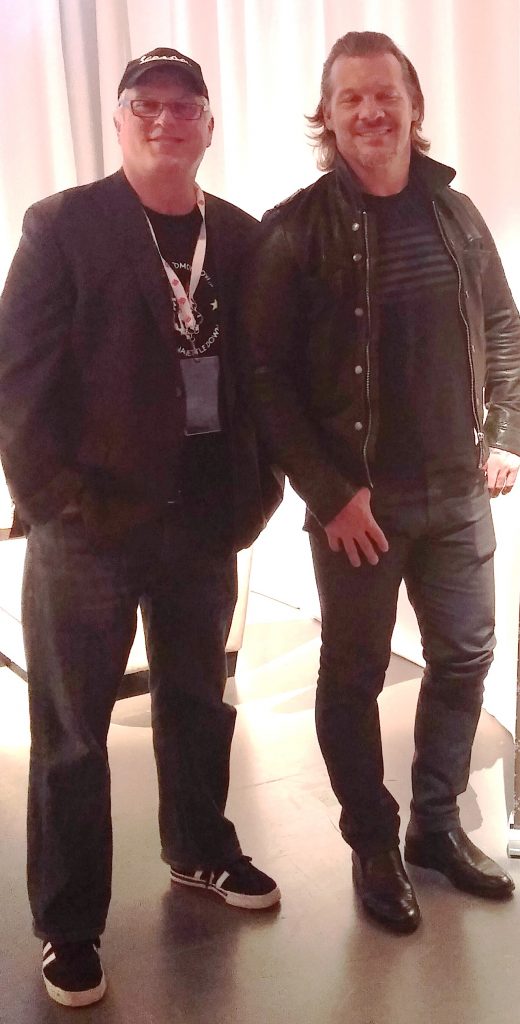 The series is a part Episodes — the Showtime series where Matt LeBlanc makes fun of his TV star self– and part Curb Your Enthusiasm. Jericho is third or fourth banana on a third-rate Canadian sci-fi series but thinks he's the star. He's vain and braggy and everything a WWE wrestler-turned-actor should be.
In real life, Jericho is much more down to earth. I told him one of my favourite interviews ever was speaking to the late, great Gene Kiniski 15 or so years ago when I was at the Toronto Sun.  Kiniski was old then but still seething; just a big wall of crabby. Kiniski was well into his sixties but not long retired from the ring; in fact, Jerchio says he fought against him in one of his first tag team matches.
One of the co-stars from the first season is Colin Mochrie. Jericho says he was thrilled when Mochrie was quick to  say yes to more shenanigans together. On the third new episode, "Peace Out," Mochrie guests after Jericho unwittingly lands in hot water after rejecting a Canadian peacemonger's invitation to a dance. Kevin McDonald (Kids in the Hall) also guests in an episode or two.