NEW YORK — It's easy to spot Samantha Bee's mid-town Manhattan production offices. The first clue once you get off the elevator is the giant, Broadway marquee-like illuminated sign right behind the receptionist's desk, reading, "FULL FRONTAL."
Once inside her office, Bee is nothing like the stinging satirist she portrays on her show. She's soft-spoken and composed, although the passion for her job and her views can still quickly be summoned.
Some nights before the camera she truly is angry, she admits.
"Yep. For sure. Doing the show from a place of real, authentic passion and a sense of outrage is just essential to the show. I don't live this way as a human being. I'm usually outraged but I have a calm life." Venting her rage on air is cathartic, she agrees. "Very much so."
I asked Bee, who is from Toronto, about the differences doing satire in the United States as opposed to Canada. Bee recently called Donald Trump's devout evangelical followers, for example, an "Aryan death cult." She's called Trump, among other things, "that pint of flat orange Fanta" and his administration "the batshit telenovela."
In chatting with folks from 22 Minutes over the years, the impression I have is that the libel laws are more stringent in Canada.
"The rules are a little more relaxed for us," says Bee of the US approach. Still, Full Frontal has to submit every script to Standards and Practices at its network, TBS.
The annual Air Farce New Year's Eve comedy special had at least one joke that I know of yanked before the Dec. 31 broadcast. Sometimes satirical shows put ticking bombs in scripts just to help ensure another edgy joke sneaks past the censors — a practice that goes back 50 years to The Smothers Brothers Comedy Hour.
"That's a really good idea," said Bee when I asked if her writers sometimes puts jokes in the know will get pulled later. "Somewhat probably, yes. Our standard and practices emails are the best.
"We could probably publish an amazing book," Bee added. She even had a title for it: "All the Jokes we Couldn't Tell."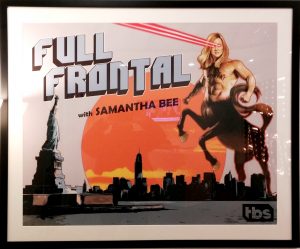 Pulling punchlines "has probably more to do with an aesthetic at the network and probably at an advertiser," says Bee. "You're very bound in television to the tastes of your advertisers, for sure."
Bee went on to praise TBS, saying, "We're lucky to be working for a very risk taking network. They gave me a very blank slate and they're full faith and I think we've mutually been rewarded by that."
Bee says her comedy heroes date back to "when I was a kid." She singles out Joan Rivers, Carol Burnett, Madeline Kahn and Catherine O'Hara and funny ladies who inspired her.
She agrees that women's time has come in television in terms of risk-taking scripted comedy.
"I'm glad we're recognizing woman's voices and giving them shows, I'm glad that shows like SMILF are allowed to exist now. Its exciting to be part of that movement for sure."
Full Frontal with Samantha Bee airs Wednesday nights at 10:30 p.m. ET/PT on The Comedy Network and TBS. Read more on Bee by following this link to my feature on her series for The Canadian Press.