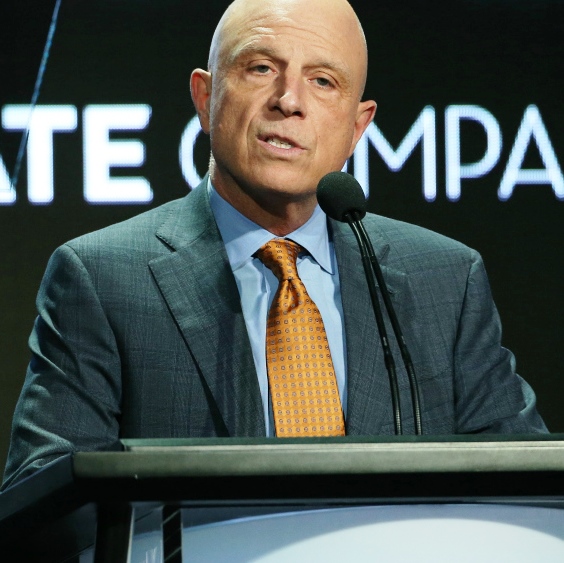 As good as shows are today in this so-called "Golden Age" of television, the greatest dramas are the ones currently going on in the boardrooms.
Take the deal announced yesterday between Bell Media and Lionsgate/Starz. Relative to the game-changing mergers going on between the likes of Disney and Fox or even Discovery and Scripps, it's small potatos. It's still significant and telling, however, in terms of how and where the landscape is shifting, especially in Canada.
I had the first interviews with the principals involved, Bell Media President Randy Lennox and Starz CEO and President Chris Albrecht. You can read my feature for The Canadian Press on the announcement here.
Interviewed last week during the Television Critics Association press tour in Pasadena, Calif., Albrecht called expansion into the Canadian market the first step in "proving the point that Starz is a really viable brand outside the US."
The success of over the top content providers such as Netflix and Amazon with millions of worldwide subscribers has opened all eyes to a more borderless business model in terms of distribution. HBO has made aggressive moves towards traveling their brand outside America, especially in on-demand, streaming platforms. Starz wants in on the same international playing field.
"Coming in with a partner like Bell is an amazing way to establish a footprint," says Albrecht.  "If we can have Starz-branded content outside the US, that's a home run for us. You can end up selling to yourself outside of the US. The monetization capabilities for these shows becomes pretty unique."
Under Albrecht's leadership, Starz has pulled ahead of Showtime as the second highest premium paid television platform in the US. Recent hits "Power," "Outlander" and "American Gods" have led the way, with "Outlander" ranking as 2017's number two ranked scripted series among women behind only HBO's mega-hit "Game of Thrones."
"Outlander," however, will not be moving to Bell under terms of the new deal. That series remains on the Corus-owned specialty channel W.
On the Bell side, bringing Starz into their tent gives them the three top premium pay cable brands in the United States — HBO, Starz and Showtime. The deal also gives them access to a treasure trove of movie content under the Lionsgate imprint.
The move greatly bolsters Bell's streaming brand, CraveTV. Albrecht made the point that premium shows are what viewers crave, all around the world.
"They're the cream of the crop, usually," he told me in Pasadena. Especially serialized dramas, which, he points out, "seem to travel well."
Crave will carry a lot of content that already is a proven draw in the world of premium pay subscriptions. If somebody was going to design, from scratch, a fantasy streaming service that could best battle mighty Netflix in terms of content, it would probably look like what Bell will now be the custodian of in Canada.
Lennox hinted on our call this week that the deal will carry some element of "reciprocity in the content play." Does that mean an exchange of content? That CTV originals such as Cardinal or even The Dissappearance might wind up on Starz south-side? "All Lennox said to that was that Starz will be a "big brother" on some of Bell's content creation, so maybe we're talking future content development.
That would be great, although we've all heard that one before. When FX invested heavily in Canada as they entered that market through Rogers, plenty of Canadian producers knocked on the door. So far, it hasn't swung both ways.