Rogers brought the stars out for their 2018 Upfront Tuesday and treated them to a true slice of Toronto. One by one, Howie Mandel, David Alan Grier, Kim Coates and others were ushered into humble eaterie Fran's Restaurant. The diner ended up being an unconventional — yet appetizing — place to grab eight minutes with the stars.
Howie seemed very at home in Fran's, although it was a different Toronto restaurant he led an entire Yuk Yuks audience into during his early days as a Toronto stand-up comedian. Mandel says it was a bistro right across from the original Yuk Yuks on Bay Street off Yorkville; one memorable night, he walked every patron in the comedy club across the street and kept right on cracking wise.
His ninth season as a judge on America's Got Talent — City's perennial hit of the summer — just roared back a week ago. Mandel is also starring in and producing a new version of Deal or No Deal and is part of a consortium that has seized control of the Just for Laughs comedy franchise. He's also prepping a series about animals for Nat Geo. Never far from his stand up roots, and despite such a busy schedule, he continues to perform 200 shows a year. He'll headline, of course, at JFL again this July.
Was Mandel surprised that one of his former attache case girls on Deal is now a member of the Royal Family? Before her stint on Suits, and her recent marriage to Prince Harry, Meghan Markle did in fact flip open silver suit cases on the big money game show.
"To tell you the truth, I didn't even remember her name!" admits Mandel. No wonder there was no invite to the Royal Wedding.
Coates is back this season on Citytv with eight new episodes of Bad Blood. The crime drama moves on from the investigative bestseller it was originally based on and projects the story five years into the future, with Coates' cocky character Declan now the big boss.
The former Sons of Anarchy star, who looks a decade younger than his 60 years, says he was happy to jump back under Declan's skin. He's also a producer on the series and had a role in picking a few of his co-stars this season, including Louie Ferreira (Motive)  and Daniel Kash.
Grier is one of the stars of the new comedy The Cool Kids. The sitcom is set in a retirement home, with Detroit native Grier, 61, made up to look two decades older. Martin Mull, Vicki Lawrence and Leslie Jordan round out the principals, giving this quartet comedy a bit of a Golden Girls vibe.
Grier says Mull — still fondly remembered for his weird and wonderful '70s talk show spoof Fernwood 2nite — has the best stories on the set. Grier also agrees Fernwood needs to be on DVD or digital so the young 'uns can discover just how whacked it all was.
He also says he still keeps in touch with his old In Living Color pal Jim Carey, saying the Canadian comic came to see him recently on Broadway.
Also at the Fran's portion of Rogers' upfront were David Giuntoli and Christina Ochoa, two of the stars of the promising Citytv pick-up A Million Little Things. Equally charming were two of the leads in the equally buzzed-about 10 pm drama Manifest, Melissa Roxburgh and Josh Dallas.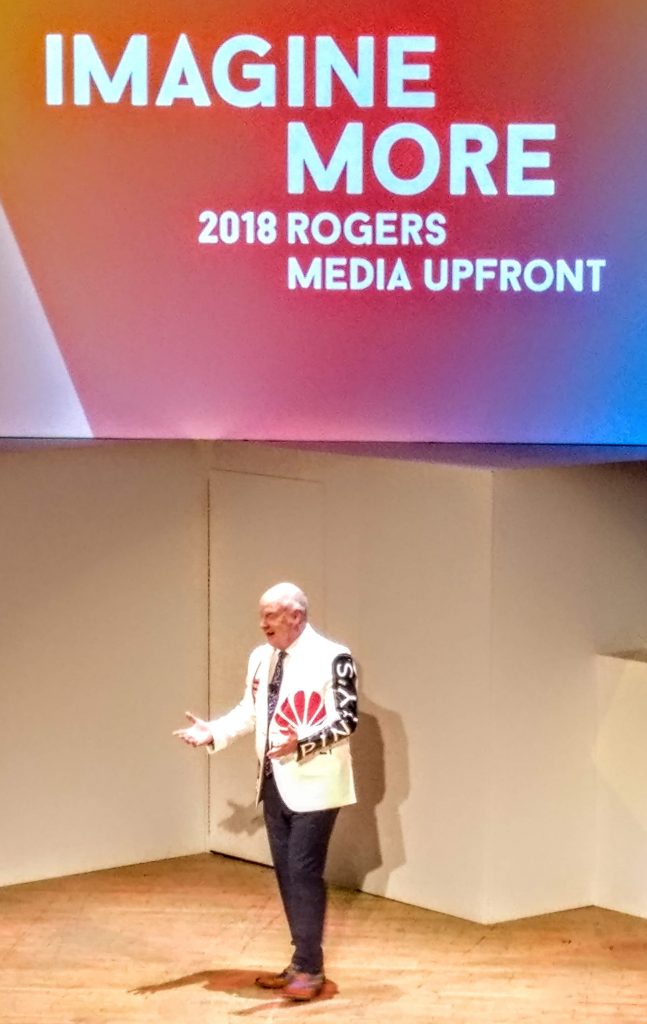 The stars then crossed the street to Massey Hall, where the big show was presented to advertisers. Mandel was energized as host and popped out of a little door which appeared to be under a huge stack of multi-media squares.
"Rogers went out and built a fabulous set this year," Mandel cracked. "This is the box it came in!"
Rogers executives, including President Rick Brace, SVP Colette Watson and Sportsnet President Scott Moore, took turns setting up the clips. Rogers kept the videos to teaser length, a smart improvement on past years presentations. Always leave them wanting more.
Moore boldly took the stage in a wacky blazer Don Cherry would have kept in the closet. It was adorned with all manner of sponsor brands. He actually changed three times between clips, prompting Mandel to say he did more costume changes than Cher.
Moore's wardrobe prank was a direct steal reminiscent of all the T-shirt changes former CTV programmer Phil King used to sport on an upfront stage back when he was Bell's top show fetcher. King, now a big wheel at Sony Pictures Television, was in the audience for Tuesday's big ad event at Rogers. Kind of ironic since King lost his shirt at Bell/CTV after Moore rolled Rogers' Brinks truck up to Gary Bettman and the NHL five years ago. Hey, everything seems to have worked just fine for everyone involved.
Programming VP Hayden Mindel ran the bulk of the new season clips past the ad industry crowd. He scored with some smart jokes, had an ease on stage and put a confident stamp on the coming Citytv season.
Next: the stars do a little cozy table talk with reporters Wednesday at the Corus Upfront.