Time to give some credit where credit is due. Last year's Corus upfront, I whinged here, seemed a tad awkward. There were super short interview opportunities and a great gulf, in the the group I was in at least, between the talent and the reporters.
This Wednesday, things were greatly improved. For starters, this year's interviews were true round table sessions, with just four (and briefly five) reporters seated around a table, facing talent flown in for the occasion. The sessions were fairly conducted, too, with ground rules carefully explained and questions evenly distributed.
It was fun, therefore, to sit around and table chat with, for one, Cedric The Entertainer. He's the star of the fall CBS comedy The Neighborhood, which lands on Global's schedule this fall.
Cedric stars opposite Max Greenfield (New Girl), whose TV family moves into Cedric's character's tony Hollywood hood. The comedian says he turned down the role at first. Then he met with executive producer Jim Reynolds. Cedric wanted the African American side of the story to be more authentic; Reynolds agreed and a show was re-born.
Colleague Rudy Blair asked Cedric how he felt things had changed in the past twenty years so far as how Black families have been portrayed on network television. The comedian gave a thumbs up to Anthony Anderson's Black-ish before suggesting society has changed, too. "You probably didn't wear dreads 20 years ago," he told Blair.
Well, Rudy's dreads do in fact date back more than two decades. Me, I don't have enough hair left on top of my head for one dreadlock.
Also taking part in the round table sessions was Oliver Stark, back for another season of 9-1-1 on Global. The British actor plays a first responder and at one point actually thought about becoming an actual firefighter.
Sarayu Blue and Paul Adelstein were there to represent the new comedy I Feel Bad. The sitcom, about a couple who have no illusions about being the perfect pair, is executive produced by Amy Poehler. Sarayu Blue hails from southeast Asia and her casting changed the series to the extent that the character's heritage will factor into future storylines. Chalk up one for diversity on network TV, she said, noting her character was not originally written for an actress of colour.
Jocko Sims was there to talk about New Amsterdam, a promising drama based on the oldest hospital in the US, New York's Bellevue. He was impressive but why didn't Global fly my Brampton buddy Tyler Labine north to help promote this series?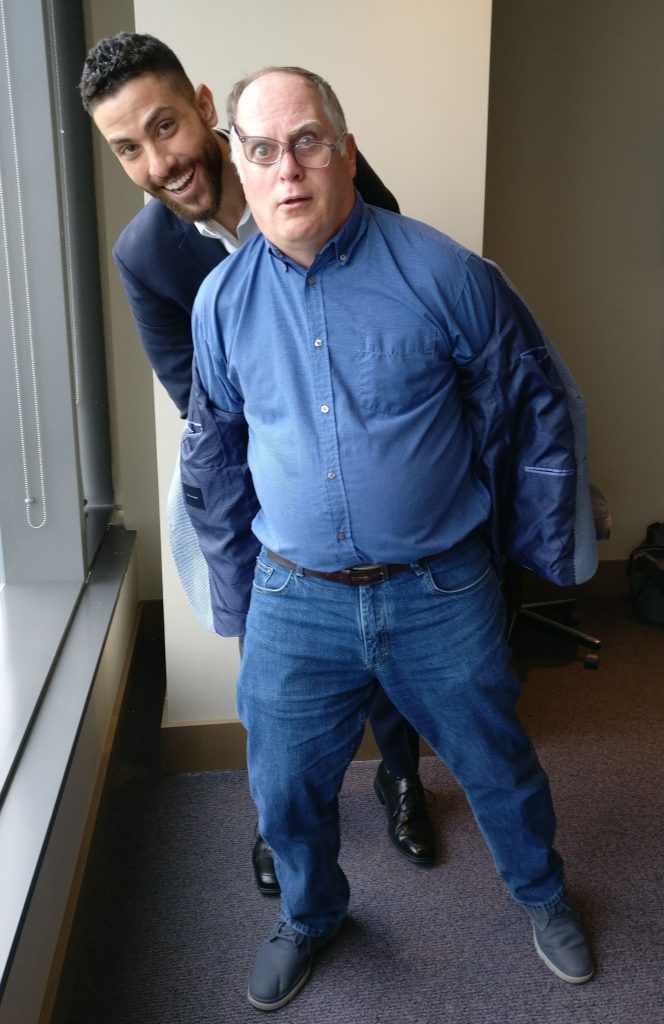 Daniel Ezra promoted All American, a Friday Night Lights-ish CW series headed to Corus' W Network. The British actor admits US football is not his game but he had some great coaches-slash-stand-ins.
Egyptian-born Zeeko Zaki took the prize for coolest name in a wonderful press day filled with cultural diversity. The tall actor plays an agent in the new Dick Wolf drama FBI.  I asked him to cuff me at the end of the session and he quickly showed that he knows the moves.
There are a few head-scratchers on the fall Global schedule. Two of the three Dick Wolf Chicago shows Corus has rights to are MIA on the main network (Chicago PD stays on Wednesdays). NCIS: New Orleans has been bumped out of simulcast to Tuesdays at 7. It seems odd, to me at least, to not see The Simpsons — which will air on Citytv next season — on Global's Sunday sked, replaced by Dancing with the Stars: Juniors.
Also, if you're the Canadian network with  Chicago, Los Angeles, New Orleans, Texas and Hawaii among the words in your show titles, should you really rub it in by re-branding your upfront an USfront? I mean, aside from Entertainment Tonight Canada — bumped on Tuesdays for NCIS: New Orleans — there are no Canadian shows on Global's fall schedule. Corus did order a third and final season of Mary Kills People, to air in mid-season, along with more Big Brother Canada; and they have plenty of new and returning made-in-Canada productions on their many specialty channels. But, seriously, there isn't an American network schedule that sounds this American. Even show titles such as FBI, SEAL Team and S.W.A.T. have a flag-waving Yankee ring. US-front indeed.