I know Randy Lennox reads this blog. He told me so himself during Bell's annual breakfast with the executives during last Thursday's upfront in Toronto.
The Bell Media president told me, in fact, that he was nearly run over as he was crossing the street while reading my take on the Rogers and Corus upfronts. Can I be fined for contributing to distracted walking?
Mr. Lennox will have been wondering the past few days, therefore, just why it has taken so long for me to post about the CTV upfront. After all, it remains the biggest, glitziest Canadian show-a-palooza, capped off with thousands of well-served ad reps packed into several levels of the Sony Centre.
So here goes. Let's start with the re-branding of several Bell specialty channels. Space will soon be known as CTV Sc-Fi. Bravo will become CTV Drama. Comedy will be known as CTV Plays Big Bang Theory ever 30 Minutes.
Makes sense, although I'll miss the Gusto brand (morphing into CTV Life). It reminds me of how Leslie Moonves, years ago, slapped that iconic CBS eye logo on everything, including the company's outdoor media brand. If you can cut through the clutter with a name or symbol that is already recognized by most people, do it.
Lennox pointed out that CTV is, next to Netflix, the most recognized media brand in Canada. That's one reason he wants to put Bell's 107 radio and TV brands under one roof, achieving "world brand ubiquity. By the end of the day, if you don't have  brand identity, and you confuse the consumer who's already not really paying attention," he told me, "then you 're really in what I call a cluttered universe."
A few of the cable folks at the CTV media party, however, were grumbling that they could have used a little more heads-up on this venture — one reason the roll out will play out over several months and perhaps even, in some instances, into 2019.
Lennox was also excited about the fresh new look he has ordered for the CTV logo. The way he was going on I expected it to whisk me back home to Brampton. "I can't show it to you now," he kept teasing, "wait until 4 p.m."
Well, when the logo was unveiled during the presentation, it was clean and simple. I like the way those circles, squares and triangles link the stars of "The Big Bang Theory" and other shows to the brand. Good riddance to the red, green and blue curtains blowing in the wind, too.
When I finally did see the new logo, however, I found the design a tad underwhelming. In some instances it looks like the CTV logo has just been primed white and not quite made-over yet. This was especially true on the new red carpet scrim down in the Sony basement, where the wall-long backdrop seemed to be waiting for the actors and actresses to colour in the shapes.
Lennox plus all the private broadcasters – recognizing millennial's and others are increasingly consuming content on mobile devices — announced expansions into their digital portals. Rogers is rolling out Citytv and FX Canada "NOW" on-demand services although customers will still have to subscribe to conventional cable services to enjoy them.  CTV will soon start offering digital VOD services such as CTV Vault that will – thanks to a content deal with Sony Television International – bring movies and TV shows from the past such as old "I Dream of Jeannie" episodes – directly to consumers without a subscription.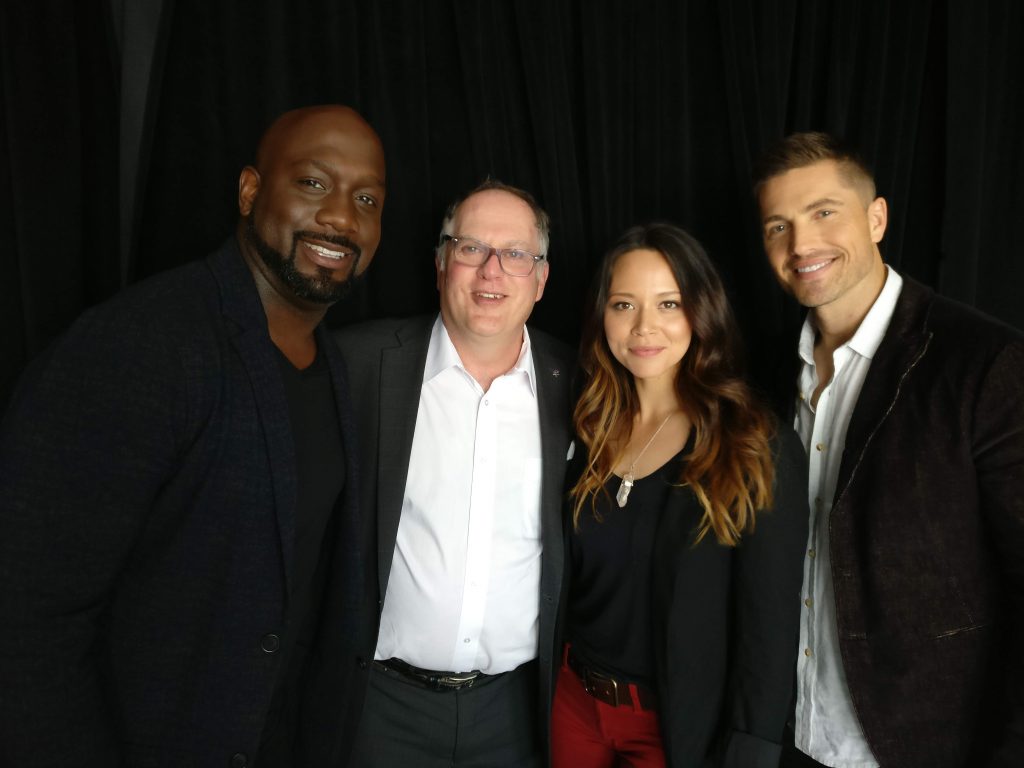 That's cool, although Sony already had a free streaming channel of its own — Crackle — that seems to have gone Pop.
Programming president Mike Costentino feels The Rookie is his big get from the Hollywood screenings. The series stars Edmonton native Nathan Fillion (Castle) and is about a forty-year-old who suddenly decides to become a cop. The pilot opens with a very compelling scene establishing Fillion as a much more sympathetic character than he was, for me at least, in his last series. Co-starring is a young actress from Calgary named Melissa O'Neil, better known to some as a winner on still resting Canadian Idol.
Correct, said Cosentino, he would not have dropped The Gifted if he had known Roseanne was going to implode. He did snatch The Resident away from City, however, in what played out as a good old fashioned hockey trade. If The Conners eventually emerges as more or less Roseanne without Roseanne, Cosentino's network would have first dibs, he figures.
Some of the most interesting news at CTV was on the Canadian front. Jann Arden was excited about shooting a six-episode comedy for the broadcaster, coming in mid-season. It will be shot near her home in Calgary and will be about a singer who, as she put it, "was relevant in the '90s.
"No, I'm not a trained actor," she said, "but once again I'm playing something very close to the bone. I'm not playing a nurse in Afghanistan."
Arden was always hilarious whenever she did shtick on Corner Gas, the Mercer Report or Dave Foley's True Meaning of Christmas Specials. It's worth noting that Roseanne was not a trained actress, either.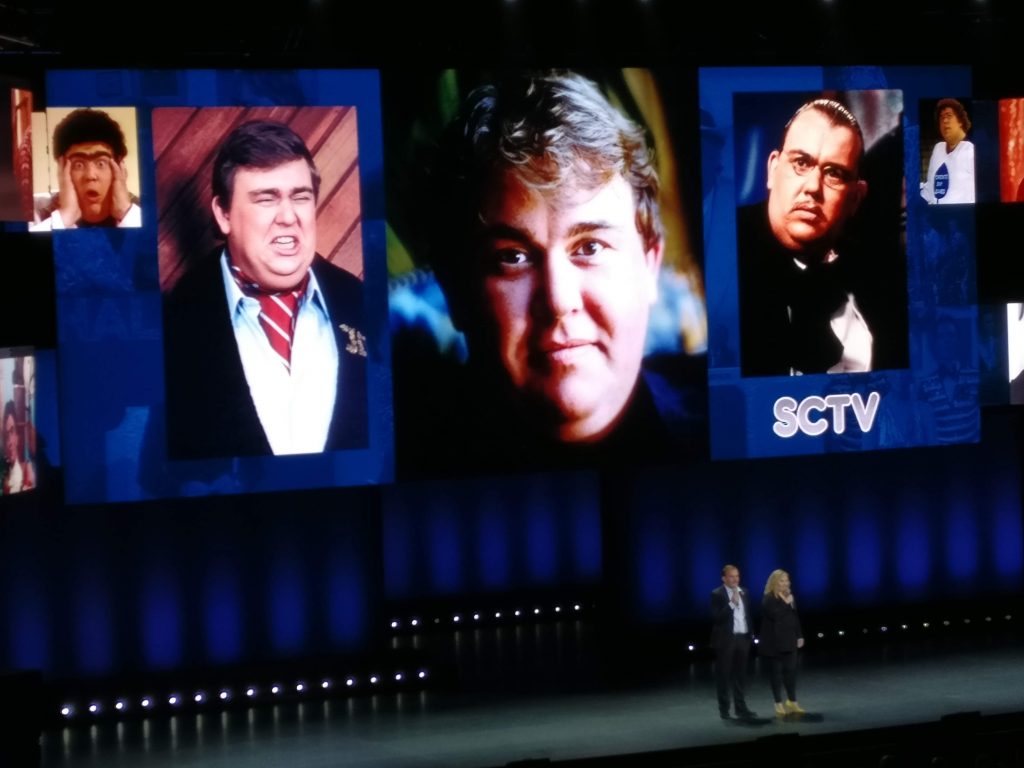 I was happy to have the chance to speak with the children of the late great John Candy. Jennifer, 38, and Christopher, 33, were at the upfront to talk about Martin Scorsese's upcoming documentary on SCTV. They were both blown away to meet Scorsese and learn how big a fan he is of that show and their dad in particular. Hard to believe, but John Candy passed away 24 years ago.
CTV's afternoon presentation to advertisers ran a butt-numbing one hour and forty-five minutes. One highlight was a graphic Cosentino ran showing that the private network enjoyed 47 of the Top-50 most-watched single episodes from the past season. The Super Bowl was No. 1; TSN grabbed two other spots (with The Grey Cup and a WJHC broadcast) and CBC broke the Bell monopoly with a Winter Olympic Games broadcast. The most astounding stat, however, was that one show — The Big Bang Theory — scored 23 of the top 50 single episode spots. Talk about the Big Bank Theory!
Still, the show ran on and on. Thirsty millennial ad buyers started bailing like it was the eighth inning at a Jays' game, especially during a needless final bit where two sales dudes pretended to be Abbott & Costello.
Kudos to Rogers for getting their ad sell done in one tidy hour. I didn't see the Corus presentation, but neither did anybody else I spoke with during upfront week. Perhaps Global saved a few bucks by simply simulcasting one of the American network presentations.
For more on the upfronts, including a look at which new shows will stand out, follow this link to a story I wrote for The Canadian Press.