I used to be in love with Love. My new Netflix crush, however, is GLOW.
Ten new Season Two episodes dropped over a week ago. Happy to report that there is absolutely no ring rust heading into the new half-hours.  Go ahead — try not to binge them all in one sitting.
This homage to spandex and wrestling in the '80s gets the details right. First of all, Netflix — release a soundtrack. Besides splurging on "Crazy for You" by Madonna, '80s bands such as Mr. Mister, Human League and Tears for Fears get air play this season, joining Roxette, Dream Academy and even Billy Joel in giving GLOW its bounce.
Other period details  are just right, too. The big hair, tight pants and shoulder pads really were that cartoonish. GLOW captures not just the right amount of hair spray but also the cheesy, mall culture clubbiness of the times. People actually  went out to stores to buy Swatch watches and Guess jeans. They met at the mall, not on Facebook. Back then, Amazon was a tall woman with a spear, and she didn't come to your door.
Season Two of GLOW shows the diverse cast of female wrestlers bonding like a blended family and getting tighter by the week, driven by the knowledge that the series could go bust at any time.
Executive producers and writers Liz Flahive, Carly Mensch and Jenji Kohan do a remarkable job of growing most characters week by week. Brie gets top billing and is the glue that pulls everything together as spunky actress Ruth "Zoya the Destroya" Wilder. Her terrible Soviet Union accent hurts like a vodka hangover.
Season Two, however, is co-star Betty Gilpin's turn to shine. As Debbie "Liberty Belle" Eagan, she is  thrown into all corners of the ring, put in an emotional hammer lock one moment and tossed into a comedy camel clutch the next. She's like the real wrestling stars who have to play both hero and villain at different stages of their careers, only she is asked to make that leap pretty much scene by scene.
At one point her simmering rage at Ruth for sleeping with her cheating husband gets a cocaine boost just prior to a showdown in the ring. That leads to a cliffhanger that will keep you locked into the next episode.
There are a lot of crazy-ass stunts this season that come flying out at you like a leap from the ropes. GLOW almost dares you not to binge.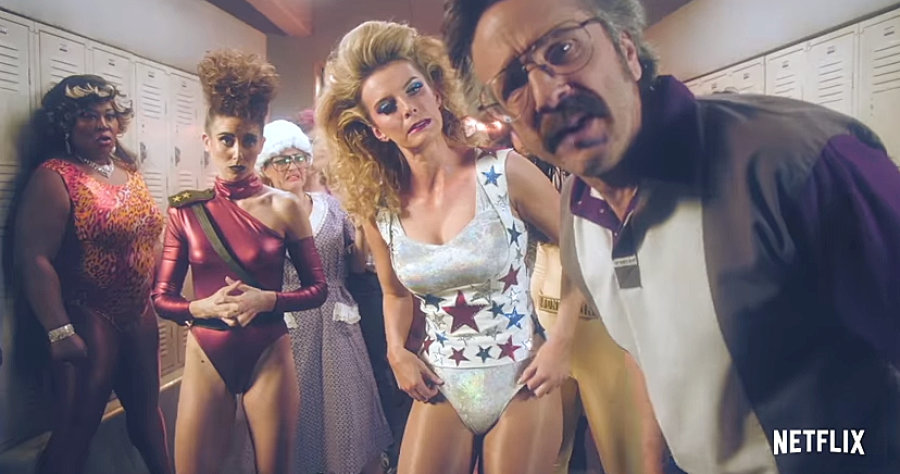 Remaining intriguing is Marc Maron as world weary director Sam Sylvia. He seems to revel in whatever mix of not sleeping, grooming or eating right was called for to play this character. I've known people over the years who carried their pain around with them at all times, smart people who used their sharpness to cut off anybody who tried to get too close. The wonder in Maron's performance this season is seeing his character grow past that veneer in both wisdom and vulnerability. By the end of the season, he;s a surprisingly well rounded, if still deeply flawed, father figure.
While the rest of the regulars are outstanding — especially, early in Season 2, Kia Stevens as Tammé "The Welfare Queen" Dawson — look for some great guest stars as well. Elizabeth Perkins comes out of the witness protection program to steal a few scenes, and Horatio Sanz eases in towards the end as a savvy strip club owner who could have a major role should the series earn a well-deserved third season pick-up.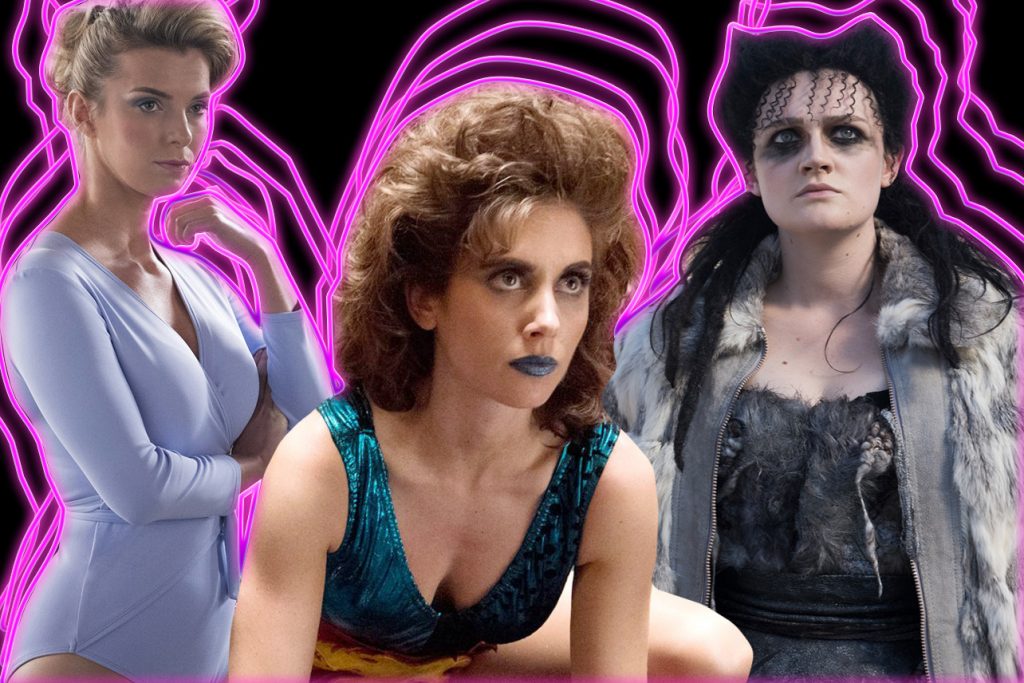 Look too  for a terrific episode which is entirely made up of what would be the series within the series. It is deliciously accurate right down to the spotty video quality and wince-able ad tie-ins, and will make you wish that wacky wrestling telanovella was truly on every week.
The series also manages to balance comedy and action with some keen-eyed commentary on the times. Was there any after-GLOW to the '80s in terms of the women's movement? Were these ladies empowered or exploited? That the question seems more relevant now than ever is the foreign object this series brings into the ring each week. Heads up, viewers!