In 1997, I met Ken Berry at one of those Hollywood Collector's shows. That's where fans line up to get autographs from some of their favourite former TV stars.
Berry, an always affable TV presence, died Saturday in Burbank, Calif. He was 85.
The Illinois native was a familiar face throughout the '60s and '70s and even into the '80s on television. By the time that convention rolled around 21 years ago, however, selling his autograph for money was a delayed dividend that hadn't come a moment too soon.
"It beats working at a laundry, I'll tell ya," he admitted at the time.
His days headlining such sitcoms as F-Troop (1965-67), Mayberry RFD (1968-71) and the Carol Burnett Show spin-off Mamma's Family (1983-84; 1986-90) were all well behind him. The fact that fans were willing to plunk down ten bucks for an autograph — sometimes $50 or $60 dollars at a time — astonished the actor. "That happened several times today," he said. (Rates now are double that — at least.)
Berry had a bandage on his forehead, the result of a recent melanoma treatment. Beside him were two of his fellow F-Troop-ers, Larry Storch (Corporal Agarn) and Joe Brooks (Vanderbilt). His ex-wife, Jackie Joesph, was helping to pull him together for the fan fest. He figured he could pocket two thousand dollars — cash — from the weekend event.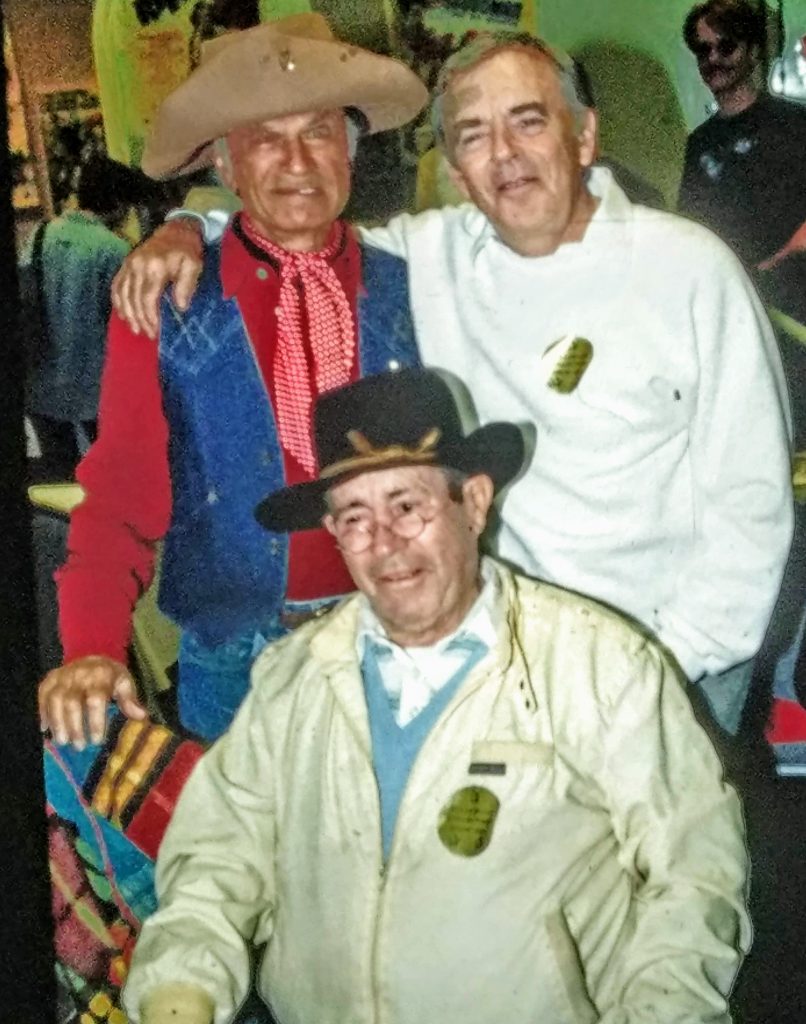 Just as important was the emotional pick-up fans provided. "I was going through a particularly bad time, to tell you the truth," said Berry. He had been watching TV with his nephew shortly before the autograph show when an old Fantasy Island episode came on. No sooner had the nephew said, "Uncle Ken's on TV," when they broke for a commercial. The host of the local matinee series showing the episode followed the ad and started making fun of Berry. "He was basically saying, 'Geez, that guy stinks. How did he get all that work?' It wasn't what I needed to hear at the time."
Berry's misfortune was being a TV star back when salaries, as well as residual payments for reruns, weren't anywhere near as lucrative as they are today. Times changed, and after a twenty year run, his wholesome, family man image seemed to work against him. In the years following Mamma's Family, he earned just three single episode IMDb credits, the last in 1999 for a guest appearance on the short-lived Faith Ford sitcom Maggie Winters.
Berry, however, had to know that he also enjoyed plenty of good fortune along the way.  His credits extend back to an Ed Sullivan Show appearance in 1960, and he often popped up on shows such as The Dick Van Dyke Show, The Andy Griffin Show, Fantasy Island and Love, American Style. For a while he was a Disney leading man in family features, stepping in whenever Dean Jones was tired of driving The Love Bug. He got to work with Dick Van Dyke, Andy Griffith, Lucille Ball and Carol Burnett — and a famous Volkswagen. Not a bad run.
His first career boost came during his stint in the US Army's Special Services division, where he confided his showbiz ambitions to his sergeant. Sarge helped Berry connect with a few friends in Hollywood. The sergeant's name was Leonard Nimoy.