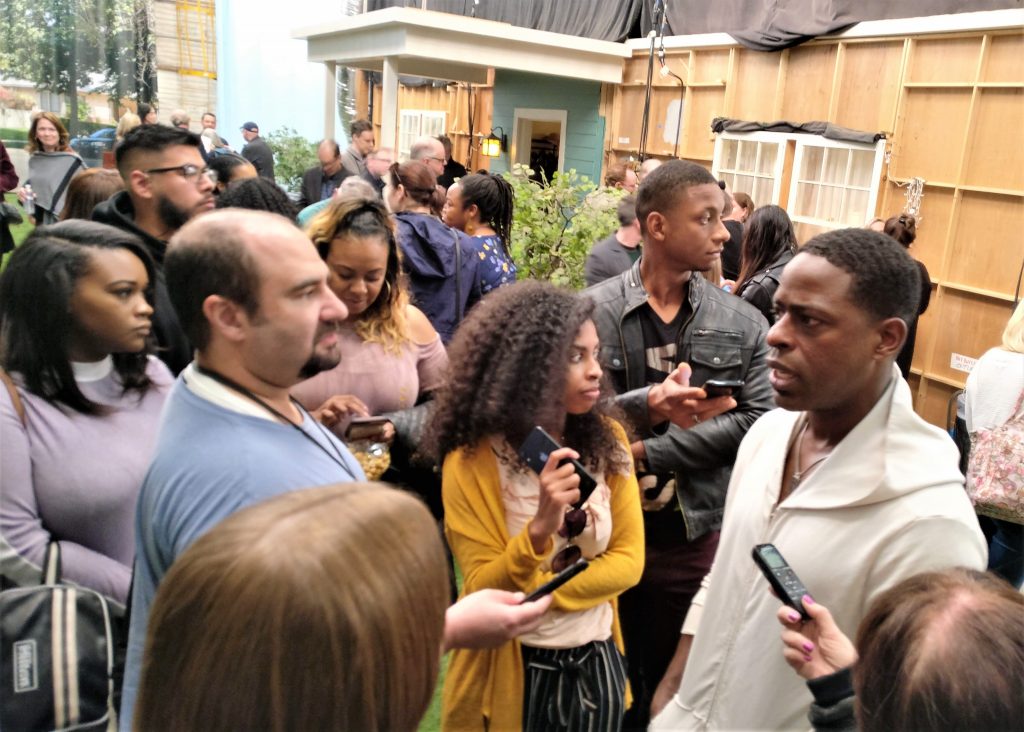 Tonight's episode of This Is Us, titled "Our Little Island Girl,"was screened to TCA members 10 days ago in Los Angeles on the annual winter press tour. Reporters were shuttled to several lots that day, including the storied Paramount Studios on Melrose.
Before the screening, critics were invited to tour one of the show's standing sets on a Paramount soundstage. There, cast members Sterling K. Brown (above with reporters), Chrissy Metz and Susan Kelechi Watson took questions from small groups of journalists standing on the astroturf and fake shrubbery in place in front of the house. There are no weeds on the Pearson's front lawn.
Joining them there was executive producer Dan Fogelman, who tried to give reporters something to chew on without giving away any spoilers — although, one thing he did say was that he has the ending of the series in mind, he's shared it with key cast members, and it could come sooner than the many fans of this series might think. This Is Us is in the middle of its third season on NBC and is that networks number one entertainment program. NBC also claims it is currently the number one entertainment program on television overall among adults 18 to 49 with 14 million viewers per week. The series is also a top performer, week in and week out, for CTV in Canada.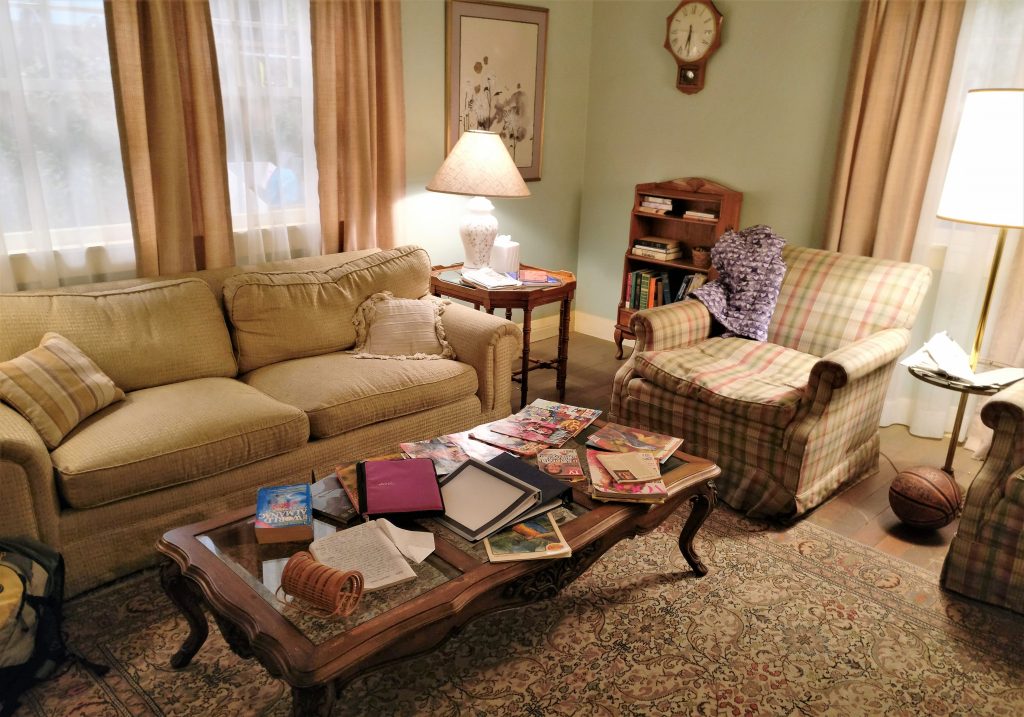 We then paraded outside, past the iconic Paramount water tower (a beautiful sight at night) and into the Sherry Lansing Theatre. Tuesday night's episode is a star turn for Watson, whose character, Beth Pearson, travels back East to check in on her mother (Felicia Rashad), who was injured in a hallway scuffle at the high school where she is principal.
Besides "How did Jack die?" one question Fogelman says he hears most often from fans is "When are we going to get a backstory episode about Beth?" Tuesday night's "Our Little Island Girl" is the answer to that question. Besides Kelechi Watson and Reshad it features Melanie Liburd, a British actress who plays Beth's sister, Zoe.
Fogelman introduced the actors after the panel as well as the women who made it happen behind the scenes: showrunner and executive producer Elizabeth Berger, director Anne Fletcher and writer Eboni Freeman .
Talk about a small world: Freeman trained in ballet in the Debbie Allen Dance Academy. Allen is Rashad's sister. "So, it was really a full circle moment," said Freeman. "We really wanted to create this character with her mother and, really, the dynamic of their relationship and the differences between this father that she idolized and this mother who was a great mother, but she was just a lot more stern and strict and had a more a different approach to how she wanted to raise her children."
A young actress named Rachel Naomi Hilson plays Beth as a young teen, who is intent on becoming a ballet star. Kelchi Watson says the teen aced her audition and was terrific in the episode, capturing the older actresses' mannerisms to a T.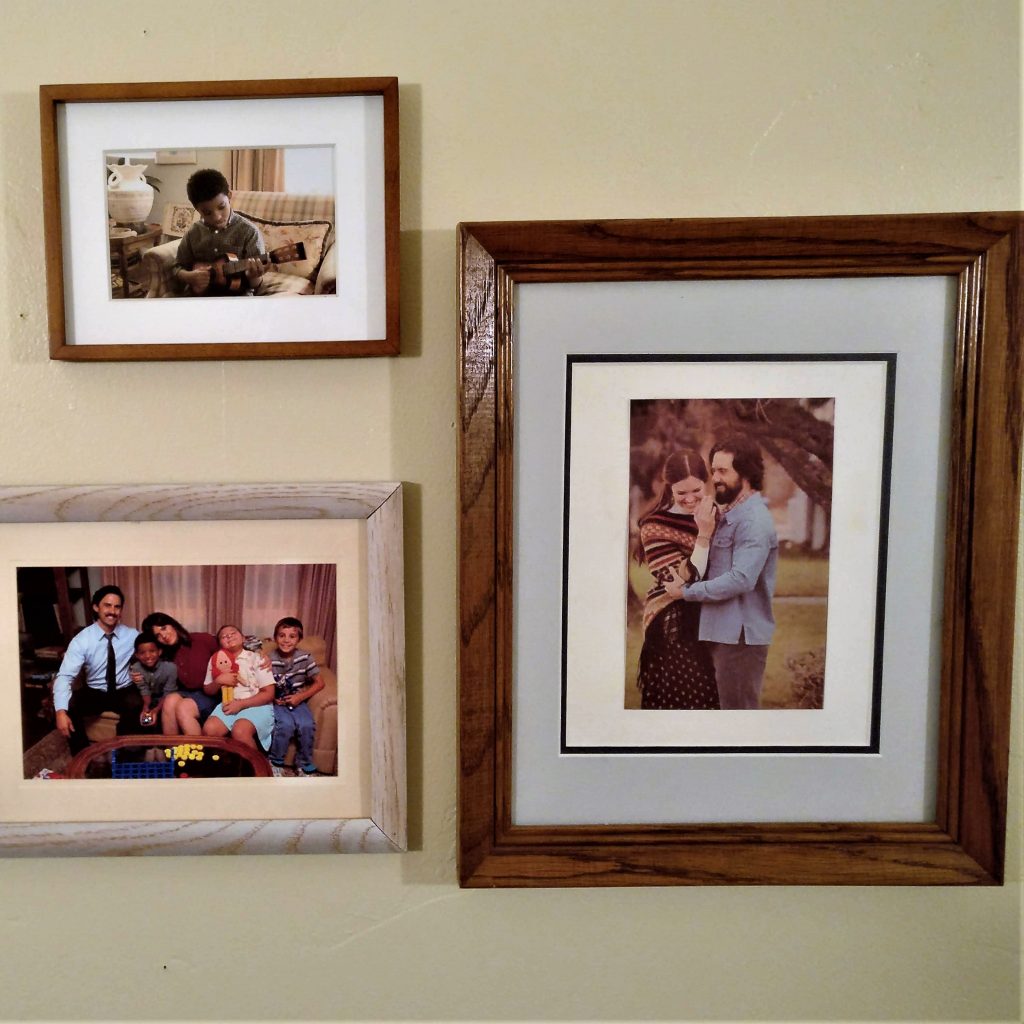 "She was very much doing very specific Beth things," said Kelchi Watson who also praised the hair and makeup crew. "They found contacts with — I have a mole in my eye, which is a very, sort of, specific thing — and they found that, and they put that and stuck that in her eye.And then, they had a little mole on her face. And so, she helped to contextualize Beth for me, you know, aside from the beauty that was written on the page."
The episode airs tonight at 9 p.m. ET/PT on NBC and CTV.