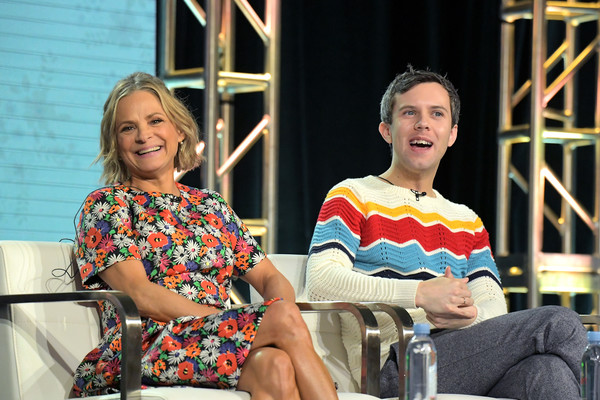 It was great to see one of my favourite TV stars this past week down in Pasadena on the TCA press tour: Amy Sedaris. The petite comedienne, above with co-star Cole Escola, returns Tuesday with a second season of her hilarious homemaker spoof series At Home With Amy Sedaris (10 p.m. ET/PT; TruTV).
Sedaris first came to my attention through cottage neighbour Jimmy's complete set of DVDs of Strangers with Candy. That Comedy Central series, which began 20 years ago, had Sedaris playing Jerri Blank, "a boozer, a user and a loser" who went back to high school at 35 in a savage spoof of all those preachy ABC After School Specials. Mayhem ensued, with Stephen Colbert and frequent collaborator Paul Dinello part of a very funny and Second City-like mix. The series, which had spotty coverage in Canada, led to a feature film in 2006.
These days, most know Sedaris through her voice work on BoJack Horseman (she plays Princess Carolyn, BoJack's catty agent) or her late night talk show appearances. One of Letterman's favourites, she always wears bright, floral party dresses in late night and sported one last week at her TruTV press tour session.
Sedaris would have been right at home in Pee-wee's Playhouse. She plays several characters on her At Home with… series, including "Patty Hogg," "Nutmeg" and one named "Agnes Moorehead," but she says popping in and out of all those wigs and costumes takes no time at all. "No one's ever waiting on me," she says, pointing out that the same hair and makeup folks work on Saturday Night Live. "Everyone is pretty quick and easy, actually. The longest I was ever in a makeup chair was for Sex and the City, when they had to put pretty makeup on me, it was like six hours. And I would say, 'Where's my mole, where's my hump?' You know, no fun. So, that's what takes the longest is trying to look pretty."
One thing Sedaris is serious about is her crafting skills. She shared a book full of home tips in "Simple Times: Crafts for Poor People!"
"I use all my skills on the show," she told TCA reporters. "Whenever you see me making something, I really am doing it to the best of my ability. It comes from Girl Scouts and growing up in a large family. We were always crafting. I learned how to cook at an early age. I was always into dressing up and wigs and disguise kits. So, this is just an extension of, really, you know, who I am."
Sedaris sells some of what she makes. "It's just my allowance money," she told us. "I don't have anything to sell today because you can't really ship a bunch of lighters. I make lighters now. They're hard to pack. But, normally, I have stuff to sell."
The series, which picked up a Variety show Emmy nomination last season, features like-minded guest stars who get to sample Sedaris' wares, including Colbert, Paul Giamatti, Nick Kroll, Chris Elliott, Darrell Hammond, Neil Patrick Harris, Aidy Bryant, Michael Shannon and Peter Serafinowicz.