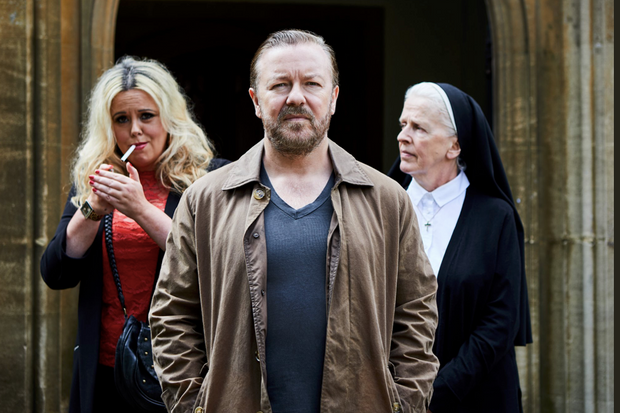 You may only know Ricky Gervais as the pissy host of the Golden Globes, or the jerky boss from the original Office. Now, in his incredibly dark, smart new comedy After Life, Gervais challenges audiences with a next-level, complicated jerk – more mature, a bit more sensitive, and totally irresistible.
After Life is the story of a man named Tony who works for a free village newspaper. A talented writer who is content to cover stories with headlines like 'Baby Looks Just Like Hitler', all he really ever wanted was to be home with his wife and best friend, Lisa. When she dies of cancer, he struggles with several suicide attempts, but decides to stick around and "punish the world by saying and doing whatever the F— I want from now on." He sees it as some sort of perverse super power, testing the boundaries of humanity, grief and reason.
The late wife, played by Keri Godliman (who worked with Gervais on Derek), left behind a series of video posts from her sick bed. Tony is lost without her and watches them daily on his laptop. She knows he will struggle without her and shares a few important things: You're lovely. You're useless. Try to find some good in the world. Try to find love again. Please remember to feed the dog.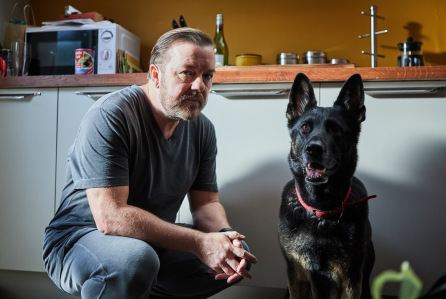 It's raw, fearless, and totally impossible to stop watching. We consumed it here in the Brampton bunker in one sitting. It is Gervais at his finest, still shielded by his cynicism and his anger but human and compassionate enough to realize that just trying to make your corner of the world a better place is actually a hell of a thing.
Watch for one shocking storyline that is resolved in ways both callous and unconscionable. That, as Gervais shows us, is life; it's not all happy endings.
Notable is powerhouse casting, with veterans Penelope Wilton (Downton Abbey) and David Bradley (Broadchurch, The Strain) both outstanding. Wilton plays Anne, a lady Tony meets near the grave of his late wife. She acts as Tony's defacto therapist, putting everything in perspective. His real shrink (played by Paul Kaye), as Tony eventually grasps, is a dick.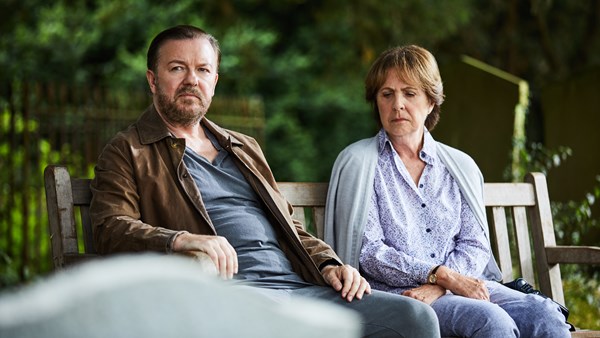 One of the reasons I was so delighted with The Kominsky Method was that it pointed a spotlight on a couple of great older actors — Michael Douglas and Alan Arkin — and asked them to navigate from a place of age and experience. After Life is similar in that it doesn't just wallow in mid-life, it allows a superior storyteller to crack it open and take a hard look. Inside, a universal struggle is revealed: anger, loss, cruelty, love, compassion and, ultimately, hope. Gervais may be on to something here: don't wait till after life to start living, and laughing.
Created, written and directed by Ricky Gervais. Also starring Tony Basden, Mandeep Dhillon, Tony Way, Diane Morgan and Ashley Jensen. Now On: Netflix. Plan to Binge: all six episodes. Rating: ****