Friday in Toronto, I had a one-on-one with the top dog from the new East Coast detective series Hudson & Rex — Diesel vom Burgimwald. That's him in the above video, on the left.
The magnificent two year old German Shepherd is trained by industry veteran Sherri Davis, who, have to admit, coached him through his answers on the above video. She probably should have coached me through my questions!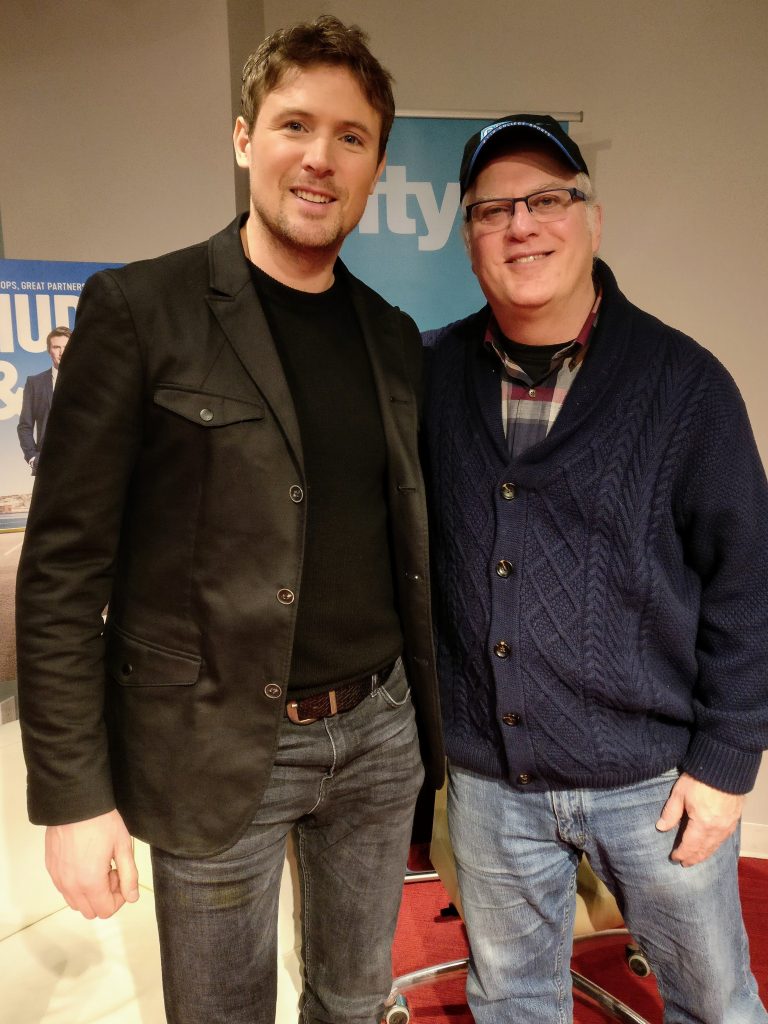 I also spoke with Diesel's more talkative co-star, John Reardon, a fine lad from Halifax. As we stood waiting in a hallway at Citytv's Dundas Square playpen Friday, Reardon spotted a young lady struggling to move some heavy equipment around a tight corner on a kart and gallantly pitched in to help her out. There, right there, is the difference between Canadian TV stars and, well, Canadian TV reporters.
Reardon says he gets along with Diesel famously and has from the start of shooting on the 16 episode first season, which commenced in October in St. John's, Nfld. There are still four episodes left to shoot, he adds, noting that Hudson & Rex is one of four series currently based on The Rock. John Vatcher, one of the Take the Shot guys from Frontier, directed a couple of Hudson's.
Reardon, 43, has worked on shows such as Arctic Air and Continuum in the past with credits going all the way back to Edgemont. He's even worked with animals before, including a polar bear. "We had to be behind an electric fence the whole time," he says of that experience.
Diesel, he says, is much easier to work with. "Sherri made the process of getting to know Diesel so easy. She helps me find the ways I can communicate with him — it usually involves me feeding him roast beef. He loves me after that."
Hudson & Rex is no Littlest Hobo, says Reardon. Unlike that classic Canadian canine drama, this dog is no loner; there's no, "maybe tomorrow I'll settle down" thing happening here.
This series is more of a police procedural with Reardon playing detective Charlie Hudson. The Shaftesbury production also stars Mayko Nguyen (Rookie Blue) as the teams forensic specialist and Kevin Hanchard (Orphan Black) as the inspector. Justin Kelly (Between) plays the tech specialist and, as Reardon puts it, "resident millennial."
Rex is part of the team, just as he is on the original Austrian version of the series. Hey, he is a German Shepherd! Hudson & Rex premieres Monday, March 25 on Citytv.