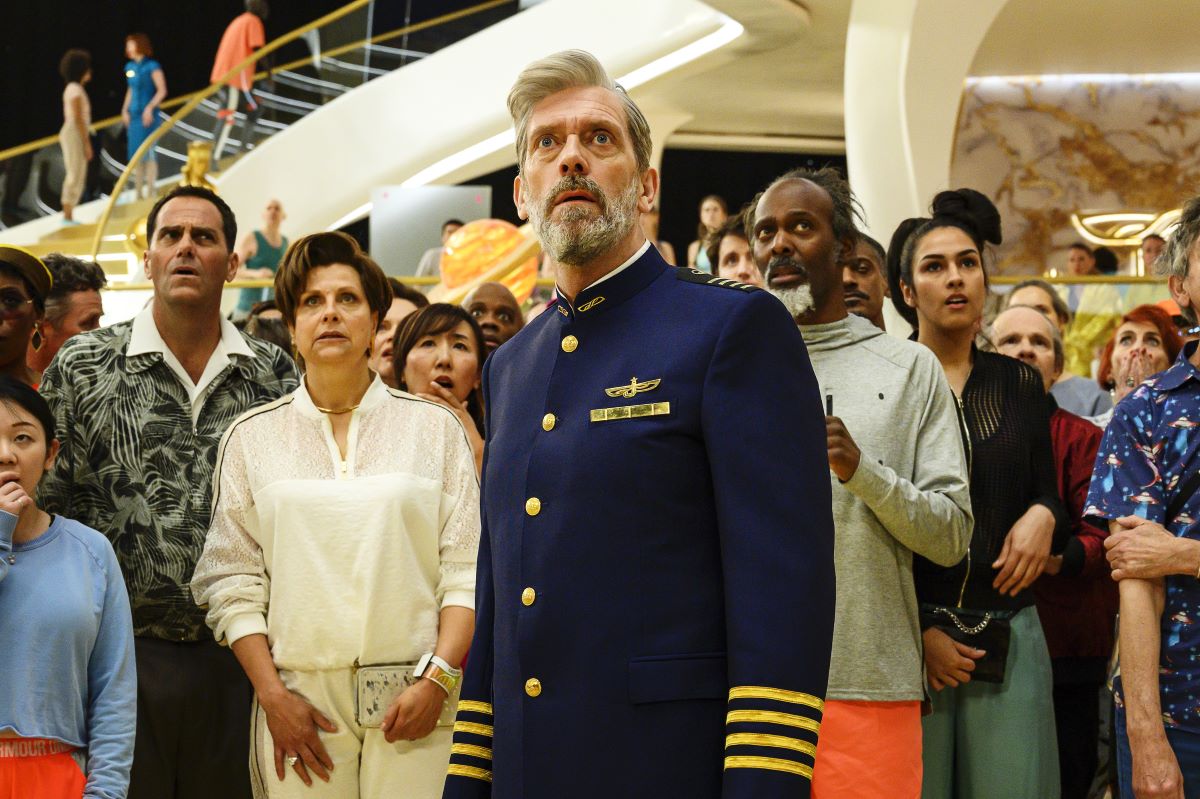 There was wisdom to be heard Tuesday during the Banff Media Festival's virtual press session with the cast and creators of HBO's Avenue 5. There has to be on any occasion where creator and writer Armando Iannucci is part of the mix. Asked to give tips to those looking to get started in the TV biz, the man behind Veep and "The Death of Stalin" delivered this sage advice: "Go watch The Larry Sanders Show from start to finish."
It's heartening to hear one TV comedy maven give props to another. It's doubtful, however, that even Garry Shandling could fix Avenue 5, which seemed lost in space to me when it premiered at the start of this year on HBO.
Besides Iannucci, Tuesday's video conference call featured Hugh Laurie, actress Lenora Crichlow and executive producer Kevin Loader. Moderating was HBO's EVP of Programming Amy Gravitt, and, while she did a good job, that's a little sticky. There are short odds of hearing a tough question when the person who ordered the series is holding the mike.
Avenue 5 is a series where plenty of tough questions could be asked. Given the talent involved, too much, perhaps, was expected. Iannucci's reputation as the genius behind Veep and several terrific British gems brought high expectations.
The premise has possibilities: there's a screw up when a luxurious, interplanetary cruise ship with thousands on board goes wildly off course. Hugh Laurie is the rather ineffective skipper.
The panel acknowledged, however, that it's hard finding comic energy in a special effects laden shoot. Avenue 5 does seem at times to be smothered in green screen. Actors gifted with great timing can be handcuffed when everything they're being asked to do or respond to is storyboarded and pre-planned.
Laurie, who worked with Iannucci before on Veep and the 2019 comedy "The Personal History of David Copperfield" confessed he feared the producer had taken leave of his senses as work began on the series. "Blimey, can this actually work?" he wondered at an early meeting. "I left scratching my head." He was also asked at what point did he feel he had a handle on his character. Said Laurie, "I don't feel as if I've reached that point yet."
Iannucci said he hoped to work around the challenges by building lots of rehearsal time into the schedule. The Scottish satirist also revealed one inspiration for the series was Donald Trump, and specifically his campaign assertion that he could shoot someone in broad daylight in the middle of 5th Avenue and still be elected president of the United States. That made Iannucci wonder: what happens when leadership has disappeared, and it is up to the crowd to work things out for themselves?
The writer/producer says he and his team have broken ten Season Two storylines. "It's another roller coaster," he said of the upcoming season, which will begin with the passengers and crew still very much still stranded in space.
Somewhat ironically, technical challenges plagued the virtual conference session. Iannucci's feed in particular seemed to stall and stutter and at one point he dropped off screen altogether. Even Laurie, always droll and playful at press sessions, was thrown off whenever he tried to make a point in jest.
The series, we also learned, enjoys the services of an actual science consultant. This person was asked how an intergalactic ship might stay warm on long outer space voyages. The answer: human waste could be piped inside the outer walls, providing a layer of insulation.
Now that could be funny, thought Iannucci. And while it could, it also shows what he's up against here: turning "human waste" into comedy gold.
Avenue 5 airs on HBO and Crave.