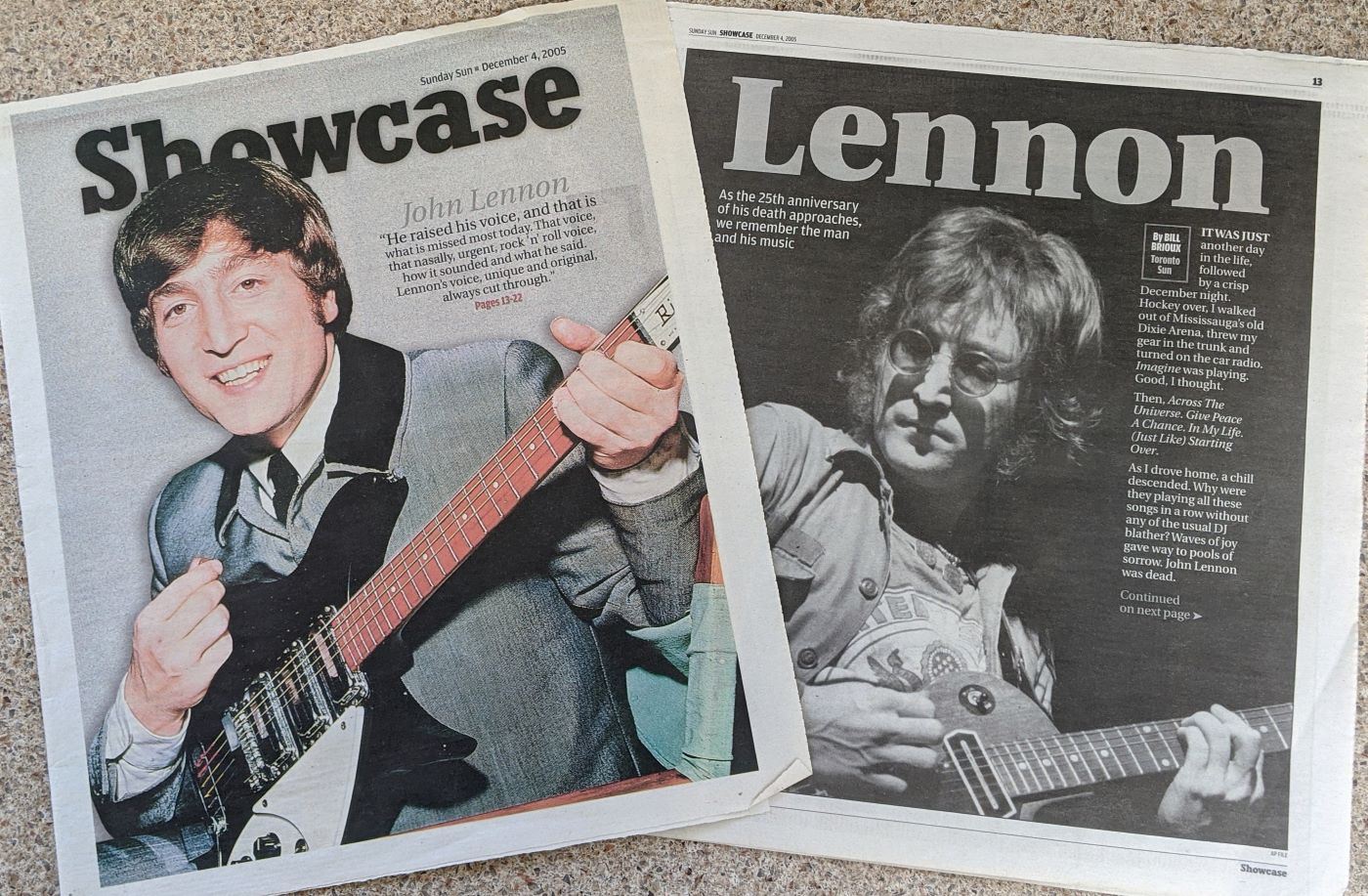 Back when I worked at The Toronto Sun, I was happy to contribute to Showcase, the best entertainment magazine even many Sun readers — due to the seamless way it was folded into the mix — didn't know existed. Bob Bishop and Derek Tse always poured their hearts into it and so did many of us typists.
In December of 2005, on the 25th anniversary of John Lennon's murder in New York, I was asked to share my memories of that terrible day and what Lennon's death meant to me.
Unlike millions of TV viewers that night, I did not hear the news from Howard Cossell on Monday Night Football. I was playing hockey. Here is an excerpt from the 2005 Showcase article:
It was just another day in the life, followed by a crisp December night.
Hockey over, I walked out of Mississauga's old Dixie Arena, threw my gear in the trunk and turned on the car radio. "Imagine" was playing. Good, I thought.
Then "Across the Universe." "Give Peace a Chance." "In My Life." "(Just Like) Starting Over."
As I drove home, a chill descended. Why were they playing all these songs in a row without the usual DJ blather? Waves of joy gave way to pools of sorrow. John Lennon was dead.
…For me, for millions, it was like a death in the family. A night or two later I headed down to Nathan Phillips Square where thousands gathered in a candlelit vigil to the slain singer. Total strangers from all over the GTA faced a giant portrait of Lennon, blankly staring out from behind those granny glasses. We cried, held hands, rocked back and forth and sang a hundred choruses of "Give Peace a Chance."
…What did it mean? It meant, for boomers, that our lives had changed in oh so many ways. It meant that the '60s were finally, irretrievably over.
…He raised his voice, and that is what is missed most today. That voice, that nasally, urgent, rock 'n' roll voice, how it sounded and what he said. Lennon's voice, unique and original, always cut through.
Looking back after 40 years is not as numbing as 25, and Lennon has been subject to the same woke wonderings as the rest of us. Statues of him might be toppled today, but they'd likely be replaced by John and Yoko statues — a notion that would have been laughed off 15 years ago.
The farther one travels, as George Harrison observed, the less one knows. Still, bracing truth has a habit of prevailing, even on social media. He didn't say give him a chance, he said peace. Rest in peace John Lennon.