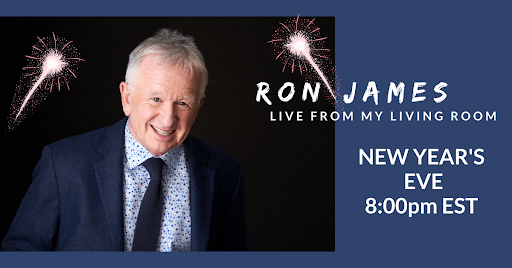 Pandemic lockdowns got you down? Chase away those blues and kick 2020 to the curb New Year's Eve by spending it with Ron James — Live from his Living Room.
Canada's hardest working comedian has had enough of being shut out of clubs and theatres. Since March 7, when he entertained 1500 at Hamilton Place, he has had to walk away from at least 30 tour dates spread out over several Canadian provinces as well as countless other club and corporate shows.
He'll be making up for lost time, however, this Thursday night on New Year's Eve. At 8 p.m. ET he'll be conducting a live, virtual comedy club show he's calling "Live from My Living Room: Hindsight is 2020."
As always, the Cape Breton-native turned many a colourful phrase when I spoke with him on the phone Tuesday.
"Live performance has taken a torpedo to the bow," said James. Since his series of CBC New Year's Eve comedy specials ended a nine year run in 2014, his main bread and butter has been touring. Even his last virtual corprorate show dates back to last June. The many months since has been the longest stretch away from the road James can recall since his lean years living in Los Angeles 25 years ago.
As tough as it's been, the comedy veteran is well aware that he is one of the lucky ones. He feels for "the members of my tribe of solo acts who are hanging on by their fingernails."
Then there's the rust that can set in from not practicing your craft in front of a live audience. "To say it's strange is an understatement buddy. The art form demands one hear laughter, otherwise you're just a lunatic talking to yourself."
James, therefore, is very game to put on a New Year's Eve show that is very much live from his Toronto living room. He's hired a couple of writers he's worked with in the past, including Paul Pogue and former The Mercer Report contributor Chris Finn.
"It's great to be on these zoom calls with fellow comedians and fellow comedy writers because we think like nobody else does. We're brothers in arms in the business of funny."
James will be taking aim at the usual suspects, including the soon to be dispatched "orange mutant" to the south. Politicians and people who won't wear masks will also feel the sting, as will business leaders and board members who profitted from government handouts while laying off workers.
"One of the things I miss most about live performance is an ability to channel the anger that people feel." James says he's found he has to temper his sharpest points much more for viral performances. Stand-up comedians in front of live audiences in theatres, he feels, are much better equipped to "hold power to account."
James says the greatest rebel comedian he ever saw was retired Scottish funnyman Billy Connolly. This was back in James' lean days trying to crash the club-y comedy scene in LA.
"I saw this tartant shaman," he says of Connolly, "fly across the stage; take flight. It was transcendental."
Years later, during a show where they were both performing, the canny Scot told James to pay no attention to the nay sayers who dared to suggest that his rooted-in-Canada approach was keeping him off world stages.
"Sing your song," was Connolly's edict. James says he's been following it ever since.
It certainly served James well two-and-a-half years ago when he was the warm up act for the SCTV reunion show at Toronto's Elgin Theatre, an event hosted by Jimmy Kimmel and directed by Martin Scorsese. Before the all-star panel which included Martin Short, Eugene Levy, Catherine O'Hara, Dave Thomas, Andrea Martin, Joe Flaherty, and Rick Moranis, James put on a show that was so good it threatened to overshadow the comedy legends.
He'll be throwing the same wit and energy into Thursday night's gig, live from his living room. Extra cameras have been wheeled into place but folks at home will have to pour their own two drink minimums. Show starts at 8 p.m. ET and costs a total of $30 per household, which is, considered it is in Toronto and there is no parking charge, practically free.
As of our interview Tuesday 2500 tickets had already been sold but there's always room for more on line. Follow this link to tickets and further information.