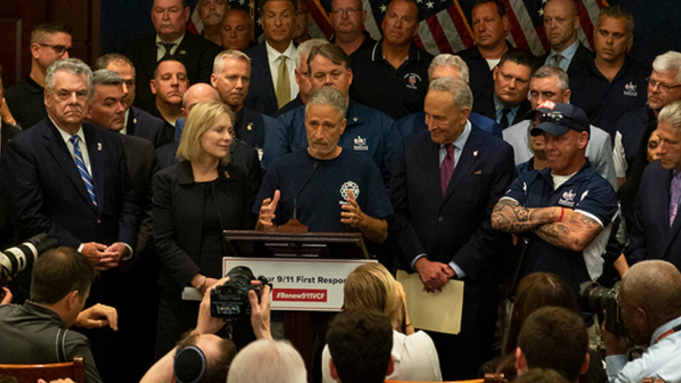 Believe it or not, this coming September will mark 20 years since the 9/11 attacks. A timely new documentary with a positive outcome and a Canadian connection will help mark the occasion.
"No Responders Left Behind" is directed by Toronto's Rob Lindsay ("Go-Boy! Memories of a Life Behind Bars"). The documentary will stream worldwide this September on Discovery Plus. Toronto's Blue Ant International helped broker the deal.
The 80-minute feature documents the inspiring story of social activist John Feal and FDNY hero Ray Pfeifer and their crusade to get health benefits for firefighters and other responders to the 9/11 attacks.
The movement gained a major push once former Daily Show host Jon Stewart got involved. His impassioned pleas to the American Congress in 2019 led to compensation finally being awarded to the responders, many of whom suffered severe health issues in the cleanup after the attacks.
Five years ago, Lindsay was still directing the "Farce Films" segments of the annual Royal Canadian Air Farce New Year's Eve specials when he first caught wind of the crusade. A colleague at Air Farce tweeted out support for the cause. When Feal tweeted back, a connection was made which led to Lindsay and a crew heading to a rally at a Long Island park. What started as a weekend of camera coverage wound up as the start of a five year mission, topped off by Stewart's heroics at the Congressional hearings.
"This film is really John Feal's story," says Lindsay. "He's the leader of hundreds of men and women who came together to try and get this Bill passed."
A deal announced Monday between Discovery Plus and AT&T will see Discovery Plus emerge as one of the key players in the streaming arena. The pooled assets include AT&T's ownership of WarnerMedia properties, including HBO Max.
One expected outcome is that Discovery Plus will soon be available to Canadian subscribers — hopefully in time to stream the "No Responders Left Behind" documentary.