Shaun Majumder says he has never been a huge fan of reality shows. "You know – fake scripted — these dramatic shows that aren't really dramatic."
When he was offered the job hosting CBC's sand sculpture reality competition Race Against the Tide, however, it sounded like something he could really dig. The 10-episode series premieres Thursday, September 9, on CBC.
The offer also came at a pretty good time for the actor/comedian. Back in March of 2020, Majumder was in Mexico with his wife Selby and their infant daughter when they had to scramble back to their home in Los Angeles just as the COVID-19 pandemic first hit. Seeing things begin to shut down in California as well, they quickly made plans to flee to Majumder's hometown in Burlington, Newfoundland.
The Race Against the Tide pitch sounded intriguing in that if offered a chance to stop in Halifax late last summer, enroute to Newfoundland, and shoot an outdoors series over a tight three-week schedule. "It was one of the safest places in North America at the time," recalls Majumder.
The series pits two-person sand sculpting teams from around the world and then challenges each team to build an amazing piece of art right in the Bay of Fundy. The judges are champion sand sculptors Karen Fralich and Bruce Phillips. The twist is that each team has only six hours from start to finish before the judges make their decisions. Then the tide comes in and wipes out all of their efforts.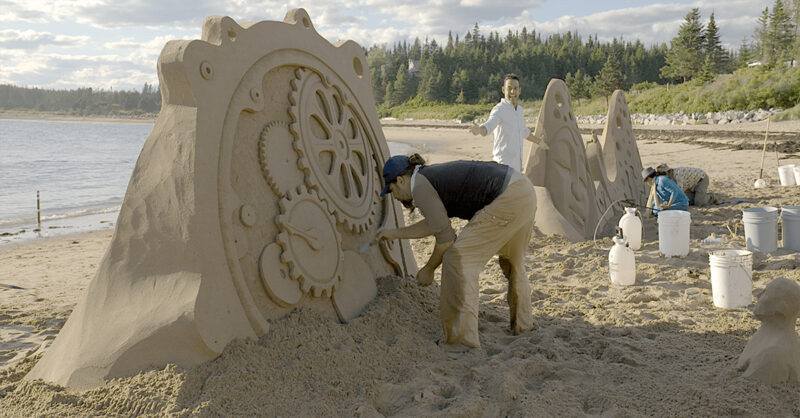 "These guys, who normally take three to five days at these big festivals or in these competitions to shape a masterpiece, they get six hours," points out Majumder. On top of that, the two person teams are normally competing against one another. So there's those personality clashes that you'll get in the show, and it's so fascinating."
The sculptures are huge, many six, seven teet tall or more. The competitors start out by filling wooden forms with sand and then packing it in so that they are brick-like in density. Once the forms are stacked, the sand can weigh in the tons.
If it rains, that's not always a bad thing, Majumder learned. The artists can work with rain. Wind is the real enemy in this competition.
Each of the competitions was shot in a day; there's no shortcuts in this TV race. When the tide goes out in the morning, they are given a task and get right to it. "And then the ocean swallows up the sculptures and a winner and a loser is picked," says Majumder. "That's your episode the same day."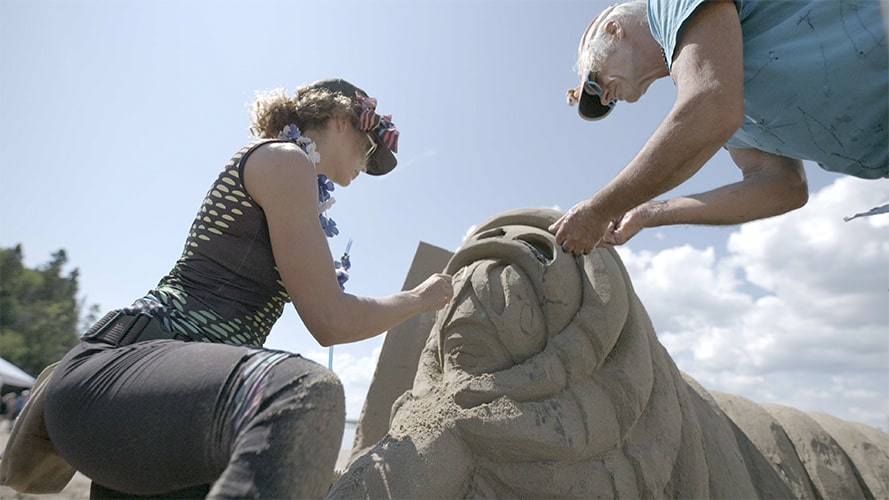 The sculptors come from Italy, America, Japan – all over. One team consists of a father and a son. "We have a buddy relationship; two grannies, a  guy from PEI matched up with a girl from Oregon. And so you have this wild mix of people from all over the world, all shot in the Bay of Fundy."
Majumder has been pitched other reality shows in the past. Way back, for example, he was under consideration to host Cash Cab.
"The best guy got it though," Majumder says of comedian Adam Growe, who hosted the Toronto-Vancouver-based series from 2008 to 2015.
Majumder was also approached about hosting the 2008 CBC series How Do You Solve a Problem like Maria?, a reality competition/infomercial where contestants sang and danced in what amounted to a televised audition to play Maria in a Toronto stage revival of "The Sound of Music."
"That wasn't really in my wheelhouse," says Majumder, whose former 22 Minutes colleague Gavin Crawford got the job.
Majumder is currently back in Nova Scotia shooting an upcoming American horror-drama called From. He's also set to re-launch a comedy tour that was interrupted by COVID. He talks about all this and more on brioux.tv: the podcast. Press the white arrow below to link and listen directly to the conversation.